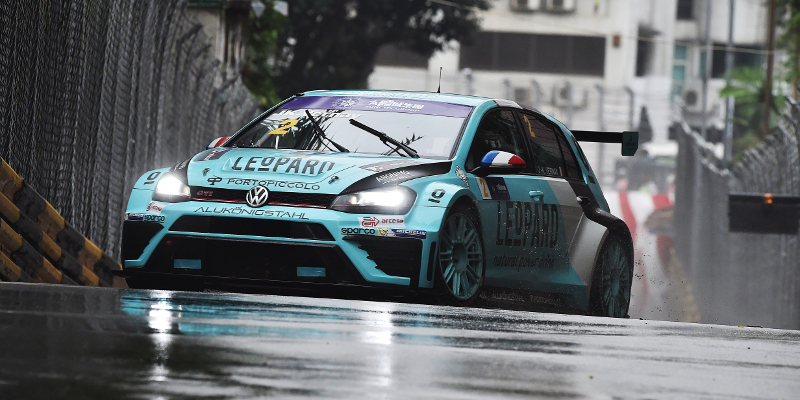 Leopard Racing's Jean-Karl Vernay believes that he could have gone 'even faster' in a wet qualifying session for the TCR International Series season finale in Macau.
Vernay was on fine from in the difficult conditions presented by the rain in Q2, with the Frenchman repeatedly improving his time during the 15-minute deciding segment.
In the end he was almost half a second faster than team-mate Stefano Comini, who ended up in second after being held up by the SEAT of Pepe Oriola on his finasl flying lap.
Vernay edges slightly closer to the championship lead, although he remains an outside bet as he is 34 points adrift of the top of the table.
"In the first part of qualifying the car was good, but the track was dirty and slippery," said Vernay. "We were reasonably quick and could have improved, but the important thing was to be in the top 12.
"Q2 in the rain was difficult but interesting. I slowed down after setting a good time, to cool the tyres and then I attacked again.
"I could have gone even quicker but by then pole was in our hands. We needed to get that front row and we managed it.
"It was a great session! We knew the Golf is very quick in the wet, we saw it at the Salzburgring and it proved here again.
"The key was to stay calm and go through the first laps, which were quite tricky and with very poor visibility. We raised the bar lap after lap, working together with Stefano, pushing and pulling each other.
Defending champion Comini admitted that he felt at ease in the Volkswagen Golf GTi in the wet, and he wasn't too disappointed to miss out on pole position.
"Q1 was rather difficult and I struggled quite a bit to concentrate and get a good feeling from the car, especially after a slight coming together," explained the Swiss racer. "In Q2 I started off cautiously and then the feeling improved and given that the Golf is fantastic in the wet I improved lap after lap.
"On the final one I could have gone quicker still, but I was accidentally blocked and didn't improve my time, but by then, the front row was in the bag."
The season finale takes place at 10:00 local time (02:00 GMT, 03:00 CET) on Sunday morning and will be streamed live online.