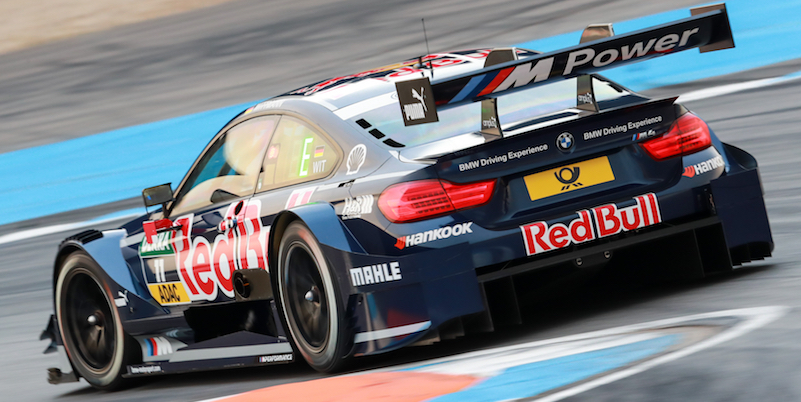 Current DTM points leader Marco Wittmann started the final weekend of the season by posting the fastest time around the Hockenheimring, ahead of Mercedes Team Mücke's Lucas Auer and Team Schnitzer's departing António Félix da Costa.
The Team RMG driver set his best effort of a 1:33.909, just 0.027 seconds ahead of the the only Austrian to win a DTM race in the series' history, whilst closest rival Edoardo Mortara was down the order in 13th.
Da Costa was the only driver to be warned for track limits off Nordkurve at around the five minute mark, but was still able to push his BMW Lifestyle M4 DTM to see all of the top three separated by 0.061 seconds at the conclusion of the 30-minute session.
Auer's Mücke teammate, Christian Vietoris was fourth ahead of the fastest of the Audi Sport drivers, René Rast, who was just outside the 1m34s barrier around the 4.574-km track.
2011 champion Martin Tomczyk, who is competing in his final weekend after 16 years, went sixth fastest, with Augusto Farfus ahead of the Team Abt Sportsline pairing of Mike Rockenfeller and Nico Müller. Paul Di Resta completed the top ten, with Sweden's Felix Rosenqvist a mere 0.022 seconds behind the Scot.
Adrien Tambay was 12th fastest, with Team RMG's Timo Glock behind Mortara, but in front of Tom Blomqvist.
Jamie Green was way down the timesheets down in 19th fastest, 0.848 seconds off the pace, behind Miguel Molina, Robert Wickens and Maxime Martin.
Gary Paffett was just behind his countryman and ex-teammate, whilst Bruno Spengler was the first of four drivers to be at least a second off the pace set by Wittmann.
Timo Scheider, Daniel Juncadella and Maximilian Götz would complete the order, with the latter being 1.591 seconds slower.
The second free practice session, lasting for 30 minutes, starts at 1050 Saturday morning (15th October) CEST.
Session results
| | | | | | | | | |
| --- | --- | --- | --- | --- | --- | --- | --- | --- |
| POS | NO | DRIVER | NAT | ENTRANT | CAR | LAPS | TIME | GAP |
| 1 | 11 | Marco WITTMANN | | BMW Team RMG | BMW M4 DTM | 20 | 1:33.909 | 0.000 |
| 2 | 22 | Lucas AUER | | BWT Mercedes-AMG | Mercedes-AMG C63 DTM | 15 | 1:33.936 | 0.027 |
| 3 | 13 | António Félix da COSTA | | BMW Team Schnitzer | BMW M4 DTM | 17 | 1:33.970 | 0.061 |
| 4 | 8 | Christian VIETORIS | | BWT Mercedes-AMG | Mercedes-AMG C63 DTM | 16 | 1:33.984 | 0.075 |
| 5 | 72 | René RAST | | Audi Sport Team Rosberg | Audi RS5 DTM | 18 | 1:34.037 | 0.128 |
| 6 | 100 | Martin TOMCZYK | | BMW Team Schnitzer | BMW M4 DTM | 16 | 1:34.148 | 0.239 |
| 7 | 18 | Augusto FARFUS | | BMW Team MTEK | BMW M4 DTM | 20 | 1:34.182 | 0.273 |
| 8 | 99 | Mike ROCKENFELLER | | Audi Sport Team Phoenix | Audi RS5 DTM | 16 | 1:34.325 | 0.416 |
| 9 | 51 | Nico MÜLLER | | Audi Sport Team Abt | Audi RS5 DTM | 18 | 1:34.364 | 0.455 |
| 10 | 3 | Paul di RESTA | | Mercedes-AMG | Mercedes-AMG C63 DTM | 17 | 1:34.409 | 0.500 |
| 11 | 88 | Felix ROSENQVIST | | EURONICS/FREE MEN'S WORLD Mercedes-AMG | Mercedes-AMG C63 DTM | 17 | 1:34.431 | 0.522 |
| 12 | 27 | Adrien TAMBAY | | Audi Sport Team Rosberg | Audi RS5 DTM | 18 | 1:34.444 | 0.535 |
| 13 | 48 | Edoardo MORTARA | | Audi Sport Team Abt Sportsline | Audi RS5 DTM | 16 | 1:34.484 | 0.575 |
| 14 | 16 | Timo GLOCK | | BMW Team RMG | BMW M4 DTM | 19 | 1:34.583 | 0.674 |
| 15 | 31 | Tom BLOMQVIST | | BMW Team RBM | BMW M4 DTM | 16 | 1:34.587 | 0.678 |
| 16 | 17 | Miguel MOLINA | | Audi Sport Team Abt | Audi RS5 DTM | 19 | 1:34.646 | 0.737 |
| 17 | 6 | Robert WICKENS | | SILBERPFEIL Energy/UBFS Invest Mercedes-AMG | Mercedes-AMG C63 DTM | 17 | 1:34.676 | 0.767 |
| 18 | 36 | Maxime MARTIN | | BMW Team RBM | BMW M4 DTM | 16 | 1:34.691 | 0.782 |
| 19 | 53 | Jamie GREEN | | Audi Sport Team Rosberg | Audi RS5 DTM | 18 | 1:34.757 | 0.848 |
| 20 | 2 | Gary PAFFETT | | EURONICS/FREE MEN'S WORLD Mercedes-AMG | Mercedes-AMG C63 DTM | 20 | 1:34.841 | 0.932 |
| 21 | 7 | Bruno SPENGLER | | BMW Team MTEK | BMW M4 DTM | 20 | 1:34.936 | 1.027 |
| 22 | 10 | Timo SCHEIDER | | Audi Sport Team Phoenix | Audi RS5 DTM | 17 | 1:34.960 | 1.051 |
| 23 | 12 | Daniel JUNCADELLA | | SILBERPFEIL Energy/UBFS Invest Mercedes-AMG | Mercedes-AMG C63 DTM | 12 | 1:35.153 | 1.244 |
| 24 | 84 | Maximilian GÖTZ | | Mercedes-AMG | Mercedes-AMG C63 DTM | 21 | 1:35.500 | 1.591 |