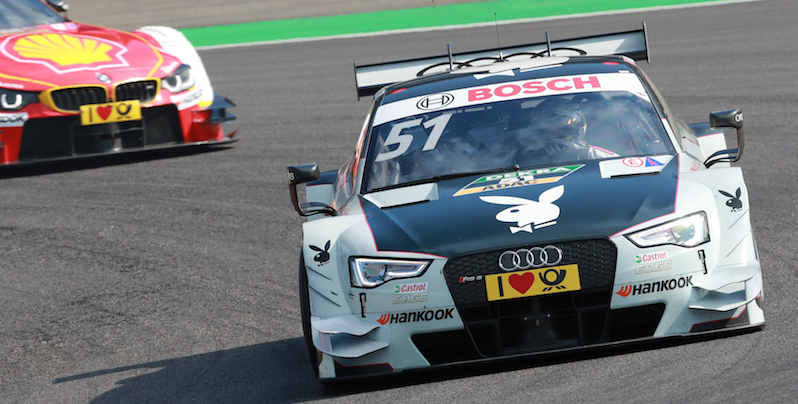 Audi Sport's Nico Müller snatched the top spot in the second DTM free practice at Hockenheim this morning, as the Swiss driver went fastest with just 60 seconds remaining.
The Team Abt Sportsline driver posted a 1:32.943 around the 4.574-km circuit, a mere 0.026 seconds ahead of BMW Team Schnitzer's António Félix da Costa, with the pair being the only two to break the 1m33s barrier after 30 minutes.
The Portuguese driver, who concludes his DTM tenure this weekend, led three other BMW M4 DTMs int he form of Bruno Spengler, Augusto Farfus and current points leader Marco Wittmann, who rounded out the top five.
But for title contender Edoardo Mortara, it was a session that was plagued with problems, with the Italian driver suffering a technical issue with the pedal box on his Audi RS5 DTM.
It meant that the 29-year-old could only muster the 14th fastest time, level on lap time with Team RBM's Tom Blomqvist. After the pedal box change, he slid into the Turn 1 Nordkurve, leading into a hard-landing jump after the outside kerb.
René Rast was the next best-placed of the Audi drivers in sixth, ahead of Team Rosberg's Jamie Green, whilst Gary Paffett was the fastest of the Mercedes drivers in eighth, 0.380 seconds off Müller's pace.
Ingolstadt had a strong showing, as Team Abt Sportsline's Miguel Molina and Mike Rockenfeller were within 0.420 seconds of the pace, putting five Audis into the top ten.
In a session that rapidly evolved despite cold conditions, Team ART's Felix Rosenqvist almost ended up in the barrier at Sachskurve. The #88 Mercedes driver went off and managed to keep the C63 AMG moving through the gravel.
The Swede would go top with 18 minutes left, ahead of Paffett, but ended up 20th fastest.
Daniel Juncadella was issued with a warning for going over the pit lane exit line early in the session, but he would still be in the top ten for some of the session.
However, Mercedes found that with their car being the heaviest on the grid, the performance was reflective with six cars down the bottom of the order, with Juncadella in 21st, ahead of Paul Di Resta and Robert Wickens, who were 23rd and 24th respectively.
Maximilian Götz was 19th behind Timo Scheider, with Adrien Tambay being the slowest of the Audis down in 22nd, with a tightly-packed field, who were split by 1.083 seconds overall.
Timo Glock, Maxime Martin and Martin Tomczyk found themselves in 15th to 17th place respectively, as BMW are still hopeful to take the manufacturers' crown away from Audi.
Qualifying for the penultimate race of the 2016 DTM season starts at 1240 CEST (BST + 1), lasting for 20 minutes.
Session results
| | | | | | | | | |
| --- | --- | --- | --- | --- | --- | --- | --- | --- |
| POS | NO | DRIVER | NAT | ENTRANT | CAR | LAPS | TIME | GAP |
| 1 | 51 | Nico MÜLLER | | Audi Sport Team Abt | Audi RS5 DTM | 13 | 1:32.943 | 0.000 |
| 2 | 13 | António Félix da COSTA | | BMW Team Schnitzer | BMW M4 DTM | 15 | 1:32.969 | 0.026 |
| 3 | 7 | Bruno SPENGLER | | BMW Team MTEK | BMW M4 DTM | 13 | 1:33.047 | 0.104 |
| 4 | 18 | Augusto FARFUS | | BMW Team MTEK | BMW M4 DTM | 13 | 1:33.125 | 0.182 |
| 5 | 11 | Marco WITTMANN | | BMW Team RMG | BMW M4 DTM | 12 | 1:33.247 | 0.304 |
| 6 | 72 | René RAST | | Audi Sport Team Rosberg | Audi RS5 DTM | 17 | 1:33.258 | 0.315 |
| 7 | 53 | Jamie GREEN | | Audi Sport Team Rosberg | Audi RS5 DTM | 14 | 1:33.299 | 0.356 |
| 8 | 2 | Gary PAFFETT | | EURONICS/FREE MEN'S WORLD Mercedes-AMG | Mercedes-AMG C63 DTM | 13 | 1:33.323 | 0.380 |
| 9 | 17 | Miguel MOLINA | | Audi Sport Team Abt | Audi RS5 DTM | 13 | 1:33.341 | 0.398 |
| 10 | 99 | Mike ROCKENFELLER | | Audi Sport Team Phoenix | Audi RS5 DTM | 14 | 1:33.363 | 0.420 |
| 11 | 8 | Christian VIETORIS | | BWT Mercedes-AMG | Mercedes-AMG C63 DTM | 13 | 1:33.364 | 0.421 |
| 12 | 22 | Lucas AUER | | BWT Mercedes-AMG | Mercedes-AMG C63 DTM | 15 | 1:33.375 | 0.432 |
| 13 | 31 | Tom BLOMQVIST | | BMW Team RBM | BMW M4 DTM | 14 | 1:33.388 | 0.445 |
| 14 | 48 | Edoardo MORTARA | | Audi Sport Team Abt Sportsline | Audi RS5 DTM | 10 | 1:33.388 | 0.445 |
| 15 | 16 | Timo GLOCK | | BMW Team RMG | BMW M4 DTM | 13 | 1:33.480 | 0.537 |
| 16 | 36 | Maxime MARTIN | | BMW Team RBM | BMW M4 DTM | 13 | 1:33.487 | 0.544 |
| 17 | 100 | Martin TOMCZYK | | BMW Team Schnitzer | BMW M4 DTM | 14 | 1:33.565 | 0.622 |
| 18 | 10 | Timo SCHEIDER | | Audi Sport Team Phoenix | Audi RS5 DTM | 13 | 1:33.579 | 0.636 |
| 19 | 84 | Maximilian GÖTZ | | Mercedes-AMG | Mercedes-AMG C63 DTM | 15 | 1:33.764 | 0.821 |
| 20 | 88 | Felix ROSENQVIST | | EURONICS/FREE MEN'S WORLD Mercedes-AMG | Mercedes-AMG C63 DTM | 13 | 1:33.771 | 0.828 |
| 21 | 12 | Daniel JUNCADELLA | | SILBERPFEIL Energy/UBFS Invest Mercedes-AMG | Mercedes-AMG C63 DTM | 14 | 1:33.892 | 0.949 |
| 22 | 27 | Adrien TAMBAY | | Audi Sport Team Rosberg | Audi RS5 DTM | 14 | 1:33.894 | 0.951 |
| 23 | 3 | Paul di RESTA | | Mercedes-AMG | Mercedes-AMG C63 DTM | 13 | 1:34.013 | 1.070 |
| 24 | 6 | Robert WICKENS | | SILBERPFEIL Energy/UBFS Invest Mercedes-AMG | Mercedes-AMG C63 DTM | 11 | 1:34.026 | 1.083 |