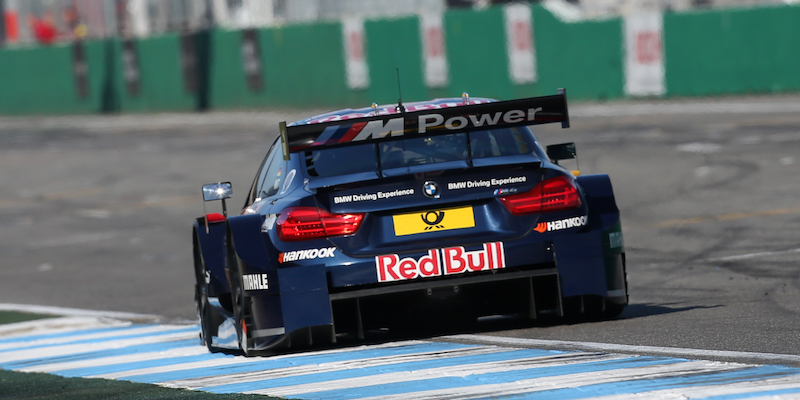 A thrilling conclusion to the 2016 Deutsche Tourenwagen Masters season saw eventual runner-up Edoardo Mortara take his fifth win of the season.
But he was unable to hold off Marco Wittmann, who eventually finished fourth and secure his second crown. He became the first driver since Timo Scheider to take two drivers' title by just four points from the Italian after 60 minutes of action at Hockenheim.
Mortara was able to take advantage of a clash between the initial leading pair of António Felix da Costa and Gary Paffett on lap five, which saw the former spin out and the Briton get a drive-through penalty.
The 2005 champion eventually finished 15th, whilst Da Costa suffered further dramas, losing a left front wheel on lap 21, forcing him to retire.
Adrien Tambay, Daniel Juncadella, Felix Rosenqvist and Augusto Farfus would also retire, with the latter being spun out by Timo Scheider on lap 17, which would force the Brazilian to pit for tyres and a brief repair to his left door.
Wittmann was initially in the lead, before Mortara swept past at the fast right hander at turn seven on the same lap.
Mortara would comfortably stay out front until the chequered flag, finishing ahead of Christian Vietoris by 3.0 seconds, with Paul Di Resta rounding out the top three for a strong performance from Mercedes-AMG DTM.
Timo Glock concluded a difficult season with a credible fifth place, with Maxime Martin and Tom Blomqvist occupying the next two places. Jamie Green, who cemented third overall in the drivers' standings, was eighth, ahead of Robert Wickens , who made it three Mercedes drivers in the top ten.
The last hurrah for Martin Tomczyk saw the 2011 champion make a great drive from 19th on the grid to take a points finish on his final race in the final time he occupies a DTM cockpit, keeping 2013 champion Mike Rockenfeller at bay.
Bruno Spengler finished in the same place as he qualified in 12th place, ahead of the Team Abt Sportsline duo of Nico Müller and race one winner Miguel Molina.
Lucas Auer would be the victim in a clash with Tambay, who had also been given a drive-through penalty, with the Austrian finishing 16th, ahead of the Team Phoenix duo of René Rast and Timo Scheider, with Maximilian Götz being the last of the classified finishers after 39 laps.
The off-season is soon to get underway, as further developments are underway for new cars, driver line-up announcements and much more.
The DTM teams will take to Oscehrsleben in two weeks' time for the first test ahead of the 2017 season.
Race result
| | | | | | | | | | |
| --- | --- | --- | --- | --- | --- | --- | --- | --- | --- |
| POS | NO | DRIVER | NAT | ENTRANT | CAR | LAPS | TIME/GAP | BEST | GD |
| 1 | 48 | Edoardo MORTARA | | Audi Sport Team Abt Sportsline | Audi RS5 DTM | 39 | 1:02:52.131 | 1:35.136 | 6 |
| 2 | 8 | Christian VIETORIS | | BWT Mercedes-AMG | Mercedes-AMG C63 DTM | 39 | 3.040 | 1:35.068 | 9 |
| 3 | 3 | Paul di RESTA | | Mercedes-AMG | Mercedes-AMG C63 DTM | 39 | 4.294 | 1:35.320 | 18 |
| 4 | 11 | Marco WITTMANN | | BMW Team RMG | BMW M4 DTM | 39 | 5.030 | 1:35.430 | 5 |
| 5 | 16 | Timo GLOCK | | BMW Team RMG | BMW M4 DTM | 39 | 6.103 | 1:34.659 | 8 |
| 6 | 36 | Maxime MARTIN | | BMW Team RBM | BMW M4 DTM | 39 | 8.947 | 1:35.392 | 4 |
| 7 | 31 | Tom BLOMQVIST | | BMW Team RBM | BMW M4 DTM | 39 | 13.857 | 1:35.557 | 3 |
| 8 | 53 | Jamie GREEN | | Audi Sport Team Rosberg | Audi RS5 DTM | 39 | 15.054 | 1:35.225 | 10 |
| 9 | 6 | Robert WICKENS | | SILBERPFEIL Energy/UBFS Invest Mercedes-AMG | Mercedes-AMG C63 DTM | 39 | 16.012 | 1:35.286 | 7 |
| 10 | 100 | Martin TOMCZYK | | BMW Team Schnitzer | BMW M4 DTM | 39 | 21.313 | 1:35.600 | 19 |
| 11 | 99 | Mike ROCKENFELLER | | Audi Sport Team Abt Sportsline | Audi RS5 DTM | 39 | 21.503 | 1:35.182 | 17 |
| 12 | 7 | Bruno SPENGLER | | BMW Team MTEK | BMW M4 DTM | 39 | 22.230 | 1:34.836 | 12 |
| 13 | 51 | Nico MÜLLER | | Audi Sport Team Abt | Audi RS5 DTM | 39 | 24.962 | 1:35.158 | 14 |
| 14 | 17 | Miguel MOLINA | | Audi Sport Team Abt | Audi RS5 DTM | 39 | 25.979 | 1:35.280 | 22 |
| 15 | 2 | Gary PAFFETT | | EURONICS/FREE MEN'S WORLD Mercedes-AMG | Mercedes-AMG C63 DTM | 39 | 27.937 | 1:34.757 | 2 |
| 16 | 22 | Lucas AUER | | BWT Mercedes-AMG | Mercedes-AMG C63 DTM | 39 | 29.298 | 1:35.186 | 13 |
| 17 | 72 | René RAST | | Audi Sport Team Phoenix | Audi RS5 DTM | 39 | 36.530 | 1:35.718 | 23 |
| 18 | 10 | Timo SCHEIDER | | Audi Sport Team Phoenix | Audi RS5 DTM | 39 | 39.112 | 1:34.773 | 20 |
| 19 | 84 | Maximilian GÖTZ | | Mercedes-AMG | Mercedes-AMG C63 DTM | 39 | 55.972 | 1:35.987 | 24 |
| 20 | 12 | Daniel JUNCADELLA | | SILBERPFEIL Energy/UBFS Invest Mercedes-AMG | Mercedes-AMG C63 DTM | 33 | 6 LAPS | 1:35.531 | 21 |
| 21 | 88 | Felix ROSENQVIST | | EURONICS/FREE MEN'S WORLD Mercedes-AMG | Mercedes-AMG C63 DTM | 32 | 7 LAPS | 1:35.302 | 15 |
| 22 | 18 | Augusto FARFUS | | BMW Team MTEK | BMW M4 DTM | 29 | 10 LAPS | 1:35.356 | 11 |
| R | 13 | António Félix da COSTA | | BMW Team Schnitzer | BMW M4 DTM | 21 | LAP 21 | 1:36.458 | 1 |
| R | 27 | Adrien TAMBAY | | Audi Sport Team Rosberg | Audi RS5 DTM | 15 | 24 LAPS | 1:37.911 | 16 |