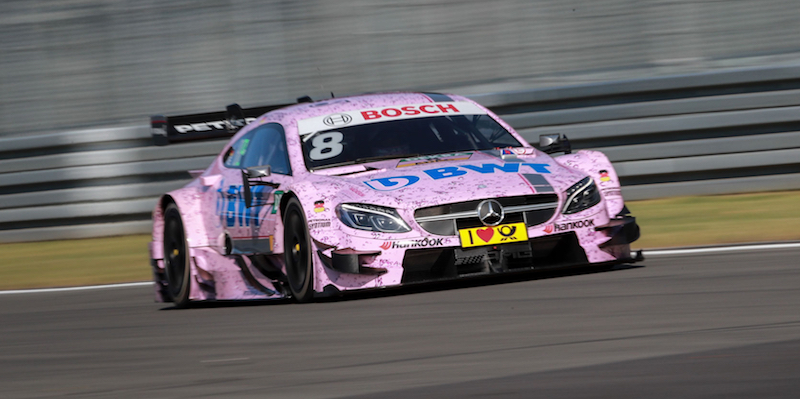 Mücke Motorsport's Christian Vietoris was fastest in the first Deutsche Tourenwagen Masters free practice session at the Nürburgring this afternoon (Friday, September 9th), leading HWA's Robert Wickens in a Mercedes 1-2 with a 1:23.838 around the 3.629-km circuit.
The Canadian, who is one of five drivers in the title hunt, was 0.078 seconds behind Vietoris after the end of the 30-minute session, with his chief rival, BMW Team RMG's Marco Wittmann a mere 0.006 seconds behind, rounding out the top three.
Team ART's Gary Paffett initially led the session from both Wittmann and Timo Glock, before Wickens jumped out in front after nine minutes.
Paffett's team mate, Felix Rosenqvist, had a great session in only his second DTM race weekend, as the Swede went second fastest with four minutes remaining, before Vietoris went fastest with two minutes to go.
Rosenqvist was just 0.154 seconds off the pace set by Vietoris, but was marginally faster than Audi Sport's Edoardo Mortara, who was fifth. Both Nico Müller and Timo Scheider made it three drivers from Ingolstadt in the top ten, posting the sixth and eighth fastest times respectively, whilst Paul Di Resta was between the Audi pair.
Paffett ended up ninth fastest, making it five Mercedes in the top ten, with Team MTEK's Augusto Farfus taking tenth spot ahead of Glock by 0.054 seconds, in a session that saw the top 22 drivers separated by 0.869 seconds.
2015 race winner Maxime Martin was 12th fastest, whilst 2014 race winner Miguel Molina was just 0.014 seconds behind the Belgian, as Team Rosberg's Jamie Green found himself in 17th place.
Martin Tomczyk, who announced that he is leaving the DTM after 16 years in the series, was 1.200 seconds off the pace down in 23rd place, ahead of Audi's Adrien Tambay and behind Team Schnitzer teammate António Félix da Costa.
Second free practice at the Nurburgring starts at 10:45 CEST (BST +1), lasting for 30 minutes.
Session results
| | | | | | | | | |
| --- | --- | --- | --- | --- | --- | --- | --- | --- |
| POS | NO | DRIVER | NAT | ENTRANT | CAR | LAPS | TIME | GAP |
| 1 | 8 | Christian VIETORIS | | BWT Mercedes-AMG | Mercedes-AMG C63 DTM | 17 | 1:23.838 | 0.000 |
| 2 | 6 | Robert WICKENS | | SILBERPFEIL Energy/UBFS Invest Mercedes-AMG | Mercedes-AMG C63 DTM | 17 | 1:23.916 | 0.078 |
| 3 | 11 | Marco WITTMANN | | BMW Team RMG | BMW M4 DTM | 17 | 1:23.922 | 0.084 |
| 4 | 88 | Felix ROSENQVIST | | EURONICS/FREE MEN'S WORLD Mercedes-AMG | Mercedes-AMG C63 DTM | 17 | 1:23.992 | 0.154 |
| 5 | 48 | Edoardo MORTARA | | Audi Sport Team Abt Sportsline | Audi RS5 DTM | 22 | 1:24.044 | 0.206 |
| 6 | 51 | Nico MÜLLER | | Audi Sport Team Abt | Audi RS5 DTM | 20 | 1:24.093 | 0.255 |
| 7 | 3 | Paul di RESTA | | Mercedes-AMG | Mercedes-AMG C63 DTM | 19 | 1:24.141 | 0.303 |
| 8 | 10 | Timo SCHEIDER | | Audi Sport Team Phoenix | Audi RS5 DTM | 19 | 1:24.170 | 0.332 |
| 9 | 2 | Gary PAFFETT | | EURONICS/FREE MEN'S WORLD Mercedes-AMG | Mercedes-AMG C63 DTM | 18 | 1:24.261 | 0.423 |
| 10 | 18 | Augusto FARFUS | | BMW Team MTEK | BMW M4 DTM | 22 | 1:24.270 | 0.432 |
| 11 | 16 | Timo GLOCK | | BMW Team RMG | BMW M4 DTM | 19 | 1:24.324 | 0.486 |
| 12 | 36 | Maxime MARTIN | | BMW Team RBM | BMW M4 DTM | 16 | 1:24.435 | 0.597 |
| 13 | 17 | Miguel MOLINA | | Audi Sport Team Abt | Audi RS5 DTM | 20 | 1:24.449 | 0.611 |
| 14 | 12 | Daniel JUNCADELLA | | SILBERPFEIL Energy/UBFS Invest Mercedes-AMG | Mercedes-AMG C63 DTM | 22 | 1:24.468 | 0.630 |
| 15 | 22 | Lucas AUER | | BWT Mercedes-AMG | Mercedes-AMG C63 DTM | 19 | 1:24.472 | 0.634 |
| 16 | 31 | Tom BLOMQVIST | | BMW Team RBM | BMW M4 DTM | 18 | 1:24.525 | 0.687 |
| 17 | 53 | Jamie GREEN | | Audi Sport Team Rosberg | Audi RS5 DTM | 19 | 1:24.637 | 0.799 |
| 18 | 99 | Mike ROCKENFELLER | | Audi Sport Team Phoenix | Audi RS5 DTM | 18 | 1:24.644 | 0.806 |
| 19 | 5 | Mattias EKSTRÖM | | Audi Sport Team Abt Sportsline | Audi RS5 DTM | 16 | 1:24.662 | 0.824 |
| 20 | 84 | Maximilian GÖTZ | | Mercedes-AMG | Mercedes-AMG C63 DTM | 18 | 1:24.670 | 0.832 |
| 21 | 7 | Bruno SPENGLER | | BMW Team MTEK | BMW M4 DTM | 16 | 1:24.678 | 0.840 |
| 22 | 13 | António Félix da COSTA | | BMW Team Schnitzer | BMW M4 DTM | 18 | 1:24.707 | 0.869 |
| 23 | 100 | Martin TOMCZYK | | BMW Team Schnitzer | BMW M4 DTM | 18 | 1:25.038 | 1.200 |
| 24 | 27 | Adrien TAMBAY | | Audi Sport Team Rosberg | Audi RS5 DTM | 19 | 1:25.049 | 1.211 |