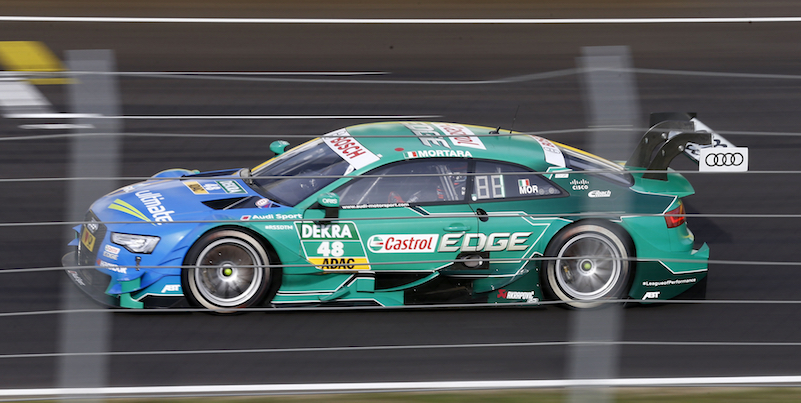 The final free practice session for the Deutsche Tourenwagen Masters at the Hungaroring saw Edoardo Mortara again top the time sheets, as Audi Sport again dominated proceedings.
The Italian would feature at the sharp end of the field, posting his best time of a 1:35.432 on his final lap, as the 30-minute session ended.
It put the Team Abt Sportsline driver ahead of Jamie Green once again, as the Briton set his best time with just over a minute remaining.
Audi Sport would have all of its RS5 DTMs in the top ten, with Mortara leading an Ingolstadt 1-2-3-4-5-6, as Team Phoenix's Timo Scheider was the first driver to dip under the 1m36s second barrier with 2 minutes 40 seconds left, posting a 1:35.931.
Mattias Ekström, Adrien Tambay and Miguel Molina helped to complete the top six clean sweep, whilst Mike Rockenfeller and Nico Müller were eighth and ninth fastest.
António Félix da Costa was the best of the BMW drivers in seventh, having run as high as third place in the session at one point, with Maximilian Götz rounding out the top ten for Mercedes.
Points leader Marco Wittmann was 12th fastest, behind Paul Di Resta, 0.940 seconds off the pace set by Mortara.
Daniel Juncadella was also showing a good turn of pace, posting times in the top five, alongside Götz, but was 13th fastest, ahead of fellow Stuttgart stablemates Robert Wickens and Lucas Auer.
Team RBM teammates Tom Blomqvist and Maxime Martin posted the 16th and 17th fastest times, whilst Christian Vietoris, Felix Rosenqvist and Gary Paffett were 18th, 22nd and 24th.
Timo Glock was 19th, ahead of a struggling Martin Tomczyk, as the Team Schnitzer driver locked up into turn one with less than 10 minutes left, saying the front was "too aggressive and nosey" to his engineer.
Bruno Spengler and Augusto Farfus also endured more difficulties, as the Team MTEK duo could only manage 21st and 23rd.
Qualifying for the the feature race starts at 1250 CEST (BST + 1), lasting for 20 minutes.
Session results
| | | | | | | | | |
| --- | --- | --- | --- | --- | --- | --- | --- | --- |
| POS | NO | DRIVER | NAT | ENTRANT | CAR | LAPS | TIME | GAP |
| 1 | 48 | Edoardo MORTARA | | Audi Sport Team Abt Sportsline | Audi RS5 DTM | 14 | 1:35.432 | 0.000 |
| 2 | 53 | Jamie GREEN | | Audi Sport Team Rosberg | Audi RS5 DTM | 14 | 1:35.588 | 0.156 |
| 3 | 10 | Timo SCHEIDER | | Audi Sport Team Phoenix | Audi RS5 DTM | 15 | 1:35.931 | 0.499 |
| 4 | 5 | Mattias EKSTRÖM | | Audi Sport Team Abt Sportsline | Audi RS5 DTM | 16 | 1:35.975 | 0.543 |
| 5 | 27 | Adrien TAMBAY | | Audi Sport Team Rosberg | Audi RS5 DTM | 14 | 1:35.995 | 0.563 |
| 6 | 17 | Miguel MOLINA | | Audi Sport Team Abt | Audi RS5 DTM | 14 | 1:36.013 | 0.581 |
| 7 | 13 | António Félix da COSTA | | BMW Team Schnitzer | BMW M4 DTM | 16 | 1:36.195 | 0.763 |
| 8 | 99 | Mike ROCKENFELLER | | Audi Sport Team Phoenix | Audi RS5 DTM | 16 | 1:36.205 | 0.773 |
| 9 | 51 | Nico MÜLLER | | Audi Sport Team Abt | Audi RS5 DTM | 14 | 1:36.289 | 0.857 |
| 10 | 84 | Maximilian GÖTZ | | Mercedes-AMG | Mercedes-AMG C63 DTM | 17 | 1:36.327 | 0.895 |
| 11 | 3 | Paul di RESTA | | Mercedes-AMG | Mercedes-AMG C63 DTM | 15 | 1:36.348 | 0.916 |
| 12 | 11 | Marco WITTMANN | | BMW Team RMG | BMW M4 DTM | 14 | 1:36.372 | 0.940 |
| 13 | 12 | Daniel JUNCADELLA | | SILBERPFEIL Energy/UBFS Invest Mercedes-AMG | Mercedes-AMG C63 DTM | 15 | 1:36.395 | 0.963 |
| 14 | 6 | Robert WICKENS | | SILBERPFEIL Energy/UBFS Invest Mercedes-AMG | Mercedes-AMG C63 DTM | 14 | 1:36.529 | 1.097 |
| 15 | 22 | Lucas AUER | | BWT Mercedes-AMG | Mercedes-AMG C63 DTM | 17 | 1:36.698 | 1.266 |
| 16 | 31 | Tom BLOMQVIST | | BMW Team RBM | BMW M4 DTM | 14 | 1:36.700 | 1.268 |
| 17 | 36 | Maxime MARTIN | | BMW Team RBM | BMW M4 DTM | 14 | 1:36.770 | 1.338 |
| 18 | 8 | Christian VIETORIS | | BWT Mercedes-AMG | Mercedes-AMG C63 DTM | 15 | 1:36.832 | 1.400 |
| 19 | 16 | Timo GLOCK | | BMW Team RMG | BMW M4 DTM | 14 | 1:36.866 | 1.434 |
| 20 | 100 | Martin TOMCZYK | | BMW Team Schnitzer | BMW M4 DTM | 15 | 1:36.934 | 1.502 |
| 21 | 7 | Bruno SPENGLER | | BMW Team MTEK | BMW M4 DTM | 15 | 1:36.978 | 1.546 |
| 22 | 88 | Felix ROSENQVIST | | EURONICS/FREE MEN'S WORLD Mercedes-AMG | Mercedes-AMG C63 DTM | 19 | 1:37.103 | 1.671 |
| 23 | 18 | Augusto FARFUS | | BMW Team MTEK | BMW M4 DTM | 13 | 1:37.199 | 1.767 |
| 24 | 2 | Gary PAFFETT | | EURONICS/FREE MEN'S WORLD Mercedes-AMG | Mercedes-AMG C63 DTM | 17 | 1:37.279 | 1.847 |