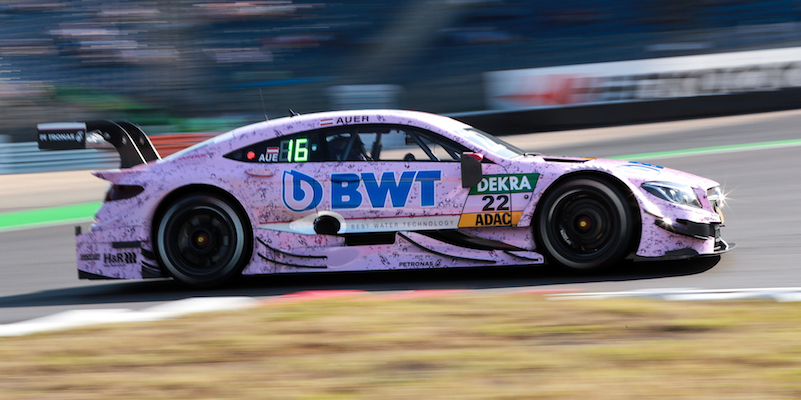 Mücke Motorsport's Lucas Auer took his third DTM career pole position by a whisker from Team RMG's Marco Wittmann at the Nürburgring, as the pair line up on the front row of the grid for the afternoon feature race.
The 22-year-old went faster than his time on Saturday, setting a 1:22.728 around the 3.629-km circuit with just two minutes remaining, with the 2014 champion only 0.030 seconds behind.
Wittmann led a BMW 2-3-4-5, as he was closely followed in terms of flying lap pace by Bruno Spengler, Tom Blomqvist and Augusto Farfus. All four drivers were separated by only 0.188 seconds
Title challengers Edoardo Mortara and Jamie Green complete the third row of the grid in sixth and seventh, ahead of the Spanish duo of Miguel Molina and Daniel Juncadella, with the latter being the last of nine drivers to dip under the 1m 23s barrier by just 0.004 seconds.
Mattias Ekström was only able to muster up tenth in the session, with Team ART's Gary Paffett and Felix Rosenqvist a fraction behind the two-time champion.
Timo Glock was the first of the Munich contingent that ended up in the lower half of the grid, as the Team RMG driver was 13th fastest, 0.362 seconds off the pace, in front of final free practice pace setter Nico Müller and HWA driver Paul Di Resta.
Timo Scheider was 16th fastest, ahead of Robert Wickens, who has endured a difficult day so far, with Christian Vietoris 0.476 seconds off the pace set by Mücke team mate Auer in 18th
Maxime Martin posted the 19th fastest time, ahead of 2013 champion Mike Rockenfeller and Adrien Tambay, with the latter starting from last, due to his three-place grid penalty from the sprint race after his clash with Farfus.
António Félix da Costa and Martin Tomczyk were the lowest-placed of the BMW drivers, ahead of Maximilian Götz, who was only 0.859 seconds off the fastest time set at the Nürburgring.
The feature race at the Nürburgring starts at 15:13 CEST (BST + 1), lasting for 60 minutes plus one lap.
Session results
| | | | | | | | | |
| --- | --- | --- | --- | --- | --- | --- | --- | --- |
| POS | NO | DRIVER | NAT | ENTRANT | CAR | LAPS | TIME | GAP |
| 1 | 22 | Lucas AUER | | BWT Mercedes-AMG | Mercedes-AMG C63 DTM | 8 | 1:22.728 | 0.000 |
| 2 | 11 | Marco WITTMANN | | BMW Team RMG | BMW M4 DTM | 8 | 1:22.758 | 0.030 |
| 3 | 7 | Bruno SPENGLER | | BMW Team MTEK | BMW M4 DTM | 10 | 1:22.843 | 0.115 |
| 4 | 31 | Tom BLOMQVIST | | BMW Team RBM | BMW M4 DTM | 10 | 1:22.896 | 0.168 |
| 5 | 18 | Augusto FARFUS | | BMW Team MTEK | BMW M4 DTM | 10 | 1:22.898 | 0.170 |
| 6 | 48 | Edoardo MORTARA | | Audi Sport Team Abt Sportsline | Audi RS5 DTM | 10 | 1:22.918 | 0.190 |
| 7 | 53 | Jamie GREEN | | Audi Sport Team Rosberg | Audi RS5 DTM | 10 | 1:22.943 | 0.215 |
| 8 | 17 | Miguel MOLINA | | Audi Sport Team Abt | Audi RS5 DTM | 10 | 1:22.948 | 0.220 |
| 9 | 12 | Daniel JUNCADELLA | | SILBERPFEIL Energy/UBFS Invest Mercedes-AMG | Mercedes-AMG C63 DTM | 8 | 1:22.996 | 0.268 |
| 10 | 5 | Mattias EKSTRÖM | | Audi Sport Team Abt Sportsline | Audi RS5 DTM | 11 | 1:23.007 | 0.279 |
| 11 | 2 | Gary PAFFETT | | EURONICS/FREE MEN'S WORLD Mercedes-AMG | Mercedes-AMG C63 DTM | 8 | 1:23.030 | 0.302 |
| 12 | 88 | Felix ROSENQVIST | | EURONICS/FREE MEN'S WORLD Mercedes-AMG | Mercedes-AMG C63 DTM | 8 | 1:23.031 | 0.303 |
| 13 | 16 | Timo GLOCK | | BMW Team RMG | BMW M4 DTM | 9 | 1:23.090 | 0.362 |
| 14 | 51 | Nico MÜLLER | | Audi Sport Team Abt | Audi RS5 DTM | 11 | 1:23.130 | 0.402 |
| 15 | 3 | Paul di RESTA | | Mercedes-AMG | Mercedes-AMG C63 DTM | 8 | 1:23.133 | 0.405 |
| 16 | 10 | Timo SCHEIDER | | Audi Sport Team Phoenix | Audi RS5 DTM | 10 | 1:23.144 | 0.416 |
| 17 | 6 | Robert WICKENS | | SILBERPFEIL Energy/UBFS Invest Mercedes-AMG | Mercedes-AMG C63 DTM | 8 | 1:23.182 | 0.454 |
| 18 | 8 | Christian VIETORIS | | BWT Mercedes-AMG | Mercedes-AMG C63 DTM | 10 | 1:23.204 | 0.476 |
| 19 | 36 | Maxime MARTIN | | BMW Team RBM | BMW M4 DTM | 6 | 1:23.379 | 0.651 |
| 20 | 99 | Mike ROCKENFELLER | | Audi Sport Team Phoenix | Audi RS5 DTM | 10 | 1:23.382 | 0.654 |
| 21 | 27 | Adrien TAMBAY | | Audi Sport Team Rosberg | Audi RS5 DTM | 10 | 1:23.401 | 0.673 |
| 22 | 13 | António Félix da COSTA | | BMW Team Schnitzer | BMW M4 DTM | 9 | 1:23.491 | 0.763 |
| 23 | 100 | Martin TOMCZYK | | BMW Team Schnitzer | BMW M4 DTM | 10 | 1:23.517 | 0.789 |
| 24 | 84 | Maximilian GÖTZ | | Mercedes-AMG | Mercedes-AMG C63 DTM | 8 | 1:23.587 | 0.859 |