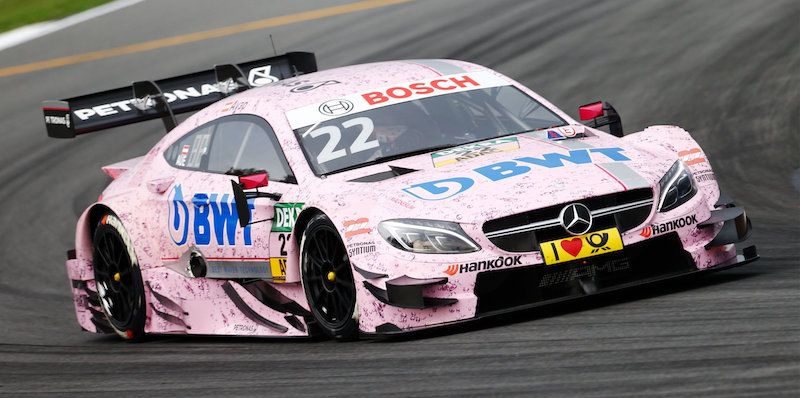 Austria's Lucas Auer secured what could have been his third Deutsche Tourenwagen Masters career pole position for the 13th race of the 2016 season in the last sixty seconds of qualifying, posting a 1:22.900 around the 3.629-km circuit, in a tightly-packed 20-minute session at the Eifel-based venue.
The Mücke Motorsport driver was 0.128 seconds ahead of current points leader, Team RMG's Marco Wittmann, with Team RBM's Tom Blomqvist completing the top three, with all three drivers separated by 0.249 seconds.
However, Auer has to serve a five-place grid penalty, as a result of receiving a third warning from the stewards at Moscow Raceway three weeks ago.
Audi Sport's Jamie Green and Edoardo Mortara helped their title challenges by now starting from the second row on the grid, behind the BMW pair, with all 24 drivers separated by 0.934 seconds.
HWA's Daniel Juncadella will line up fifth on the grid ahead of Auer, but is currently under investigation by the stewards for blocking another vehicle, whilst rookie Felix Rosenqvist has Team RMG's Timo Glock alongside him, as they were seventh and eighth fastest respectively.
Bruno Spengler clawed his way back up the times to secure ninth, ahead of Paul Di Resta, who made it another strong showing from Mercedes in tenth.
Maxime Martin, who won at the Nürburgring last year, was narrowly ousted out of the top ten by 0.026 seconds, with Maximilian Götz, title challenger Robert Wickens and Gary Paffett occupying the next three spots on the grid.
It was a difficult session for Audi Sport, with the remaining six RS5 DTMs in the lower half of the grid, led by Timo Scheider in 15th place. First practice pace setter Christian Vietoris was way down the order in 16th, 0.541 seconds off the pace set by Mücke team mate Auer.
2011 champion Martin Tomczyk was running as high as ninth until the times rapidly tumbled in the last four minutes, ending up 17th, ahead of the Ingolstadt trio of Miguel Molina, Mattias Ekström and Nico Müller.
António Félix da Costa, Mike Rockenfeller, Adrien Tambay and Augusto Farfus filled the last four spots on the starting grid for the first race of the weekend, which takes place at 14:58 CEST (BST + 1), lasting for 40 minutes plus one lap.
Session results
| | | | | | | | | |
| --- | --- | --- | --- | --- | --- | --- | --- | --- |
| POS | NO | DRIVER | NAT | ENTRANT | CAR | LAPS | TIME | GAP |
| 1 | 22 | Lucas AUER | | BWT Mercedes-AMG | Mercedes-AMG C63 DTM | 8 | 1:22.900 | 0.000 |
| 2 | 11 | Marco WITTMANN | | BMW Team RMG | BMW M4 DTM | 8 | 1:23.028 | 0.128 |
| 3 | 31 | Tom BLOMQVIST | | BMW Team RBM | BMW M4 DTM | 9 | 1:23.149 | 0.249 |
| 4 | 53 | Jamie GREEN | | Audi Sport Team Rosberg | Audi RS5 DTM | 8 | 1:23.161 | 0.261 |
| 5 | 48 | Edoardo MORTARA | | Audi Sport Team Abt Sportsline | Audi RS5 DTM | 9 | 1:23.167 | 0.267 |
| 6 | 12 | Daniel JUNCADELLA | | SILBERPFEIL Energy/UBFS Invest Mercedes-AMG | Mercedes-AMG C63 DTM | 8 | 1:23.232 | 0.332 |
| 7 | 88 | Felix ROSENQVIST | | EURONICS/FREE MEN'S WORLD Mercedes-AMG | Mercedes-AMG C63 DTM | 8 | 1:23.245 | 0.345 |
| 8 | 16 | Timo GLOCK | | BMW Team RMG | BMW M4 DTM | 8 | 1:23.278 | 0.378 |
| 9 | 7 | Bruno SPENGLER | | BMW Team MTEK | BMW M4 DTM | 7 | 1:23.284 | 0.384 |
| 10 | 3 | Paul di RESTA | | Mercedes-AMG | Mercedes-AMG C63 DTM | 8 | 1:23.304 | 0.404 |
| 11 | 36 | Maxime MARTIN | | BMW Team RBM | BMW M4 DTM | 9 | 1:23.330 | 0.430 |
| 12 | 84 | Maximilian GÖTZ | | Mercedes-AMG | Mercedes-AMG C63 DTM | 7 | 1:23.335 | 0.435 |
| 13 | 6 | Robert WICKENS | | SILBERPFEIL Energy/UBFS Invest Mercedes-AMG | Mercedes-AMG C63 DTM | 8 | 1:23.388 | 0.488 |
| 14 | 2 | Gary PAFFETT | | EURONICS/FREE MEN'S WORLD Mercedes-AMG | Mercedes-AMG C63 DTM | 8 | 1:23.398 | 0.498 |
| 15 | 10 | Timo SCHEIDER | | Audi Sport Team Phoenix | Audi RS5 DTM | 7 | 1:23.424 | 0.524 |
| 16 | 8 | Christian VIETORIS | | BWT Mercedes-AMG | Mercedes-AMG C63 DTM | 8 | 1:23.441 | 0.541 |
| 17 | 100 | Martin TOMCZYK | | BMW Team Schnitzer | BMW M4 DTM | 8 | 1:23.497 | 0.597 |
| 18 | 17 | Miguel MOLINA | | Audi Sport Team Abt | Audi RS5 DTM | 7 | 1:23.523 | 0.623 |
| 19 | 5 | Mattias EKSTRÖM | | Audi Sport Team Abt Sportsline | Audi RS5 DTM | 8 | 1:23.544 | 0.644 |
| 20 | 51 | Nico MÜLLER | | Audi Sport Team Abt | Audi RS5 DTM | 9 | 1:23.667 | 0.767 |
| 21 | 13 | António Félix da COSTA | | BMW Team Schnitzer | BMW M4 DTM | 9 | 1:23.696 | 0.796 |
| 22 | 99 | Mike ROCKENFELLER | | Audi Sport Team Phoenix | Audi RS5 DTM | 8 | 1:23.701 | 0.801 |
| 23 | 27 | Adrien TAMBAY | | Audi Sport Team Rosberg | Audi RS5 DTM | 8 | 1:23.760 | 0.860 |
| 24 | 18 | Augusto FARFUS | | BMW Team MTEK | BMW M4 DTM | 8 | 1:23.834 | 0.934 |