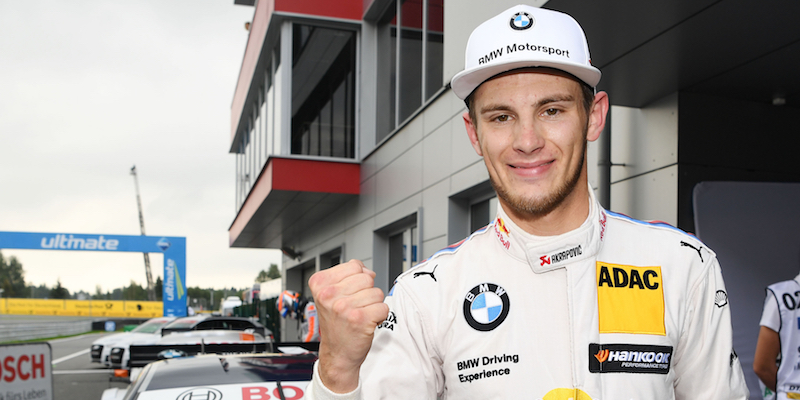 BMW Motorsport's Marco Wittmann retook the lead in the Deutsche Tourenwagen Masters drivers' standings from Mercedes-AMG DTM's Robert Wickens, having taken a dominant lights-to-flag victory at Moscow Raceway this afternoon.
The 2014 champion got a great start, and remained relatively unchallenged for the entire race, finishing 4.123 seconds ahead of Britain's Tom Blomqvist, with Team MTEK team mates Bruno Spengler and Augusto Farfus assisting to repeat the feat by their Stuttgart rivals in the sprint race.
Robert Wickens is now 12 points behind Wittmann, having suffered power steering issues with his C63 Coupé AMG DTM ten laps from the end, but battled hard against Edoardo Mortara and Daniel Juncadella to take a well-earned fifth place.
A resurgent Audi Sport saw four cars make it into the top ten, led by Edoardo Mortara after a fantastic charge through the field from 18th to sixth, ahead of Team Abt's Nico Müller, who set the fastest lap of the race with a 1:30.269.
Adrien Tambay and Mattias Ekström would also finish in the points, eighth and ninth respectively, ahead of Mücke Motorsport's Lucas Auer, who was the only other Mercedes driver to finish in the top ten.
Daniel Juncadella found himself slipping down the order from sixth on the last two laps, as the Spaniard was assisting Wickens to assist his title challenge, but it was to his detriment. The HWA driver had to settle for another non-points finish in 12th, 0.317 seconds behind countryman Miguel Molina.
Maxime Martin would have to fight his way back up the field after qualifying, as the Belgian would be relegated to the back of the grid, following parc fermé regulations being broken following his crash ahead of the race. However, he only made it up as high as 17th place at the chequered flag.
It was a day to forget for both Jamie Green and Paul Di Resta, as both drivers would be hit with drive-through penalties respectively.
Green was penalized for firstly hitting Team Schnitzer's António Félix Da Costa on the approach to the final turn on lap 12, before taking another drive-through just eight laps later for speeding in the pit lane. The Portuguese driver carried on with minimal damage to his M4 DTM, finishing in 19th, behind Gary Paffett.
Di Resta would also have to serve a drive-through later in the race, as he made contact with Team RMG's Timo Glock on lap 31 into the turn three hairpin, spinning the latter into retirement and bringing out the only Slow Zone restriction of the race.
Glock's frustration was clear to see, having been battling for at least a top-five finish after a well-timed pit stop, along with the Scot who was also in the hunt for points for his campaign. The pair would finish 22nd and 20th respectively.
Débutant Felix Rosenqvist would run as high as seventh during the pit stop phase in his first weekend in the DTM, and would make it two finishes from two down in 21st place.
The top four in the drivers' title standings are currently separated by 30 points with just six races remaining, with all three brands represented in the top three.
BMW's welcome 1-2-3-4 finish has now allowed them to extend their lead over Audi Sport to 46 points in the constructors' standings, with Mercedes-AMG DTM not that far behind in the hunt by a further four points.
The Deutsche Tourenwagen Masters heads to the Eifel region in three weeks' time, as the Nürburgring hosts races 13 and 14 of the 2016 campaign, with yet no clear indication as to how all three titles will be decided.
Race result
| | | | | | | | | | |
| --- | --- | --- | --- | --- | --- | --- | --- | --- | --- |
| POS | NO | DRIVER | NAT | ENTRANT | CAR | LAPS | TIME/GAP | BEST | GD |
| 1 | 11 | Marco WITTMANN | | BMW Team RMG | BMW M4 DTM | 40 | LAP 40 | 1:30.445 | 1 |
| 2 | 31 | Tom BLOMQVIST | | BMW Team RBM | BMW M4 DTM | 40 | 4.123 | 1:30.651 | 2 |
| 3 | 7 | Bruno SPENGLER | | BMW Team MTEK | BMW M4 DTM | 40 | 18.119 | 1:30.563 | 4 |
| 4 | 18 | Augusto FARFUS | | BMW Team MTEK | BMW M4 DTM | 40 | 24.650 | 1:30.567 | 6 |
| 5 | 6 | Robert WICKENS | | SILBERPFEIL Energy/UBFS Invest Mercedes-AMG | Mercedes-AMG C63 DTM | 40 | 38.818 | 1:30.850 | 3 |
| 6 | 48 | Edoardo MORTARA | | Audi Sport Team Abt Sportsline | Audi RS5 DTM | 40 | 38.885 | 1:31.159 | 17 |
| 7 | 51 | Nico MÜLLER | | Audi Sport Team Abt | Audi RS5 DTM | 40 | 39.158 | 1:30.269 | 12 |
| 8 | 27 | Adrien TAMBAY | | Audi Sport Team Rosberg | Audi RS5 DTM | 40 | 41.193 | 1:30.861 | 18 |
| 9 | 5 | Mattias EKSTRÖM | | Audi Sport Team Abt Sportsline | Audi RS5 DTM | 40 | 41.223 | 1:31.181 | 14 |
| 10 | 22 | Lucas AUER | | BWT Mercedes-AMG | Mercedes-AMG C63 DTM | 40 | 42.138 | 1:30.929 | 9 |
| 11 | 17 | Miguel MOLINA | | Audi Sport Team Abt | Audi RS5 DTM | 40 | 42.245 | 1:31.165 | 15 |
| 12 | 12 | Daniel JUNCADELLA | | SILBERPFEIL Energy/UBFS Invest Mercedes-AMG | Mercedes-AMG C63 DTM | 40 | 42.562 | 1:30.910 | 5 |
| 13 | 10 | Timo SCHEIDER | | Audi Sport Team Phoenix | Audi RS5 DTM | 40 | 42.641 | 1:31.180 | 23 |
| 14 | 8 | Christian VIETORIS | | BWT Mercedes-AMG | Mercedes-AMG C63 DTM | 40 | 46.076 | 1:31.011 | 16 |
| 15 | 99 | Mike ROCKENFELLER | | Audi Sport Team Phoenix | Audi RS5 DTM | 40 | 47.432 | 1:30.688 | 20 |
| 16 | 84 | Maximilian GÖTZ | | Mercedes-AMG | Mercedes-AMG C63 DTM | 40 | 48.338 | 1:31.158 | 8 |
| 17 | 36 | Maxime MARTIN | | BMW Team RBM | BMW M4 DTM | 40 | 51.31 | 1:30.551 | 24 |
| 18 | 2 | Gary PAFFETT | | EURONICS/FREE MEN'S WORLD Mercedes-AMG | Mercedes-AMG C63 DTM | 40 | 52.078 | 1:30.886 | 21 |
| 19 | 13 | António Félix da COSTA | | BMW Team Schnitzer | BMW M4 DTM | 40 | 55.563 | 1:30.996 | 10 |
| 20 | 3 | Paul di RESTA | | Mercedes-AMG | Mercedes-AMG C63 DTM | 40 | 57.467 | 1:30.882 | 11 |
| 21 | 88 | Felix ROSENQVIST | | EURONICS/FREE MEN'S WORLD Mercedes-AMG | Mercedes-AMG C63 DTM | 40 | 57.979 | 1:31.256 | 13 |
| 22 | 53 | Jamie GREEN | | Audi Sport Team Rosberg | Audi RS5 DTM | 40 | 1:01.627 | 1:30.617 | 19 |
| 23 | 100 | Martin TOMCZYK | | BMW Team Schnitzer | BMW M4 DTM | 40 | 1:04.773 | 1:31.445 | 22 |
| R | 16 | Timo GLOCK | | BMW Team RMG | BMW M4 DTM | 31 | 9 LAPS | 1:30.740 | 7 |