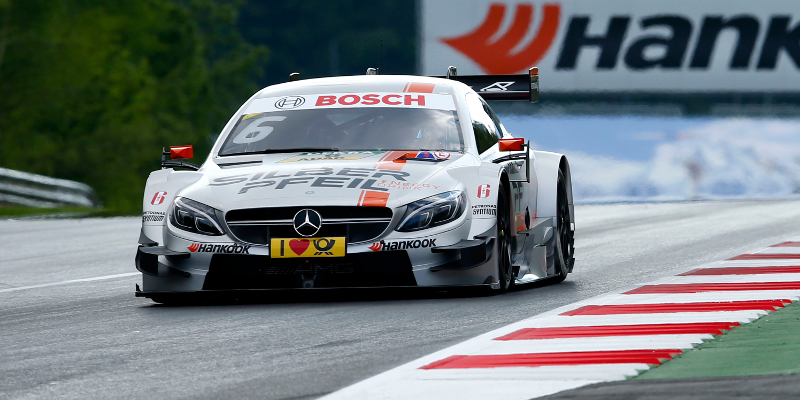 Robert Wickens led home a Mercedes-Benz 1-2-3-4 in a wet opening Deutsche Tourenwagen Masters race at the Moscow Raceway in Russia, taking the drivers' championship lead with his second win of the season.
Due to heavy rain between qualifying and the race, which was still falling at the scheduled start time, the race started behind the safety car and the first four laps were run in these controlled conditions in order to allow the drivers to get a feel for the conditions.
When the safety car peeled in to the pits at the end of lap four, pole man Gary Paffett was immediately put under pressure by Mercedes stable-mate Wickens, who easily took the lead from the Brit at Turn 3 on that opening lap.
Such was the Canadian's superiority in the wet that by the end of the first lap he had opened up a two second lead, and he went on to win the race by a comfortable 10.9 seconds.
Paul di Resta took second, having got past Paffett for the position on lap seven, with his fellow Brit forced to settle for third. Paffett later admitted after the race that he knew Wickens was the faster driver, and he didn't make it difficult for him to pass in the circumstances.
Maximilian Götz took fourth and secured his best-ever result in the DTM as Mercedes scored their first 1-2-3-4 finish of the season.
Audi's Mattias Ekström was the 'best of the rest' in fifth, having had a quiet race as he was unable to take the fight to the Mercedes cars in front.
Maxime Martin proved to be the only consolation for BMW in a poor race for the Munich manufacturer, as he took the flag in sixth but ended up as the only M4 driver inside the top ten.
Audi's Jamie Green was seventh keeping alive his title push as he improved from tenth on the grid, ahead of colleague Edoardo Mortara in eighth, who was passed by Green late in the race after himself making up several positions in the early stages to break into the top ten.
Ninth-placed Timo Scheider was passed by both Green and Mortara after a mistake on lap 16, leaving the former champion in ninth, ahead of rookie Felix Rosenqvist in tenth, who scored points for Mercedes in his first-ever DTM race.
Marco Wittmann, who led the championship heading to Russia, could only manage 19th position in a disastrous race for BMW.
All 24 drivers finished the race, which was bookended by Mercedes drivers, with Daniel Juncadella finishing in 24th place despite posting the fastest lap of the race.
Race two takes place at 11:13 BST on Sunday (12:13 CEST). Before then, third free practice is at 07:10 BST (08:10 CEST) on Sunday morning.
Race result
| | | | | | | | | | |
| --- | --- | --- | --- | --- | --- | --- | --- | --- | --- |
| POS | NO | DRIVER | NAT | ENTRANT | CAR | LAPS | TIME/GAP | BEST | GD |
| 1 | 6 | Robert WICKENS | | SILBERPFEIL Energy/UBFS Invest Mercedes-AMG | Mercedes-AMG C63 DTM | 22 | 22 LAPS | 1:48.759 | 2 |
| 2 | 3 | Paul di RESTA | | Mercedes-AMG | Mercedes-AMG C63 DTM | 22 | 10.955 | 1:49.067 | 3 |
| 3 | 2 | Gary PAFFETT | | EURONICS/FREE MEN'S WORLD Mercedes-AMG | Mercedes-AMG C63 DTM | 22 | 12.293 | 1:48.428 | 1 |
| 4 | 84 | Maximilian GÖTZ | | Mercedes-AMG | Mercedes-AMG C63 DTM | 22 | 25.270 | 1:49.752 | 4 |
| 5 | 5 | Mattias EKSTRÖM | | Audi Sport Team Abt Sportsline | Audi RS5 DTM | 22 | 25.874 | 1:49.772 | 5 |
| 6 | 36 | Maxime MARTIN | | BMW Team RBM | BMW M4 DTM | 22 | 27.243 | 1:49.770 | 6 |
| 7 | 53 | Jamie GREEN | | Audi Sport Team Rosberg | Audi RS5 DTM | 22 | 27.752 | 1:48.859 | 10 |
| 8 | 48 | Edoardo MORTARA | | Audi Sport Team Abt Sportsline | Audi RS5 DTM | 22 | 30.108 | 1:49.449 | 12 |
| 9 | 10 | Timo SCHEIDER | | Audi Sport Team Phoenix | Audi RS5 DTM | 22 | 31.671 | 1:49.770 | 7 |
| 10 | 88 | Felix ROSENQVIST | | EURONICS/FREE MEN'S WORLD Mercedes-AMG | Mercedes-AMG C63 DTM | 22 | 32.848 | 1:49.440 | 9 |
| 11 | 16 | Timo GLOCK | | BMW Team RMG | BMW M4 DTM | 22 | 35.243 | 1:49.664 | 8 |
| 12 | 27 | Adrien TAMBAY | | Audi Sport Team Rosberg | Audi RS5 DTM | 22 | 36.197 | 1:49.323 | 11 |
| 13 | 51 | Nico MÜLLER | | Audi Sport Team Abt | Audi RS5 DTM | 22 | 38.287 | 1:48.720 | 17 |
| 14 | 18 | Augusto FARFUS | | BMW Team MTEK | BMW M4 DTM | 22 | 42.822 | 1:49.889 | 14 |
| 15 | 7 | Bruno SPENGLER | | BMW Team MTEK | BMW M4 DTM | 22 | 44.03 | 1:49.492 | 13 |
| 16 | 99 | Mike ROCKENFELLER | | Audi Sport Team Phoenix | Audi RS5 DTM | 22 | 44.781 | 1:49.421 | 23 |
| 17 | 17 | Miguel MOLINA | | Audi Sport Team Abt | Audi RS5 DTM | 22 | 46.951 | 1:49.873 | 16 |
| 18 | 22 | Lucas AUER | | BWT Mercedes-AMG | Mercedes-AMG C63 DTM | 22 | 49.944 | 1:49.846 | 18 |
| 19 | 11 | Marco WITTMANN | | BMW Team RMG | BMW M4 DTM | 22 | 50.288 | 1:49.773 | 20 |
| 20 | 13 | António Félix da COSTA | | BMW Team Schnitzer | BMW M4 DTM | 22 | 51.313 | 1:49.265 | 15 |
| 21 | 100 | Martin TOMCZYK | | BMW Team Schnitzer | BMW M4 DTM | 22 | 59.926 | 1:50.086 | 19 |
| 22 | 31 | Tom BLOMQVIST | | BMW Team RBM | BMW M4 DTM | 22 | 1:02.697 | 1:49.731 | 21 |
| 23 | 8 | Christian VIETORIS | | BWT Mercedes-AMG | Mercedes-AMG C63 DTM | 22 | 1:07.259 | 1:50.434 | 24 |
| 24 | 12 | Daniel JUNCADELLA | | SILBERPFEIL Energy/UBFS Invest Mercedes-AMG | Mercedes-AMG C63 DTM | 22 | 1:10.016 | 1:48.220 | 22 |