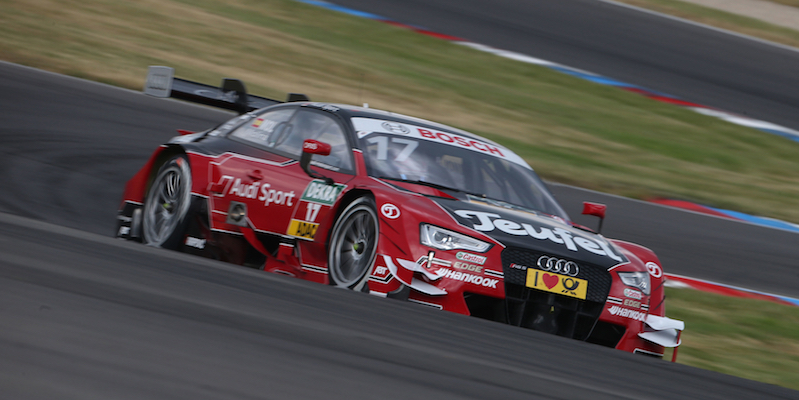 Team Abt Sportsline's Miguel Molina took his sixth Deutsche Tourenwagen Masters (DTM) career pole position at the Lausitzring, obliterating Team Rosberg's Jamie Green's lap record from last year by 0.727 seconds.
Green will line up alongside the Spaniard on the front row of the grid, but was only 0.077 seconds slower around the 3.476-km circuit.
Marco Wittmann upheld BMW Motorsport's honour, taking third in his Red Bull M4 DTM, ahead of Mercedes' Robert Wickens, who made sure that all three brands were represented in the first two rows for this afternoon.
Track temperatures had increased by over two degrees Celsius since second free practice, which saw the Audi ranks come alive, as Mike Rockenfeller, Adrien Tambay and second practice pace setter Nico Müller go into the 1m17 bracket within four minutes.
Tom Blomqvist showed his hand shortly after, going 0.035 seconds faster, before Wittmann and Lucas Auer went into the 1m16s four minutes in. Molina would then strike after five minutes, with only Green and Wittmann able to be as close as possible at the end of the 20-minute session in the latter stages.
Lucas Auer and Christian Vietoris made it a Mücke Motorsport third row, having been in the thick of the action early on, with Mattias Ekström, Adrien Tambay and Nico Müller making it five Audis in the top ten.
Team RBM's Maxime Martin was the only other driver from BMW that made it into the top ten, as the Belgian starts from ninth place, as the top ten were separated by 0.374 seconds.
Maxmilian Götz qualified 15th, but would receive a five-place grid penalty for blocking, putting him down to 20th for this afternoon's race 40-minute race. Timo Glock was also being investigated for the same offence, but there was no further action against the Team RMG driver, who was 0.044 seconds faster.
Points leader Paul Di Resta had to settle for 21st on the grid, whilst his closest rival, Audi's Edoardo Mortara, starts from 11th place.
Audi Sport will have the heaviest cars on the grid with 1125 kilograms, five lighter than previously, whilst all C63 AMG DTMs for Mercedes remain at 1110kgs. BMW Motorsport, however, now lose five kilograms for the race, based on having the slowest theoretical time of all three brands, starting on 1117.5 kilograms.
The first DTM race at the Lausitzring starts at 15.28 local time (14.28 British Summer Time), and will last for 40 minutes plus one lap.
Session results
| | | | | | | | | |
| --- | --- | --- | --- | --- | --- | --- | --- | --- |
| POS | NO | DRIVER | NAT | ENTRANT | CAR | LAPS | TIME | GAP |
| 1 | 17 | Miguel MOLINA | | Audi Sport Team Abt | Audi RS5 DTM | 9 | 1:16.619 | 0.000 |
| 2 | 53 | Jamie GREEN | | Audi Sport Team Rosberg | Audi RS5 DTM | 10 | 1:16.696 | 0.077 |
| 3 | 11 | Marco WITTMANN | | BMW Team RMG | BMW M4 DTM | 8 | 1:16.771 | 0.152 |
| 4 | 6 | Robert WICKENS | | SILBERPFEIL Energy/UBFS Invest Mercedes-AMG | Mercedes-AMG C63 DTM | 10 | 1:16.792 | 0.173 |
| 5 | 22 | Lucas AUER | | BWT Mercedes-AMG | Mercedes-AMG C63 DTM | 11 | 1:16.844 | 0.225 |
| 6 | 8 | Christian VIETORIS | | BWT Mercedes-AMG | Mercedes-AMG C63 DTM | 9 | 1:16.896 | 0.277 |
| 7 | 5 | Mattias EKSTRÖM | | Audi Sport Team Abt Sportsline | Audi RS5 DTM | 10 | 1:16.901 | 0.282 |
| 8 | 36 | Maxime MARTIN | | BMW Team RBM | BMW M4 DTM | 9 | 1:16.901 | 0.282 |
| 9 | 27 | Adrien TAMBAY | | Audi Sport Team Rosberg | Audi RS5 DTM | 11 | 1:16.961 | 0.342 |
| 10 | 51 | Nico MÜLLER | | Audi Sport Team Abt | Audi RS5 DTM | 13 | 1:16.993 | 0.374 |
| 11 | 48 | Edoardo MORTARA | | Audi Sport Team Abt Sportsline | Audi RS5 DTM | 10 | 1:16.997 | 0.378 |
| 12 | 2 | Gary PAFFETT | | EURONICS/FREE MEN'S WORLD Mercedes-AMG | Mercedes-AMG C63 DTM | 9 | 1:17.059 | 0.440 |
| 13 | 99 | Mike ROCKENFELLER | | Audi Sport Team Phoenix | Audi RS5 DTM | 12 | 1:17.082 | 0.463 |
| 14 | 16 | Timo GLOCK | | BMW Team RMG | BMW M4 DTM | 8 | 1:17.126 | 0.507 |
| 15 | 84 | Maximilian GÖTZ | | Mercedes-AMG | Mercedes-AMG C63 DTM | 10 | 1:17.172 | 0.553 |
| 16 | 7 | Bruno SPENGLER | | BMW Team MTEK | BMW M4 DTM | 9 | 1:17.188 | 0.569 |
| 17 | 34 | Esteban OCON | | EURONICS/FREE MEN'S WORLD Mercedes-AMG | Mercedes-AMG C63 DTM | 10 | 1:17.225 | 0.606 |
| 18 | 10 | Timo SCHEIDER | | Audi Sport Team Phoenix | Audi RS5 DTM | 11 | 1:17.228 | 0.609 |
| 19 | 31 | Tom BLOMQVIST | | BMW Team RBM | BMW M4 DTM | 9 | 1:17.295 | 0.676 |
| 20 | 13 | António Félix da COSTA | | BMW Team Schnitzer | BMW M4 DTM | 10 | 1:17.296 | 0.677 |
| 21 | 3 | Paul di RESTA | | Mercedes-AMG | Mercedes-AMG C63 DTM | 10 | 1:17.340 | 0.721 |
| 22 | 12 | Daniel JUNCADELLA | | SILBERPFEIL Energy/UBFS Invest Mercedes-AMG | Mercedes-AMG C63 DTM | 9 | 1:17.356 | 0.737 |
| 23 | 18 | Augusto FARFUS | | BMW Team MTEK | BMW M4 DTM | 12 | 1:17.406 | 0.787 |
| 24 | 100 | Martin TOMCZYK | | BMW Team Schnitzer | BMW M4 DTM | 10 | 1:17.536 | 0.917 |