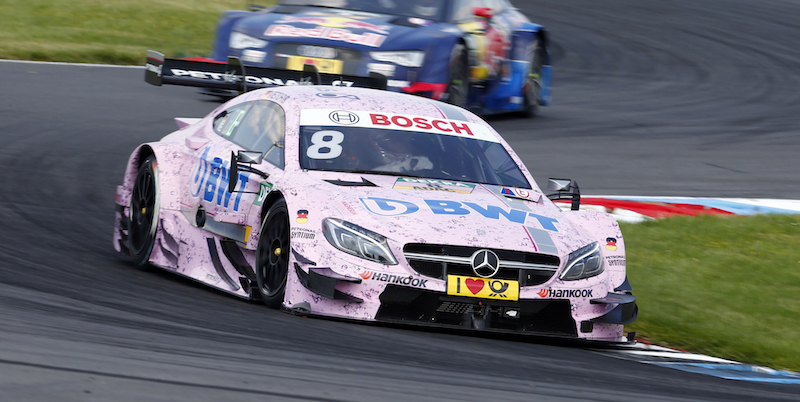 With the hot weather increasing over the weekend in Brandenburg, the final Deutsche Tourenwagen Masters free practice session saw Germany's Christian Vietoris set the fastest time around the 3.478-km track.
The BWT driver set a 1:17.284 with just 60 seconds left, ahead of Team Rosberg's Jamie Green and Team Abt's Nico Müller. The trio were separated by just 0.006 seconds after 30 minutes
Track temperatures were just five degrees of what the drivers experienced in the 40-minute sprint race, as Timo Scheider set the initial benchmark with a 1:19.706.
That was before Maximilian Götz was the first to go into the 1m17s five and a half minutes in, with a 1:17.641.
The German led a Mercedes 1-2 from Vietoris for the first half of the session, before the Audis struck back via Green and Müller.
Vietoris showed the speed of the C63 AMG DTM at the right moment to put him in potential contention for the race to pole position in qualifying.
Audi Sport had five cars in the top ten, with Matiias Ekström, Mike Rockenfeller and yesterday's race winner Miguel Molina, being fourth, sixth and tenth respectively.
Marco Wittmann and Maxime Martin would bring BMW some comfort, as the pair were seventh and eighth fastest.
Esteban Ocon would make it three Mercedes in the top ten, placing ninth, as the 19-year-old rookie was just 0.195 seconds off the pace.
Paul Di Resta, who is now equal third in the points' standings, was 15th fastest, 0.423 seconds off the pace, with the top 22 drivers separated by 0.699 seconds.
The final 20-minute qualifying session for the DTM ranks at the Lausitzring gets underway at 11:30 local time (10:30 British Summer Time).      
Session results
| | | | | | | | | |
| --- | --- | --- | --- | --- | --- | --- | --- | --- |
| POS | NO | DRIVER | NAT | ENTRANT | CAR | LAPS | TIME | GAP |
| 1 | 8 | Christian VIETORIS | | BWT Mercedes-AMG | Mercedes-AMG C63 DTM | 18 | 1:17.284 | 0.000 |
| 2 | 53 | Jamie GREEN | | Audi Sport Team Rosberg | Audi RS5 DTM | 15 | 1:17.287 | 0.003 |
| 3 | 51 | Nico MÜLLER | | Audi Sport Team Abt | Audi RS5 DTM | 18 | 1:17.290 | 0.006 |
| 4 | 5 | Mattias EKSTRÖM | | Audi Sport Team Abt Sportsline | Audi RS5 DTM | 15 | 1:17.317 | 0.033 |
| 5 | 22 | Lucas AUER | | BWT Mercedes-AMG | Mercedes-AMG C63 DTM | 21 | 1:17.364 | 0.080 |
| 6 | 99 | Mike ROCKENFELLER | | Audi Sport Team Phoenix | Audi RS5 DTM | 18 | 1:17.376 | 0.092 |
| 7 | 11 | Marco WITTMANN | | BMW Team RMG | BMW M4 DTM | 15 | 1:17.433 | 0.149 |
| 8 | 36 | Maxime MARTIN | | BMW Team RBM | BMW M4 DTM | 18 | 1:17.448 | 0.164 |
| 9 | 34 | Esteban OCON | | EURONICS/FREE MEN'S WORLD Mercedes-AMG | Mercedes-AMG C63 DTM | 19 | 1:17.479 | 0.195 |
| 10 | 17 | Miguel MOLINA | | Audi Sport Team Abt | Audi RS5 DTM | 16 | 1:17.525 | 0.241 |
| 11 | 84 | Maximilian GÖTZ | | Mercedes-AMG | Mercedes-AMG C63 DTM | 17 | 1:17.557 | 0.273 |
| 12 | 6 | Robert WICKENS | | SILBERPFEIL Energy/UBFS Invest Mercedes-AMG | Mercedes-AMG C63 DTM | 15 | 1:17.576 | 0.292 |
| 13 | 2 | Gary PAFFETT | | EURONICS/FREE MEN'S WORLD Mercedes-AMG | Mercedes-AMG C63 DTM | 18 | 1:17.593 | 0.309 |
| 14 | 27 | Adrien TAMBAY | | Audi Sport Team Rosberg | Audi RS5 DTM | 17 | 1:17.658 | 0.374 |
| 15 | 3 | Paul di RESTA | | Mercedes-AMG | Mercedes-AMG C63 DTM | 18 | 1:17.707 | 0.423 |
| 16 | 10 | Timo SCHEIDER | | Audi Sport Team Phoenix | Audi RS5 DTM | 19 | 1:17.720 | 0.436 |
| 17 | 12 | Daniel JUNCADELLA | | SILBERPFEIL Energy/UBFS Invest Mercedes-AMG | Mercedes-AMG C63 DTM | 17 | 1:17.843 | 0.559 |
| 18 | 31 | Tom BLOMQVIST | | BMW Team RBM | BMW M4 DTM | 17 | 1:17.879 | 0.595 |
| 19 | 48 | Edoardo MORTARA | | Audi Sport Team Abt Sportsline | Audi RS5 DTM | 18 | 1:17.900 | 0.616 |
| 20 | 100 | Martin TOMCZYK | | BMW Team Schnitzer | BMW M4 DTM | 17 | 1:17.958 | 0.674 |
| 21 | 16 | Timo GLOCK | | BMW Team RMG | BMW M4 DTM | 16 | 1:17.981 | 0.697 |
| 22 | 7 | Bruno SPENGLER | | BMW Team MTEK | BMW M4 DTM | 17 | 1:17.983 | 0.699 |
| 23 | 18 | Augusto FARFUS | | BMW Team MTEK | BMW M4 DTM | 21 | 1:18.293 | 1.009 |
| 24 | 13 | António Félix da COSTA | | BMW Team Schnitzer | BMW M4 DTM | 20 | 1:18.356 | 1.072 |