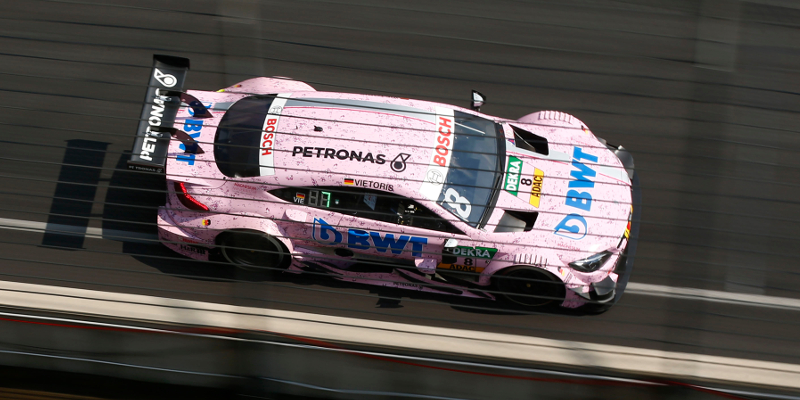 Mercedes' Christian Vietoris took his first pole position of the current Deutsche Tourenwagen Masters season for the first race at the Norisring, ahead of Audi's Mattias Ekström and Jamie Green.
Vietoris hit the top of the times after eight minutes in the short 20-minute session to beat Swede Ekström by just 0.038 seconds to take the third pole of his DTM career.
The German's pole means that there have now been seven different pole sitters from the first seven qualifying sessions in 2016.
'Mr Norisring' Jamie Green took a strong third on the grid for the first race with a clean run, the Brit admitting that it was challenging to keep his pace up from second practice, where he had been the best-placed of the Audi drivers along with Ekström.
Fourth went to second practice pace setter Robert Wickens, ahead of BMW's Bruno Spengler in fifth, who was the best-placed of the Munich manufacturers cars, with no other BMW driver featuring inside the top ten.
Audi's Edoardo Mortara, who had earlier set the pace in Friday's first practice session, was sixth, ahead of Mercedes' duo Paul di Resta and Lucas Auer in seventh and eighth respectively. Although the three-pointed star remains the dominant manufacturer at the Nuremberg circuit, no other Mercedes drivers featured in the top ten.
Audi duo Mike Rockenfeller and Nico Müller completed the top ten, just over two tenths slower than Vietoris.
Both Brits Gary Paffett and Tom Blomqvist continued to struggle in their Mercedes and BMW cars respectively, ending the session in 16th and 20th position. Paffett has failed to get close to the top ten all weekend so far, whilst Blomqvist struggled to improve on his lack of pace in second practice.
In total all 24 drivers were covered by 0.430 seconds around the short 2.3 km circuit, with Mercedes' rookie Esteban Ocon being the slowest driver in the field.
Race one takes place at 13:28 CEST (12:28 BST).
Session results
| | | | | | | | | |
| --- | --- | --- | --- | --- | --- | --- | --- | --- |
| POS | NO | DRIVER | NAT | ENTRANT | CAR | LAPS | TIME | GAP |
| 1 | 8 | Christian VIETORIS | | BWT Mercedes-AMG | Mercedes-AMG C63 DTM | 16 | 48.144 | 0.000 |
| 2 | 5 | Mattias EKSTRÖM | | Audi Sport Team Abt Sportsline | Audi RS5 DTM | 20 | 48.182 | 0.038 |
| 3 | 53 | Jamie GREEN | | Audi Sport Team Rosberg | Audi RS5 DTM | 18 | 48.194 | 0.050 |
| 4 | 6 | Robert WICKENS | | SILBERPFEIL Energy/UBFS Invest Mercedes-AMG | Mercedes-AMG C63 DTM | 18 | 48.250 | 0.106 |
| 5 | 7 | Bruno SPENGLER | | BMW Team MTEK | BMW M4 DTM | 16 | 48.257 | 0.113 |
| 6 | 48 | Edoardo MORTARA | | Audi Sport Team Abt Sportsline | Audi RS5 DTM | 20 | 48.305 | 0.161 |
| 7 | 3 | Paul di RESTA | | Mercedes-AMG | Mercedes-AMG C63 DTM | 19 | 48.312 | 0.168 |
| 8 | 22 | Lucas AUER | | BWT Mercedes-AMG | Mercedes-AMG C63 DTM | 18 | 48.342 | 0.198 |
| 9 | 99 | Mike ROCKENFELLER | | Audi Sport Team Phoenix | Audi RS5 DTM | 22 | 48.352 | 0.208 |
| 10 | 51 | Nico MÜLLER | | Audi Sport Team Abt | Audi RS5 DTM | 22 | 48.357 | 0.213 |
| 11 | 16 | Timo GLOCK | | BMW Team RMG | BMW M4 DTM | 18 | 48.360 | 0.216 |
| 12 | 18 | Augusto FARFUS | | BMW Team MTEK | BMW M4 DTM | 17 | 48.362 | 0.218 |
| 13 | 11 | Marco WITTMANN | | BMW Team RMG | BMW M4 DTM | 18 | 48.376 | 0.232 |
| 14 | 36 | Maxime MARTIN | | BMW Team RBM | BMW M4 DTM | 13 | 48.389 | 0.245 |
| 15 | 27 | Adrien TAMBAY | | Audi Sport Team Rosberg | Audi RS5 DTM | 19 | 48.393 | 0.249 |
| 16 | 2 | Gary PAFFETT | | EURONICS/FREE MEN'S WORLD Mercedes-AMG | Mercedes-AMG C63 DTM | 17 | 48.430 | 0.286 |
| 17 | 84 | Maximilian GÖTZ | | Mercedes-AMG | Mercedes-AMG C63 DTM | 17 | 48.445 | 0.301 |
| 18 | 17 | Miguel MOLINA | | Audi Sport Team Abt | Audi RS5 DTM | 24 | 48.464 | 0.320 |
| 19 | 10 | Timo SCHEIDER | | Audi Sport Team Phoenix | Audi RS5 DTM | 21 | 48.491 | 0.347 |
| 20 | 31 | Tom BLOMQVIST | | BMW Team RBM | BMW M4 DTM | 16 | 48.500 | 0.356 |
| 21 | 13 | António Félix da COSTA | | BMW Team Schnitzer | BMW M4 DTM | 20 | 48.526 | 0.382 |
| 22 | 12 | Daniel JUNCADELLA | | SILBERPFEIL Energy/UBFS Invest Mercedes-AMG | Mercedes-AMG C63 DTM | 19 | 48.538 | 0.394 |
| 23 | 100 | Martin TOMCZYK | | BMW Team Schnitzer | BMW M4 DTM | 20 | 48.544 | 0.400 |
| 24 | 34 | Esteban OCON | | EURONICS/FREE MEN'S WORLD Mercedes-AMG | Mercedes-AMG C63 DTM | 17 | 48.574 | 0.430 |