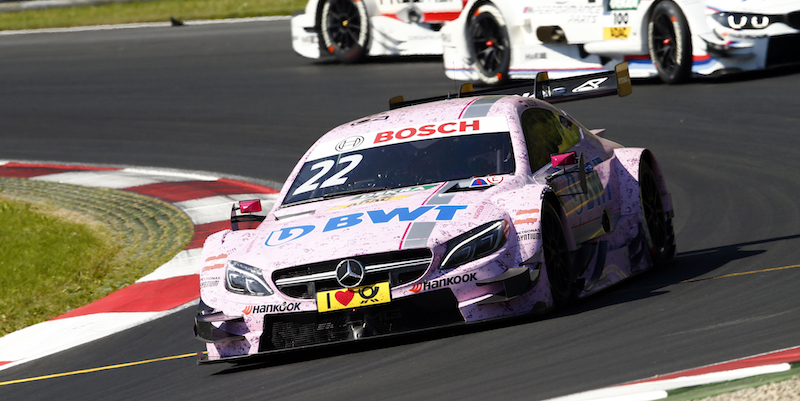 Mücke Motorsport's Lucas Auer was fastest around the Euro Speedway Lausitzring in the first free practice session for the Deutsche Tourenwagen Masters, as the Austrian strung together two quick laps to be only 0.221 seconds off the qualifying record set by Jamie Green last year.
Auer posted a 1:17.587 with four minutes remaining, with Nico Müller second, having led for the majority of the session. Team Abt Sportsline's Edoardo Mortara would complete the top three, who were separated by almost half a second.
Timo Scheider and Gary Paffett were the first drivers to set competitive benchmarks, as dry but overcast conditions circled the Brandenburg track. Paffett would go 0.504 seconds faster than the two-time champion, and also was the first driver to break into the 1m18s after five minutes.
Mattias Ekström, Mike Rockenfeller and Müller were able to showcase the clear potential of the RS5 DTM, as the Swiss driver set his best effort of the session 12 minutes in, with a 1:17.979 around the 3.476-km circuit.
Miguel Molina would be just 0.023 seconds behind Ekström in fifth place, despite having suffered a right rear puncture, forcing him to pit just after ten minutes completed.
Christian Vietoris was the next best-placed of the Mercedes drivers in sixth, in front of last year's double race winner, Jamie Green. Maximilian Götz took eighth, showing Mercedes' clear strength in numbers after disappointment at Spielberg.
2013 champion Mike Rockenfeller and Paffett would complete the top ten, with Tom Blomqvist top of the BMW ranks. The Anglo-Swede posted the 13th fastest time, 0.887 seconds off the pace set by Auer.
Spielberg race winners Marco Wittmann and Timo Glock ended up 14th and 18th respectively, with the M4 DTMs having been compromised due to the minimum weight all BMWs are carrying this weekend.
The second 30-minute free-practice session at the Lausitzring starts at 08.50 local time (07.50 British Summer Time) on Saturday morning.
Session results
| | | | | | | | | |
| --- | --- | --- | --- | --- | --- | --- | --- | --- |
| POS | NO | DRIVER | NAT | ENTRANT | CAR | LAPS | TIME | GAP |
| 1 | 22 | Lucas AUER | | BWT Mercedes-AMG | Mercedes-AMG C63 DTM | 18 | 1:17.587 | 0.000 |
| 2 | 51 | Nico MÜLLER | | Audi Sport Team Abt | Audi RS5 DTM | 22 | 1:17.979 | 0.392 |
| 3 | 48 | Edoardo MORTARA | | Audi Sport Team Abt Sportsline | Audi RS5 DTM | 24 | 1:18.044 | 0.457 |
| 4 | 5 | Mattias EKSTRÖM | | Audi Sport Team Abt Sportsline | Audi RS5 DTM | 17 | 1:18.059 | 0.472 |
| 5 | 17 | Miguel MOLINA | | Audi Sport Team Abt | Audi RS5 DTM | 22 | 1:18.082 | 0.495 |
| 6 | 8 | Christian VIETORIS | | BWT Mercedes-AMG | Mercedes-AMG C63 DTM | 18 | 1:18.259 | 0.672 |
| 7 | 53 | Jamie GREEN | | Audi Sport Team Rosberg | Audi RS5 DTM | 24 | 1:18.261 | 0.674 |
| 8 | 84 | Maximilian GÖTZ | | Mercedes-AMG | Mercedes-AMG C63 DTM | 25 | 1:18.343 | 0.756 |
| 9 | 99 | Mike ROCKENFELLER | | Audi Sport Team Phoenix | Audi RS5 DTM | 15 | 1:18.349 | 0.762 |
| 10 | 2 | Gary PAFFETT | | EURONICS/FREE MEN'S WORLD Mercedes-AMG | Mercedes-AMG C63 DTM | 18 | 1:18.362 | 0.775 |
| 11 | 3 | Paul di RESTA | | Mercedes-AMG | Mercedes-AMG C63 DTM | 20 | 1:18.447 | 0.860 |
| 12 | 27 | Adrien TAMBAY | | Audi Sport Team Rosberg | Audi RS5 DTM | 24 | 1:18.460 | 0.873 |
| 13 | 31 | Tom BLOMQVIST | | BMW Team RBM | BMW M4 DTM | 18 | 1:18.474 | 0.887 |
| 14 | 11 | Marco WITTMANN | | BMW Team RMG | BMW M4 DTM | 13 | 1:18.494 | 0.907 |
| 15 | 7 | Bruno SPENGLER | | BMW Team MTEK | BMW M4 DTM | 22 | 1:18.518 | 0.931 |
| 16 | 36 | Maxime MARTIN | | BMW Team RBM | BMW M4 DTM | 20 | 1:18.668 | 1.081 |
| 17 | 34 | Esteban OCON | | EURONICS/FREE MEN'S WORLD Mercedes-AMG | Mercedes-AMG C63 DTM | 21 | 1:18.689 | 1.102 |
| 18 | 16 | Timo GLOCK | | BMW Team RMG | BMW M4 DTM | 18 | 1:18.717 | 1.130 |
| 19 | 100 | Martin TOMCZYK | | BMW Team Schnitzer | BMW M4 DTM | 21 | 1:18.734 | 1.147 |
| 20 | 18 | Augusto FARFUS | | BMW Team MTEK | BMW M4 DTM | 22 | 1:18.738 | 1.151 |
| 21 | 12 | Daniel JUNCADELLA | | SILBERPFEIL Energy/UBFS Invest Mercedes-AMG | Mercedes-AMG C63 DTM | 19 | 1:18.784 | 1.197 |
| 22 | 10 | Timo SCHEIDER | | Audi Sport Team Phoenix | Audi RS5 DTM | 20 | 1:18.826 | 1.239 |
| 23 | 6 | Robert WICKENS | | SILBERPFEIL Energy/UBFS Invest Mercedes-AMG | Mercedes-AMG C63 DTM | 18 | 1:18.967 | 1.380 |
| 24 | 13 | António Félix da COSTA | | BMW Team Schnitzer | BMW M4 DTM | 20 | 1:19.036 | 1.449 |