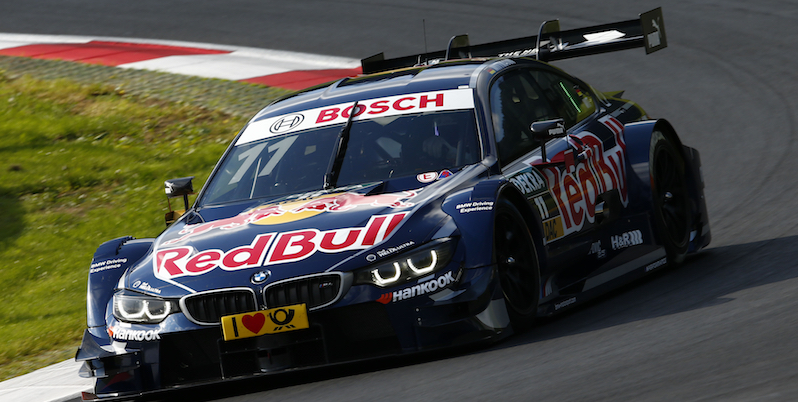 Qualifying for race three of the 2016 Deutsche Tourenwagen Masters (DTM) championship saw Marco Wittmann take pole position for the first race at Austria's Red Bull Ring this afternoon, leading a BMW front row lockout.
The Team RMG driver posted a 1:22.795 around the 4.326-km circuit, with Team RBM's Tom Blomqvist and Audi Sport Team Rosberg's Adrien Tambay completing the top three.
All drivers were separated by 0.739 seconds after a 20-minute qualifying session that was clearly dominated by BMW, who had six of their cars in the top ten.
Edoardo Mortara posted the fourth fastest time, ahead of a trio of M4 DTM's, as Timo Glock, Maxime Martin, António Félix da Costa secured the next three places.
Points leader Paul Di Resta was the sole Mercedes driver in the top ten, as the Scot starts from eighth on the grid, with Martin Tomczyk and Mattias Ekström completing the top ten.
The next best-placed Mercedes drivers were that of Maximillian Götz and Robert Wickens, who will start on row six.
Blomqvist set the first benchmark time of a 1:24.162 under the Styrian sun, before Götz, Farfus, Tomczyk and Farfus were upping the pace in to the mid 1m23s.
The Anglo-Swede responded in true fashion, as he went fastest, 0.354 seconds quicker than Farfus with just five minutes completed.
Paul Di Resta was also into the fight with 13 minutes to go, having gone third behind new pace setter Marco Wittmann and Blomqvist, as yellow flags were waved at turn six.
Tambay made his way into the top three, 0.089 seconds behind Blomqvist, with Mattias Ekström also battling his way in to the top ten at the same time, as the Swede went eighth fastest after the half way point.
Having initially not set a lap time for the majority of the session, Christian Vietoris finally let his pit garage with just eight minutes remaining, pinning his hopes on a clear run.
Maximillian Götz went very wide off at turn seven on one of his final flying laps with just over two minutes remaining, as many drivers were not able to make in roads of the pace set by Wittmann.
Four former champions found themselves down the lower half of the order, as Gary Paffett's difficult weekend continues. The Brit will start ahead of stable mate Christian Vietoris, as Mercedes struggled against the might of BMW throughout the 20-mintue session.
Bruno Spengler, Mike Rockenfeller and Timo Scheider will also look to battle their way up the grid in race one, starting from 14th, 17th and 19th respectively.
Race one of the weekend's DTM action in Spielberg starts at 17:45 local time (16.45 British Summer Time), and last for 40 minutes plus one lap.
Session results
| | | | | | | | | |
| --- | --- | --- | --- | --- | --- | --- | --- | --- |
| POS | NO | DRIVER | NAT | ENTRANT | CAR | LAPS | TIME | GAP |
| 1 | 11 | Marco WITTMANN | | BMW Team RMG | BMW M4 DTM | 11 | 1:22.795 | 0.000 |
| 2 | 31 | Tom BLOMQVIST | | BMW Team RBM | BMW M4 DTM | 12 | 1:22.814 | 0.019 |
| 3 | 27 | Adrien TAMBAY | | Audi Sport Team Rosberg | Audi RS5 DTM | 11 | 1:22.903 | 0.108 |
| 4 | 48 | Edoardo MORTARA | | Audi Sport Team Abt Sportsline | Audi RS5 DTM | 13 | 1:22.932 | 0.137 |
| 5 | 16 | Timo GLOCK | | BMW Team RMG | BMW M4 DTM | 12 | 1:22.937 | 0.142 |
| 6 | 36 | Maxime MARTIN | | BMW Team RBM | BMW M4 DTM | 12 | 1:22.957 | 0.162 |
| 7 | 13 | António Félix da COSTA | | BMW Team Schnitzer | BMW M4 DTM | 11 | 1:22.997 | 0.202 |
| 8 | 3 | Paul di RESTA | | Mercedes-AMG | Mercedes-AMG C63 DTM | 10 | 1:22.998 | 0.203 |
| 9 | 100 | Martin TOMCZYK | | BMW Team Schnitzer | BMW M4 DTM | 10 | 1:23.000 | 0.205 |
| 10 | 5 | Mattias EKSTRÖM | | Audi Sport Team Abt Sportsline | Audi RS5 DTM | 12 | 1:23.005 | 0.210 |
| 11 | 18 | Augusto FARFUS | | BMW Team MTEK | BMW M4 DTM | 11 | 1:23.062 | 0.267 |
| 12 | 84 | Maximilian GÖTZ | | Mercedes-AMG | Mercedes-AMG C63 DTM | 12 | 1:23.085 | 0.290 |
| 13 | 6 | Robert WICKENS | | SILBERPFEIL Energy/UBFS Invest Mercedes-AMG | Mercedes-AMG C63 DTM | 12 | 1:23.128 | 0.333 |
| 14 | 7 | Bruno SPENGLER | | BMW Team MTEK | BMW M4 DTM | 13 | 1:23.150 | 0.355 |
| 15 | 51 | Nico MÜLLER | | Audi Sport Team Abt | Audi RS5 DTM | 12 | 1:23.218 | 0.423 |
| 16 | 12 | Daniel JUNCADELLA | | SILBERPFEIL Energy/UBFS Invest Mercedes-AMG | Mercedes-AMG C63 DTM | 10 | 1:23.223 | 0.428 |
| 17 | 99 | Mike ROCKENFELLER | | Audi Sport Team Phoenix | Audi RS5 DTM | 13 | 1:23.242 | 0.447 |
| 18 | 53 | Jamie GREEN | | Audi Sport Team Rosberg | Audi RS5 DTM | 11 | 1:23.244 | 0.449 |
| 19 | 10 | Timo SCHEIDER | | Audi Sport Team Phoenix | Audi RS5 DTM | 11 | 1:23.265 | 0.470 |
| 20 | 22 | Lucas AUER | | BWT Mercedes-AMG | Mercedes-AMG C63 DTM | 12 | 1:23.368 | 0.573 |
| 21 | 17 | Miguel MOLINA | | Audi Sport Team Abt | Audi RS5 DTM | 13 | 1:23.379 | 0.584 |
| 22 | 34 | Esteban OCON | | EURONICS/FREE MEN'S WORLD Mercedes-AMG | Mercedes-AMG C63 DTM | 12 | 1:23.416 | 0.621 |
| 23 | 2 | Gary PAFFETT | | EURONICS/FREE MEN'S WORLD Mercedes-AMG | Mercedes-AMG C63 DTM | 10 | 1:23.459 | 0.664 |
| 24 | 8 | Christian VIETORIS | | BWT Mercedes-AMG | Mercedes-AMG C63 DTM | 7 | 1:23.534 | 0.739 |