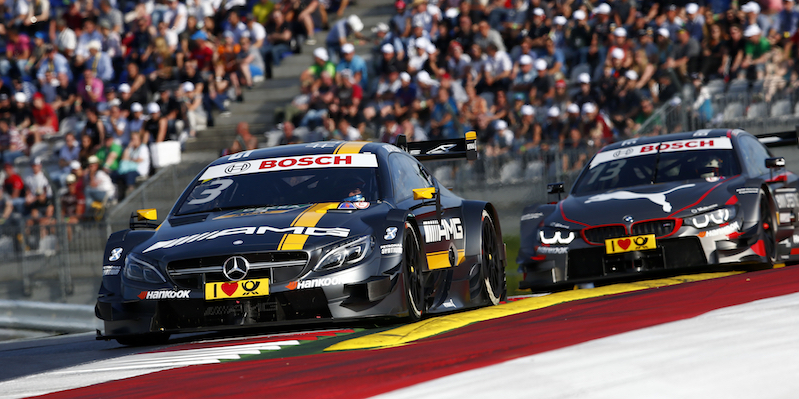 Even with the season opener at Hockenheim showing great promise within the ranks of Mercedes, the sprint race at the Red Bull Ring was a difficult one for the Stuttgart outfit, as Paul Di Resta was the only one of the eight drivers to finish in the points.
With two retirements in the form of Daniel Juncadella and Christian Vietoris, along with the rest struggling against their rivals, Mercedes-AMG DTM Head, Ulrich Fritz, was adamant about the results being not as they had expected.
"It was obvious that we would face challenges with the new car on circuits where we have not competed in it before. Unfortunately, that proved to be true today. In the end, the car simply did not work as we had hoped.
"But somehow, it seems the relationship between Spielberg and us does not want to end happily. However, we will have to take a good look at all the data and try to make things better tomorrow."
With Di Resta still leading the championship by a mere three points from Audi's Edoardo Mortara, the 30-year-old was still happy with how his race had gone, even with the BMWs dominating proceedings.
"We still have some work to do, but the key to winning is consistency. We'll just have to work harder tomorrow and try to finish higher up," said the Scot, who felt António Félix da Costa was a bit over aggressive during the race.
"He hit me and forced me over the kerbs. Still, he has since apologised [to me]."
Team ART's Gary Paffett felt that his #2 EURONICS C63 AMG DTM had the pace and balance to compete at the sharp end of the grid, but felt that the lack of track time, especially in free practice two had hampered his chances.
"I had to start the race from 23rd on the grid after missing free practice. However, it was still very difficult to move forwards, especially as I didn't want to damage my car. I hope that we'll have a better day tomorrow."
Robert Wickens was one of the drivers that were looking to get into the points this afternoon (21st May), but had to avoid a spinning Audi RS5 in the form of Mattias Ekström, comparing it to the NASCAR movie "Days of Thunder," when having to make a quick reaction.
"There was so much smoke that I had to take a guess and hope that he wouldn't be right there in front of me," explained the 27-year-old, who is now fourth in the drivers' standings, having finished 11th in the opening race.
"It was a very risky manoeuvre that lost me three places. After that, I was able to retake the positions I'd lost and even managed to get into the points. Unfortunately, I had no more DRS at the end, so I dropped back."