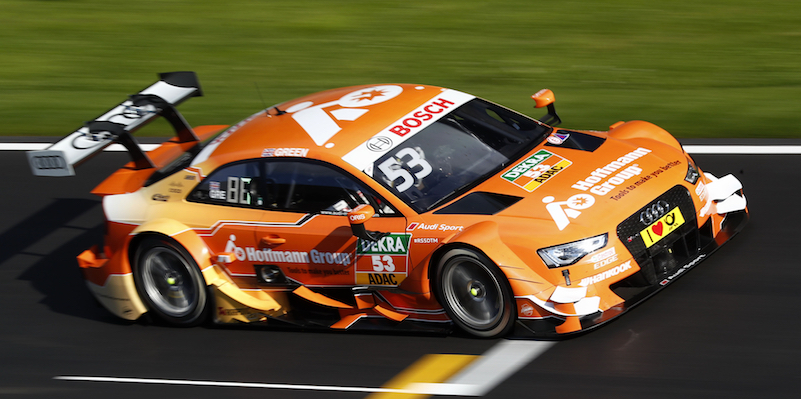 With track temperatures over ten degrees higher than the morning's final free practice session of the weekend, Audi Sport Team Rosberg's Jamie Green stormed to a last-gasp pole for race two at Austria's Red Bull Ring this afternoon.
The Briton's fastest time of a 1:22.680 was just 0.002 seconds faster that Team Schnitzer's António Félix da Costa, with Team RMG's Timo Glock just a further 0.067 seconds behind.
The 20-minute qualifying session continued to rapidly show the track evolution, with Mike Rockenfeller setting the first benchmark of a 1:26.033 around the 4.326-km circuit.
BMW Team RBM's Maxime Martin was 0.013 seconds ahead of Audi's Edoardo Mortara in fourth place, with Rockenfeller being the second driver from Audi that will start in the top ten, ninth ahead of race one winner Marco Wittmann.
Augusto Farfus will start from six on the grid ahead of Bruno Spengler and race one runner-up Tom Blomqvist.
Mattias Ekström, Adrien Tambay, Nico Müller and Timo Scheider occupy 11th to 14th place, ahead of the best of the Mercedes drivers, Robert Wickens.
Both Gary Paffett and Paul Di Resta will start from the back row of the grid, in what was a very difficult session for the Stuttgart outfit, with all their drivers in the bottom half of the starting grid for the main race.
In the first four minutes, flying lap times dropped by nearly three seconds, as Maxime Martin pipped Paffett for P1 with a 1:23.241, before the 2013 champion went over a tenth quicker.
Lucas Auer went fourth five minutes in before Paffett stormed to better his time.  Tambay and Wittmann were the first two to break the 1m22s barrier, before da Costa went even faster for provisional pole position seven minutes in.
Paul Di Resta was at the bottom of the times at the halfway point, having gone wide at the turn five/six complex, which brought out the yellow flags briefly.
The rest of the Mercedes ranks were clearly struggling against their rivals from Ingolstadt and Munich, with Robert Wickens being the fastest of the Stuttgart drivers in 14th place with ten minutes remaining.
All drivers opted to pit, as the track was empty for a couple of minutes, whilst the final tyre changes and adjustments were being made for the final run for pole position.
Track limits were also being exceeded by the likes of Martin Tomczyk and Daniel Juncadella, who were able to post fastest sector times, before their flying laps quickly unravelled by going wide.
Da Costa's time was bettered by Jamie Green just a few seconds later, as Rockenfeller, Esteban Ocon and Martin Tomczyk have been reported to the stewards for blocking.
Race two starts at 15:13 local time (14:13 BST), and lasts for 60 minutes plus one lap.
Session results
| | | | | | | | | |
| --- | --- | --- | --- | --- | --- | --- | --- | --- |
| POS | NO | DRIVER | NAT | ENTRANT | CAR | LAPS | TIME | GAP |
| 1 | 53 | Jamie GREEN | | Audi Sport Team Rosberg | Audi RS5 DTM | 9 | 1:22.680 | 0.000 |
| 2 | 13 | António Félix da COSTA | | BMW Team Schnitzer | BMW M4 DTM | 11 | 1:22.682 | 0.002 |
| 3 | 16 | Timo GLOCK | | BMW Team RMG | BMW M4 DTM | 11 | 1:22.749 | 0.069 |
| 4 | 36 | Maxime MARTIN | | BMW Team RBM | BMW M4 DTM | 11 | 1:22.799 | 0.119 |
| 5 | 48 | Edoardo MORTARA | | Audi Sport Team Abt Sportsline | Audi RS5 DTM | 13 | 1:22.812 | 0.132 |
| 6 | 18 | Augusto FARFUS | | BMW Team MTEK | BMW M4 DTM | 11 | 1:22.812 | 0.132 |
| 7 | 7 | Bruno SPENGLER | | BMW Team MTEK | BMW M4 DTM | 12 | 1:22.845 | 0.165 |
| 8 | 31 | Tom BLOMQVIST | | BMW Team RBM | BMW M4 DTM | 11 | 1:22.847 | 0.167 |
| 9 | 99 | Mike ROCKENFELLER | | Audi Sport Team Phoenix | Audi RS5 DTM | 14 | 1:22.878 | 0.198 |
| 10 | 11 | Marco WITTMANN | | BMW Team RMG | BMW M4 DTM | 11 | 1:22.883 | 0.203 |
| 11 | 5 | Mattias EKSTRÖM | | Audi Sport Team Abt Sportsline | Audi RS5 DTM | 13 | 1:22.905 | 0.225 |
| 12 | 27 | Adrien TAMBAY | | Audi Sport Team Rosberg | Audi RS5 DTM | 10 | 1:22.910 | 0.230 |
| 13 | 51 | Nico MÜLLER | | Audi Sport Team Abt | Audi RS5 DTM | 13 | 1:22.986 | 0.306 |
| 14 | 10 | Timo SCHEIDER | | Audi Sport Team Phoenix | Audi RS5 DTM | 14 | 1:23.003 | 0.323 |
| 15 | 6 | Robert WICKENS | | SILBERPFEIL Energy/UBFS Invest Mercedes-AMG | Mercedes-AMG C63 DTM | 11 | 1:23.058 | 0.378 |
| 16 | 12 | Daniel JUNCADELLA | | SILBERPFEIL Energy/UBFS Invest Mercedes-AMG | Mercedes-AMG C63 DTM | 12 | 1:23.070 | 0.390 |
| 17 | 22 | Lucas AUER | | BWT Mercedes-AMG | Mercedes-AMG C63 DTM | 11 | 1:23.087 | 0.407 |
| 18 | 100 | Martin TOMCZYK | | BMW Team Schnitzer | BMW M4 DTM | 12 | 1:23.139 | 0.459 |
| 19 | 84 | Maximilian GÖTZ | | Mercedes-AMG | Mercedes-AMG C63 DTM | 11 | 1:23.145 | 0.465 |
| 20 | 17 | Miguel MOLINA | | Audi Sport Team Abt | Audi RS5 DTM | 12 | 1:23.176 | 0.496 |
| 21 | 34 | Esteban OCON | | EURONICS/FREE MEN'S WORLD Mercedes-AMG | Mercedes-AMG C63 DTM | 11 | 1:23.189 | 0.509 |
| 22 | 8 | Christian VIETORIS | | BWT Mercedes-AMG | Mercedes-AMG C63 DTM | 12 | 1:23.210 | 0.530 |
| 23 | 2 | Gary PAFFETT | | EURONICS/FREE MEN'S WORLD Mercedes-AMG | Mercedes-AMG C63 DTM | 11 | 1:23.269 | 0.589 |
| 24 | 3 | Paul di RESTA | | Mercedes-AMG | Mercedes-AMG C63 DTM | 11 | 1:23.320 | 0.640 |