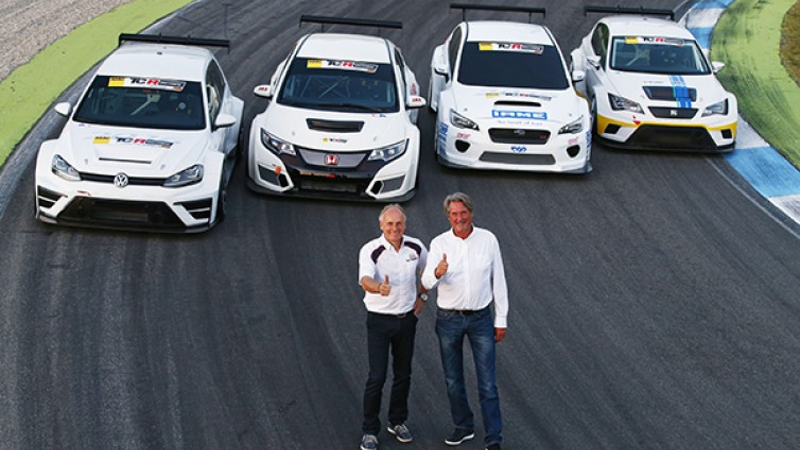 The new ADAC TCR Germany series, which will launch in 2016, was presented at the Hockenheimring season finale of the ADAC GT Masters at the weekend, with four different TCR cars on show.
The new championship will featured as a support series on ADAC GT Masters race weekends in 2016, and is being promoted by ADAC, with long-time touring car racer Franz Engstler acting as the series manager.
Cars from Volkswagen, Honda, Subaru and SEAT were presented at a media breakfast at the weekend. ADAC Sports President Hermann Tomczyk says that there has been a desire from his organisation to get involved in touring car racing for a long time.
"We have had to wait a long time for another opportunity to arise to do something in touring car racing," explained Tomczyk. "We have followed the TCR and I have known Franz Engstler for a very long time. We will now work flat-out together and are very confident we can create something that German motorsport really needs.
"We are providing a great stage, with GT, Formula 4 and touring cars. And we have also managed to open a route into TV for the TCR, meaning the series is well positioned from the word go with regard to external impact, marketing and advertising."
Engstler, meanwhile, reiterated comments which he has made throughout the current season about the TCR concept coming about at the right time for touring car racing.
"We have exactly the right concept, at the right time, and with absolutely the right partner," said Engstler. "I believe that this touring car series has huge potential. These cars are very appealing visually. With spoilers and flared wings, these are really great touring cars.
"That is what touring car racing really needs: a diversity of manufacturers and the latest cars."