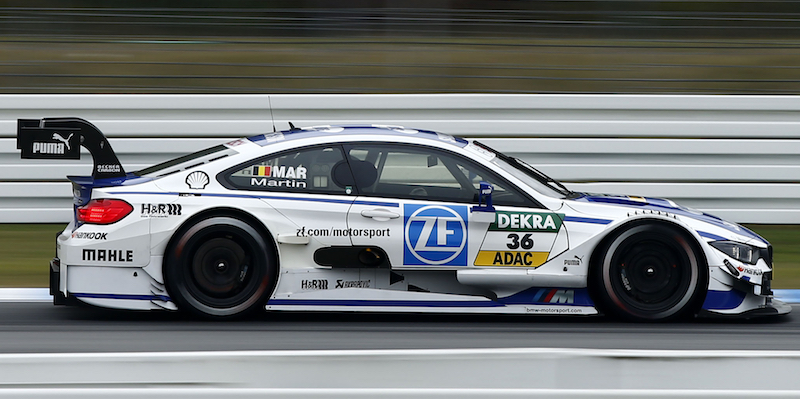 The penultimate qualifying session of the 2015 Deutsche Tourenwagen Masters (DTM) season saw Maxime Martin secure pole position at the Hockenheimring, as the Belgian was fastest during another exciting qualifying session.
The complete field was separated by just 0.894 seconds, as they battled around the 4.574-km track. It was also another good session for Audi Sport, who again had six RS5 DTMs in the top ten, which helps their chances in the manufacturers' title hunt.
Martin took advantage of potential traffic conditions to set his time, as the Team RMG driver posted a 1:32.637, which proved to be quicker that the Audi Sport pair of Timo Scheider and Miguel Molina. The top three were split by just 0.089 seconds.
In terms of the fight for the drivers' title, a dejected Pascal Wehrlein would only set the 13th fastest time, whilst close rivals Mattias Ekström and Edoardo Mortara will start from seventh and ninth in the race.
Apart from Martin, Team RMG's Tom Blomqvist made amends for his trip into the gravel during final free practice, as the Brit would post the eighth fastest time.
The fastest of the Mercedes drivers was Paul Di Resta in fourth, who was initially at the top of the timesheets before Martin knocked him off the top spot.
Team Phoenix's Mike Rockenfeller was also showing good pace, as the 2013 champion was able to end up sixth after the 20-minute session.
Austria's Lucas Auer would round out the top ten, as the rookie driver would be 0.191 seconds off the pace set by Martin.
Marco Wittmann was way down the order again, as the 25-year-old may have only been four tenths off the pace, but he will line up 16th behind Adrien Tambay and ahead of Maximiilian Götz.
The wait is on to see if history could be made this afternoon, so the question is – will Wehrlein take the title? He's got a lot of work to do.
Race one starts at 1330 CEST (1230 BST), and lasts for fourty minutes plus 1 lap.
Session results
| | | | | | | | | |
| --- | --- | --- | --- | --- | --- | --- | --- | --- |
| POS | NO | DRIVER | NAT | ENTRANT | CAR | LAPS | TIME | GAP |
| 1 | 36 | Maxime MARTIN | | BMW Team RMG | BMW M4 DTM | 8 | 1:32.637 | 0.000 |
| 2 | 10 | Timo SCHEIDER | | Audi Sport Team Phoenix | Audi RS5 DTM | 8 | 1:32.711 | 0.074 |
| 3 | 17 | Miguel MOLINA | | Audi Sport Team Abt Sportsline | Audi RS5 DTM | 8 | 1:32.726 | 0.089 |
| 4 | 3 | Paul di RESTA | | SILBERPFEIL Energy Mercedes-AMG | Mercedes-AMG C63 DTM | 7 | 1:32.766 | 0.129 |
| 5 | 53 | Jamie GREEN | | Audi Sport Team Rosberg | Audi RS5 DTM | 8 | 1:32.790 | 0.153 |
| 6 | 99 | Mike ROCKENFELLER | | Audi Sport Team Phoenix | Audi RS5 DTM | 10 | 1:32.793 | 0.156 |
| 7 | 5 | Mattias EKSTRÖM | | Audi Sport Team Abt Sportsline | Audi RS5 DTM | 9 | 1:32.795 | 0.158 |
| 8 | 31 | Tom BLOMQVIST | | BMW Team RBM | BMW M4 DTM | 6 | 1:32.808 | 0.171 |
| 9 | 48 | Edoardo MORTARA | | Audi Sport Team Abt | Audi RS5 DTM | 8 | 1:32.820 | 0.183 |
| 10 | 22 | Lucas AUER | | EURONICS / BWT Mercedes-AMG | Mercedes-AMG C63 DTM | 8 | 1:32.828 | 0.191 |
| 11 | 13 | António Félix da COSTA | | BMW Team Schnitzer | BMW M4 DTM | 10 | 1:32.847 | 0.210 |
| 12 | 2 | Gary PAFFETT | | EURONICS / BWT Mercedes-AMG | Mercedes-AMG C63 DTM | 7 | 1:32.889 | 0.252 |
| 13 | 94 | Pascal WEHRLEIN | | gooix / Original-Teile Mercedes-AMG | Mercedes-AMG C63 DTM | 9 | 1:32.892 | 0.255 |
| 14 | 18 | Augusto FARFUS | | BMW Team RBM | BMW M4 DTM | 8 | 1:32.905 | 0.268 |
| 15 | 27 | Adrien TAMBAY | | Audi Sport Team Abt | Audi RS5 DTM | 8 | 1:32.989 | 0.352 |
| 16 | 1 | Marco WITTMANN | | BMW Team RMG | BMW M4 DTM | 8 | 1:33.041 | 0.404 |
| 17 | 84 | Maximilian GÖTZ | | PETRONAS Mercedes-AMG | Mercedes-AMG C63 DTM | 8 | 1:33.072 | 0.435 |
| 18 | 7 | Bruno SPENGLER | | BMW Team MTEK | BMW M4 DTM | 8 | 1:33.089 | 0.452 |
| 19 | 6 | Robert WICKENS | | SILBERPFEIL Energy Mercedes-AMG | Mercedes-AMG C63 DTM | 6 | 1:33.165 | 0.528 |
| 20 | 51 | Nico MÜLLER | | Audi Sport Team Rosberg | Audi RS5 DTM | 9 | 1:33.283 | 0.646 |
| 21 | 16 | Timo GLOCK | | BMW Team MTEK | BMW M4 DTM | 7 | 1:33.382 | 0.745 |
| 22 | 77 | Martin TOMCZYK | | BMW Team Schnitzer | BMW M4 DTM | 7 | 1:33.407 | 0.770 |
| 23 | 12 | Daniel JUNCADELLA | | PETRONAS Mercedes-AMG | Mercedes-AMG C63 DTM | 7 | 1:33.511 | 0.874 |
| 24 | 8 | Christian VIETORIS | | gooix / Original-Teile Mercedes-AMG | Mercedes-AMG C63 DTM | 8 | 1:33.531 | 0.894 |