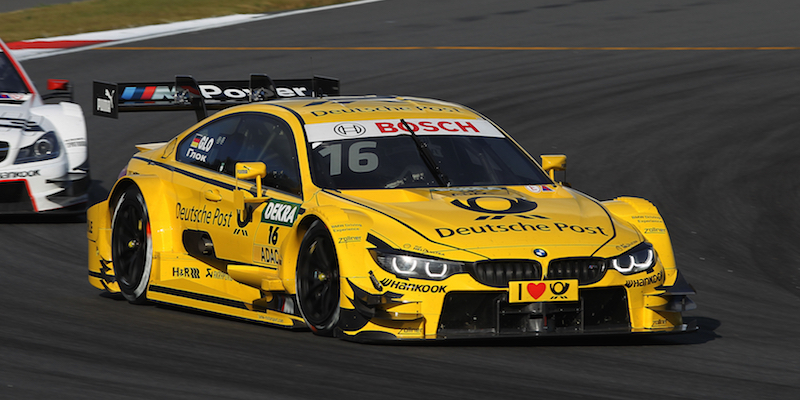 Timo Glock secured his maiden Deutsche Tourenwagen Masters (DTM) career pole position, as the German led another strong showing by BMW Motorsport at Oschersleben, with seven M4 DTMs in the top ten for race one of the weekend.
The Team MTEK driver posted the fastest time of the 20-minute session with a 1:19.821, with the Team RBM duo of Augusto Farfus and DTM rookie Tom Blomqvist completing the top three.
António Félix da Costa and Bruno Spengler were in contention around the 3.696km track, with the pair having to settle for fourth and fifth, in what was a very competitive qualifying. The 24-strong field was split by just 0.989 seconds.
Marco Wittmann and Martin Tomczyk would end up seventh and eighth, as Mercedes was only represented by Pascal Wehrlein, who posted the sixth fastest time.
Miguel Molina was the fastest of the Audis in ninth, but the Spaniard hit the barriers in the dying seconds of the session, with the front end of his RS5 heavily damaged.
Along with Lucas Auer, Molina will have to speak to the stewards, as both drivers were "blocking" other cars out on track.
Edoardo Mortara was tenth, in what was another torrid session for Dieter Gass and his squad.
Points leader Mattias Ekström will have to fight from the back of the grid, as the Swede suffered gear selection issues in his first run of the session just after the halfway point.
Gary Paffett was up at the top of the times in the early stages of the 20-minute session, but the Briton finished in 11th place, ahead of Maxime Martin, who was the sole BMW driver to not make it into the top ten.
Jamie Green, who is still in with a chance for the drivers' title, will start from 13th on the grid for the first race.
Race 13 of the 2015 DTM season starts at 1455 CEST (1355 BST)
Session results
| | | | | | | | | |
| --- | --- | --- | --- | --- | --- | --- | --- | --- |
| POS | NO | DRIVER | NAT | ENTRANT | CAR | LAPS | TIME | GAP |
| 1 | 16 | Timo GLOCK | | BMW Team MTEK | BMW M4 DTM | 8 | 1:19.821 | 0.000 |
| 2 | 18 | Augusto FARFUS | | BMW Team RBM | BMW M4 DTM | 7 | 1:19.877 | 0.056 |
| 3 | 31 | Tom BLOMQVIST | | BMW Team RBM | BMW M4 DTM | 7 | 1:19.893 | 0.072 |
| 4 | 13 | António Félix da COSTA | | BMW Team Schnitzer | BMW M4 DTM | 11 | 1:19.907 | 0.086 |
| 5 | 7 | Bruno SPENGLER | | BMW Team MTEK | BMW M4 DTM | 9 | 1:19.927 | 0.106 |
| 6 | 94 | Pascal WEHRLEIN | | gooix / Original-Teile Mercedes-AMG | Mercedes-AMG C63 DTM | 9 | 1:19.935 | 0.114 |
| 7 | 1 | Marco WITTMANN | | BMW Team RMG | BMW M4 DTM | 7 | 1:19.992 | 0.171 |
| 8 | 77 | Martin TOMCZYK | | BMW Team Schnitzer | BMW M4 DTM | 9 | 1:20.019 | 0.198 |
| 9 | 17 | Miguel MOLINA | | Audi Sport Team Abt Sportsline | Audi RS5 DTM | 6 | 1:20.019 | 0.198 |
| 10 | 48 | Edoardo MORTARA | | Audi Sport Team Abt | Audi RS5 DTM | 7 | 1:20.076 | 0.255 |
| 11 | 2 | Gary PAFFETT | | EURONICS / BWT Mercedes-AMG | Mercedes-AMG C63 DTM | 8 | 1:20.136 | 0.315 |
| 12 | 36 | Maxime MARTIN | | BMW Team RMG | BMW M4 DTM | 9 | 1:20.175 | 0.354 |
| 13 | 53 | Jamie GREEN | | Audi Sport Team Rosberg | Audi RS5 DTM | 9 | 1:20.206 | 0.385 |
| 14 | 12 | Daniel JUNCADELLA | | PETRONAS Mercedes-AMG | Mercedes-AMG C63 DTM | 8 | 1:20.223 | 0.402 |
| 15 | 3 | Paul di RESTA | | SILBERPFEIL Energy Mercedes-AMG | Mercedes-AMG C63 DTM | 9 | 1:20.232 | 0.411 |
| 16 | 51 | Nico MÜLLER | | Audi Sport Team Rosberg | Audi RS5 DTM | 8 | 1:20.380 | 0.559 |
| 17 | 99 | Mike ROCKENFELLER | | Audi Sport Team Phoenix | Audi RS5 DTM | 9 | 1:20.444 | 0.623 |
| 18 | 8 | Christian VIETORIS | | gooix / Original-Teile Mercedes-AMG | Mercedes-AMG C63 DTM | 9 | 1:20.452 | 0.631 |
| 19 | 10 | Timo SCHEIDER | | Audi Sport Team Phoenix | Audi RS5 DTM | 9 | 1:20.464 | 0.643 |
| 20 | 6 | Robert WICKENS | | SILBERPFEIL Energy Mercedes-AMG | Mercedes-AMG C63 DTM | 8 | 1:20.479 | 0.658 |
| 21 | 84 | Maximilian GÖTZ | | PETRONAS Mercedes-AMG | Mercedes-AMG C63 DTM | 9 | 1:20.505 | 0.684 |
| 22 | 27 | Adrien TAMBAY | | Audi Sport Team Abt | Audi RS5 DTM | 10 | 1:20.659 | 0.838 |
| 23 | 22 | Lucas AUER | | EURONICS / BWT Mercedes-AMG | Mercedes-AMG C63 DTM | 8 | 1:20.702 | 0.881 |
| 24 | 5 | Mattias EKSTRÖM | | Audi Sport Team Abt Sportsline | Audi RS5 DTM | 3 | 1:20.810 | 0.989 |