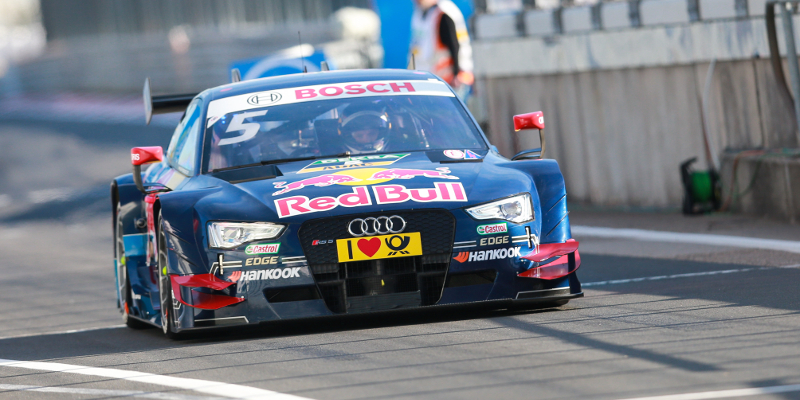 Mattias Ekström set the pace in first practice for the Deutsche Tourenwagen Masters (DTM) at the Nürburgring, with a time less than a tenth faster than BMW's Augusto Farfus and Marco Wittmann.
Reigning champion Wittmann had been the fastest driver for much of the second half of the session, but Ekström rose to the top in the closing minutes to deny the BMW drivers the chance to top first practice.
Farfus also put in a quick lap late on in the session, rising from sixth to second with less than two minutes to go, ending up just 0.038 seconds slower than the Swede.
The DTM's newest race winner Tom Blomqvist was fourth fastest, heading up a Brit trio that saw Mercedes-Benz drivers Paul di Resta and Gary Paffett finish fifth and sixth.
Austrian Lucas Auer was seventh fastest for Mercedes in a strong practice session for the youngster, ahead of BMW's António Félix da Costa in eighth.
Completing the top ten were Mercedes' Maximilian Götz and BMW's Maxime Martin.
Mike Rockenfeller ended the session in 11th, although the Audi driver had earlier been the fastest driver at the start of the session and he slid down the order after failing to improve on his early time.
All 24 drivers were covered by less than a second around the 3.629 km circuit, with Audi's Nico Müller being the slowest of all, 0.990 seconds off the pace.
Unusually for the new DTM format, second practice also takes place on Friday, beginning at 16:15 CEST (15:15 BST).
Session results
| | | | | | | | | |
| --- | --- | --- | --- | --- | --- | --- | --- | --- |
| POS | NO | DRIVER | NAT | ENTRANT | CAR | LAPS | TIME | GAP |
| 1 | 5 | Mattias EKSTRÖM | | Audi Sport Team Abt Sportsline | Audi RS5 DTM | 18 | 1:23.679 | 0.000 |
| 2 | 18 | Augusto FARFUS | | BMW Team RBM | BMW M4 DTM | 22 | 1:23.717 | 0.038 |
| 3 | 1 | Marco WITTMANN | | BMW Team RMG | BMW M4 DTM | 21 | 1:23.758 | 0.079 |
| 4 | 31 | Tom BLOMQVIST | | BMW Team RBM | BMW M4 DTM | 21 | 1:23.845 | 0.166 |
| 5 | 3 | Paul di RESTA | | SILBERPFEIL Energy Mercedes-AMG | Mercedes-AMG C63 DTM | 24 | 1:23.883 | 0.204 |
| 6 | 2 | Gary PAFFETT | | EURONICS / BWT Mercedes-AMG | Mercedes-AMG C63 DTM | 23 | 1:23.892 | 0.213 |
| 7 | 22 | Lucas AUER | | EURONICS / BWT Mercedes-AMG | Mercedes-AMG C63 DTM | 22 | 1:23.992 | 0.313 |
| 8 | 13 | António Félix da COSTA | | BMW Team Schnitzer | BMW M4 DTM | 22 | 1:23.999 | 0.320 |
| 9 | 84 | Maximilian GÖTZ | | PETRONAS Mercedes-AMG | Mercedes-AMG C63 DTM | 29 | 1:24.005 | 0.326 |
| 10 | 36 | Maxime MARTIN | | BMW Team RMG | BMW M4 DTM | 21 | 1:24.032 | 0.353 |
| 11 | 99 | Mike ROCKENFELLER | | Audi Sport Team Phoenix | Audi RS5 DTM | 25 | 1:24.101 | 0.422 |
| 12 | 27 | Adrien TAMBAY | | Audi Sport Team Abt | Audi RS5 DTM | 25 | 1:24.161 | 0.482 |
| 13 | 17 | Miguel MOLINA | | Audi Sport Team Abt Sportsline | Audi RS5 DTM | 25 | 1:24.213 | 0.534 |
| 14 | 94 | Pascal WEHRLEIN | | gooix / Original-Teile Mercedes-AMG | Mercedes-AMG C63 DTM | 25 | 1:24.275 | 0.596 |
| 15 | 7 | Bruno SPENGLER | | BMW Team MTEK | BMW M4 DTM | 20 | 1:24.288 | 0.609 |
| 16 | 53 | Jamie GREEN | | Audi Sport Team Rosberg | Audi RS5 DTM | 27 | 1:24.291 | 0.612 |
| 17 | 12 | Daniel JUNCADELLA | | PETRONAS Mercedes-AMG | Mercedes-AMG C63 DTM | 26 | 1:24.303 | 0.624 |
| 18 | 48 | Edoardo MORTARA | | Audi Sport Team Abt | Audi RS5 DTM | 11 | 1:24.354 | 0.675 |
| 19 | 10 | Timo SCHEIDER | | Audi Sport Team Phoenix | Audi RS5 DTM | 22 | 1:24.384 | 0.705 |
| 20 | 8 | Christian VIETORIS | | gooix / Original-Teile Mercedes-AMG | Mercedes-AMG C63 DTM | 22 | 1:24.412 | 0.733 |
| 21 | 6 | Robert WICKENS | | SILBERPFEIL Energy Mercedes-AMG | Mercedes-AMG C63 DTM | 22 | 1:24.443 | 0.764 |
| 22 | 16 | Timo GLOCK | | BMW Team MTEK | BMW M4 DTM | 21 | 1:24.465 | 0.786 |
| 23 | 77 | Martin TOMCZYK | | BMW Team Schnitzer | BMW M4 DTM | 20 | 1:24.546 | 0.867 |
| 24 | 51 | Nico MÜLLER | | Audi Sport Team Rosberg | Audi RS5 DTM | 27 | 1:24.669 | 0.990 |