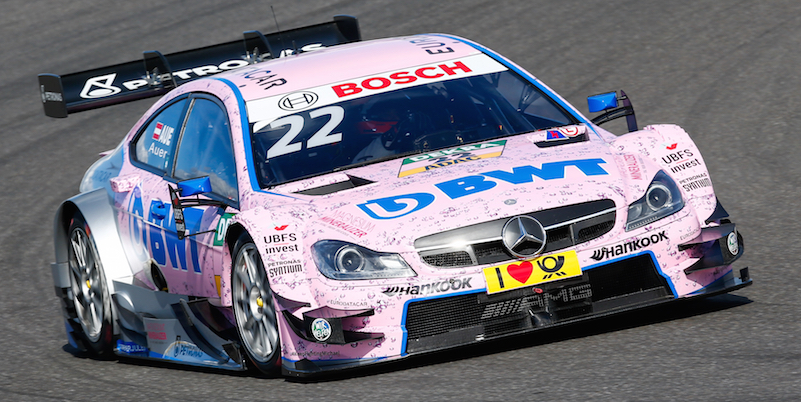 ART Grand Prix's Lucas Auer took pole position for the 15th race of the Deutsche Tourenwagen Masters (DTM) season, as the Mercedes driver posted the fastest time of a 1:21.915 around the 3.629km Nürburgring circuit.
The Austrian rookie was just 0.084 seconds ahead of Team RMG's Maxime Martin, having set the best time of the session with just mere seconds to spare. It was another close qualifying session, with 21 drivers split by 0.797 seconds.
Current points leader Pascal Wehrlein kept his cool, as he rounded out the top three, who were separated by just 0.115 seconds. Wehrlein's closest rival, Mattias Ekström, would only place as high as 17th, just 0.457 seconds off the pace set by Auer.
The 20-minute session was interrupted by a red flag at the 12 minute mark, following a crash involving Paul Di Resta, which saw the Scot lose the rear of his c63 AMG. The left rear of the car hit the wall, leaving extensive debris on track, prompting the call to be made by race control.
Adrien Tambay also hit the tyre wall on his out lap, as a result of cold tyres and cold track conditions. The French driver pulled to the side of the road, with damage to the front end of his Audi.
Martin Tomczyk was the only driver to not fully take part in the session, as the Team Schnitzer driver's M4 DTM will start from the back of the grid, resulting from engine work being carried out on his BMW.
Bruno Spengler was the next best-placed of the BMW drivers, ahead of Audi's Edoardo Mortara, as Maximillian Götz secured his best qualifying result of the season in sixth.
Jamie Green will line up seventh on the grid, ahead of Mike Rockenfeller, who had a possible technical issue with his Audi, forcing the 2013 champion to walk down pitlane with just four minutes of the session remaining.
Daniel Juncadella took another welcome top ten qualifying effort, as the Spaniard outpaced fellow countryman, Team Abt Sportsline's Miguel Molina.
Oschersleben race two winner Tom Blomqvist missed out on the top ten by just 0.030 seconds, ahead of defending champion Marco Wittmann, who will start from 12th.
Gary Paffett, who was in the running for the first half of the session, eventually finished 14th, behind Robert Wickens and ahead of Nico Müller.
Race 15 will start at 1328 CEST (1228 BST), lasting for 40 minutes plus 1 lap.
Session results
| | | | | | | | | |
| --- | --- | --- | --- | --- | --- | --- | --- | --- |
| POS | NO | DRIVER | NAT | ENTRANT | CAR | LAPS | TIME | GAP |
| 1 | 22 | Lucas AUER | | EURONICS / BWT Mercedes-AMG | Mercedes-AMG C63 DTM | 9 | 1:21.915 | 0.000 |
| 2 | 36 | Maxime MARTIN | | BMW Team RMG | BMW M4 DTM | 9 | 1:21.999 | 0.084 |
| 3 | 94 | Pascal WEHRLEIN | | gooix / Original-Teile Mercedes-AMG | Mercedes-AMG C63 DTM | 10 | 1:22.030 | 0.115 |
| 4 | 7 | Bruno SPENGLER | | BMW Team MTEK | BMW M4 DTM | 9 | 1:22.032 | 0.117 |
| 5 | 48 | Edoardo MORTARA | | Audi Sport Team Abt | Audi RS5 DTM | 11 | 1:22.068 | 0.153 |
| 6 | 84 | Maximilian GÖTZ | | PETRONAS Mercedes-AMG | Mercedes-AMG C63 DTM | 10 | 1:22.072 | 0.157 |
| 7 | 53 | Jamie GREEN | | Audi Sport Team Rosberg | Audi RS5 DTM | 9 | 1:22.073 | 0.158 |
| 8 | 99 | Mike ROCKENFELLER | | Audi Sport Team Phoenix | Audi RS5 DTM | 10 | 1:22.089 | 0.174 |
| 9 | 12 | Daniel JUNCADELLA | | PETRONAS Mercedes-AMG | Mercedes-AMG C63 DTM | 9 | 1:22.120 | 0.205 |
| 10 | 17 | Miguel MOLINA | | Audi Sport Team Abt Sportsline | Audi RS5 DTM | 12 | 1:22.121 | 0.206 |
| 11 | 31 | Tom BLOMQVIST | | BMW Team RBM | BMW M4 DTM | 10 | 1:22.151 | 0.236 |
| 12 | 1 | Marco WITTMANN | | BMW Team RMG | BMW M4 DTM | 7 | 1:22.156 | 0.241 |
| 13 | 6 | Robert WICKENS | | SILBERPFEIL Energy Mercedes-AMG | Mercedes-AMG C63 DTM | 8 | 1:22.223 | 0.308 |
| 14 | 2 | Gary PAFFETT | | EURONICS / BWT Mercedes-AMG | Mercedes-AMG C63 DTM | 9 | 1:22.242 | 0.327 |
| 15 | 51 | Nico MÜLLER | | Audi Sport Team Rosberg | Audi RS5 DTM | 11 | 1:22.338 | 0.423 |
| 16 | 18 | Augusto FARFUS | | BMW Team RBM | BMW M4 DTM | 7 | 1:22.365 | 0.450 |
| 17 | 5 | Mattias EKSTRÖM | | Audi Sport Team Abt Sportsline | Audi RS5 DTM | 12 | 1:22.372 | 0.457 |
| 18 | 16 | Timo GLOCK | | BMW Team MTEK | BMW M4 DTM | 9 | 1:22.381 | 0.466 |
| 19 | 10 | Timo SCHEIDER | | Audi Sport Team Phoenix | Audi RS5 DTM | 10 | 1:22.536 | 0.621 |
| 20 | 13 | António Félix da COSTA | | BMW Team Schnitzer | BMW M4 DTM | 9 | 1:22.574 | 0.659 |
| 21 | 8 | Christian VIETORIS | | gooix / Original-Teile Mercedes-AMG | Mercedes-AMG C63 DTM | 9 | 1:22.712 | 0.797 |
| 22 | 3 | Paul di RESTA | | SILBERPFEIL Energy Mercedes-AMG | Mercedes-AMG C63 DTM | 2 | No time | N/A |
| 23 | 27 | Adrien TAMBAY | | Audi Sport Team Abt | Audi RS5 DTM | 1 | No time | N/A |
| 24 | 77 | Martin TOMCZYK | | BMW Team Schnitzer | BMW M4 DTM | 1 | No time | N/A |