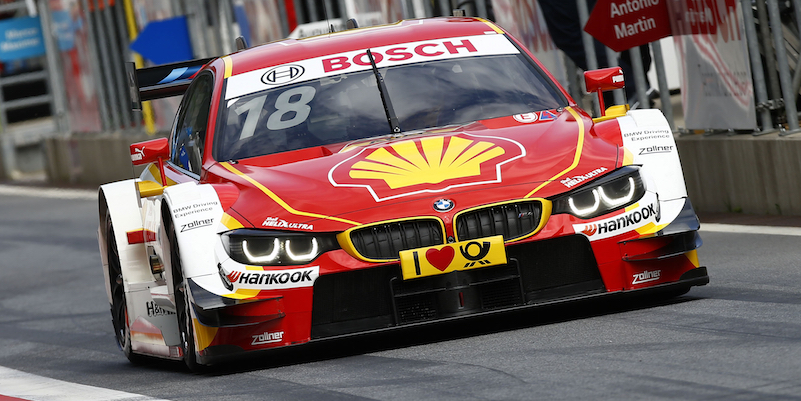 Team RBM's Augusto Farfus led a top four clean sweep after the first Deutsche Tourenwagen Masters (DTM) practice session at Motorsport Arena Oschersleben, with the top three drivers separated by just 0.062 seconds.
The Brazilian posted the fastest time of a 1:21.007 around the 3.696km track, with BMW stablemates António Félix da Costa, Tom Blomqvist and Maxime Martin rounding out the top four.
Title contender Pascal Wehrlein was the fastest of the Mercedes drivers in fifth, with Paul di Resta and Christian Vietoris and Gary Paffett making it four Stuttgart drivers in the top ten, placing sixth, seventh and tenth respectively.
Timo Glock and defending champion Marco Wittmann took eighth and ninth, with BMW taking a dominant grasp on proceedings, where Audi Sport struggled.
Title contenders Edoardo Mortara, who is currently third in the standings, missed out on the top ten by just 0.010 seconds.
Audi had a difficult session generally, as Jamie Green and Mattias Ekström settled for 14th and 17th.
Free practice two starts on Saturday morning at 0820 CEST (0720 BST)
Session results
| | | | | | | | | |
| --- | --- | --- | --- | --- | --- | --- | --- | --- |
| POS | NO | DRIVER | NAT | ENTRANT | CAR | LAPS | TIME | GAP |
| 1 | 18 | Augusto FARFUS | | BMW Team RBM | BMW M4 DTM | 19 | 1:21.007 | 0.000 |
| 2 | 13 | António Félix da COSTA | | BMW Team Schnitzer | BMW M4 DTM | 21 | 1:21.015 | 0.008 |
| 3 | 31 | Tom BLOMQVIST | | BMW Team RBM | BMW M4 DTM | 21 | 1:21.069 | 0.062 |
| 4 | 36 | Maxime MARTIN | | BMW Team RMG | BMW M4 DTM | 21 | 1:21.220 | 0.213 |
| 5 | 94 | Pascal WEHRLEIN | | gooix / Original-Teile Mercedes-AMG | Mercedes-AMG C63 DTM | 24 | 1:21.236 | 0.229 |
| 6 | 3 | Paul di RESTA | | SILBERPFEIL Energy Mercedes-AMG | Mercedes-AMG C63 DTM | 27 | 1:21.283 | 0.276 |
| 7 | 8 | Christian VIETORIS | | gooix / Original-Teile Mercedes-AMG | Mercedes-AMG C63 DTM | 20 | 1:21.307 | 0.300 |
| 8 | 16 | Timo GLOCK | | BMW Team MTEK | BMW M4 DTM | 21 | 1:21.327 | 0.320 |
| 9 | 1 | Marco WITTMANN | | BMW Team RMG | BMW M4 DTM | 20 | 1:21.427 | 0.420 |
| 10 | 2 | Gary PAFFETT | | EURONICS / BWT Mercedes-AMG | Mercedes-AMG C63 DTM | 28 | 1:21.433 | 0.426 |
| 11 | 48 | Edoardo MORTARA | | Audi Sport Team Abt | Audi RS5 DTM | 19 | 1:21.443 | 0.436 |
| 12 | 77 | Martin TOMCZYK | | BMW Team Schnitzer | BMW M4 DTM | 20 | 1:21.471 | 0.464 |
| 13 | 17 | Miguel MOLINA | | Audi Sport Team Abt Sportsline | Audi RS5 DTM | 22 | 1:21.529 | 0.522 |
| 14 | 53 | Jamie GREEN | | Audi Sport Team Rosberg | Audi RS5 DTM | 22 | 1:21.553 | 0.546 |
| 15 | 99 | Mike ROCKENFELLER | | Audi Sport Team Phoenix | Audi RS5 DTM | 26 | 1:21.616 | 0.609 |
| 16 | 51 | Nico MÜLLER | | Audi Sport Team Rosberg | Audi RS5 DTM | 24 | 1:21.618 | 0.611 |
| 17 | 5 | Mattias EKSTRÖM | | Audi Sport Team Abt Sportsline | Audi RS5 DTM | 22 | 1:21.646 | 0.639 |
| 18 | 22 | Lucas AUER | | EURONICS / BWT Mercedes-AMG | Mercedes-AMG C63 DTM | 28 | 1:21.717 | 0.710 |
| 19 | 10 | Timo SCHEIDER | | Audi Sport Team Phoenix | Audi RS5 DTM | 25 | 1:21.731 | 0.724 |
| 20 | 6 | Robert WICKENS | | SILBERPFEIL Energy Mercedes-AMG | Mercedes-AMG C63 DTM | 28 | 1:21.797 | 0.790 |
| 21 | 7 | Bruno SPENGLER | | BMW Team MTEK | BMW M4 DTM | 26 | 1:21.868 | 0.861 |
| 22 | 27 | Adrien TAMBAY | | Audi Sport Team Abt | Audi RS5 DTM | 21 | 1:22.000 | 0.993 |
| 23 | 84 | Maximilian GÖTZ | | PETRONAS Mercedes-AMG | Mercedes-AMG C63 DTM | 28 | 1:22.039 | 1.032 |
| 24 | 12 | Daniel JUNCADELLA | | PETRONAS Mercedes-AMG | Mercedes-AMG C63 DTM | 23 | 1:22.355 | 1.348 |