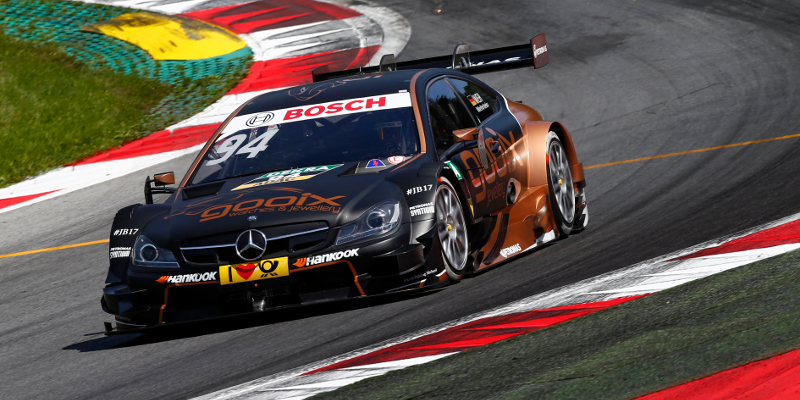 Mercedes' Pascal Wehrlein moved to the top of the Deutsche Tourenwagen Masters (DTM) championship standings with victory in race one in Moscow, as Audi's title contender Mattias Ekström crashed out.
Wehrlein took his second race win of the season, finishing ahead of defending champion Marco Wittmann and Bruno Spengler. Chief rival Mattias Ekström's race ended just after the first safety car period, having clashed with Team MTEK's Timo Glock on lap 11, which saw the pair retire.
Wehrlein took the victory, having closed down on Wittmann after the second restart, forcing his way past the Team RMG driver. The battle for the lead had also involved Spengler and Jamie Green, with the latter losing out on a podium finish on the last corner.
The race was delayed by two safety car periods, with the first happening as a result of Christian Vietoris having a hefty impact with Miguel Molina on the very first lap. Vietoris was unsighted into turn one, as Molina had slight contact with BMW's Tom Blomqvist, causing the Spaniard to spin out.
Vietoris' Mercedes caught fire after the impact, with the German also seeming to limp, having gotten out of his car. No further action was required, following an investigation by the stewards after the race.
Adrien Tambay was the only other retiree, as the Frenchman parked his Audi in the garage on Lap 16, as his race was compromised with left front damage to his RS5.
Daniel Juncadella and Gary Paffett took further points for Mercedes, as the pair finished fifth and seventh respectively. Paffett took the opportunity of both Safety Car periods to carve his way through the field, having started from 20th.
Edoardo Mortara's title chances stay positive, as the Italian took sixth, with Tom Blomqvist finishing eighth, ahead of Audi Sport's Nico Müller and Mike Rockenfeller, who completed the top ten.
Antonio Félix da Costa missed out on the points finishing behind the 2013 champion, as Robert Wickens and Lucas Auer took 12th and 13th.
Paul di Resta recovered from his earlier spin to take 14th, ahead of Team RBM's Augusto Farfus. Maximillian Götz finished 16th, with team Schnitzer's Martin Tomczyk having another dismal race, ending up in 17th.
Last year's race winner Maxime Martin finished in 18th, ahead of Audi subsititute, Antonio Giovinazzi, who was the last classified finisher of the race.
Qualifying for Sunday's race 2 starts at 1225 CEST (1125 BST).
Race result
| | | | | | | | | | |
| --- | --- | --- | --- | --- | --- | --- | --- | --- | --- |
| POS | NO | DRIVER | NAT | ENTRANT | CAR | LAPS | TIME/GAP | BEST | GD |
| 1 | 94 | Pascal WEHRLEIN | | gooix / Original-Teile Mercedes-AMG | Mercedes-AMG C63 DTM | 24 | 41:56.506 | 1:29.891 | 2 |
| 2 | 1 | Marco WITTMANN | | BMW Team RMG | BMW M4 DTM | 24 | 1.853 | 1:30.105 | 1 |
| 3 | 7 | Bruno SPENGLER | | BMW Team MTEK | BMW M4 DTM | 24 | 2.536 | 1:30.095 | 7 |
| 4 | 53 | Jamie GREEN | | Audi Sport Team Rosberg | Audi RS5 DTM | 24 | 2.967 | 1:30.046 | 3 |
| 5 | 12 | Daniel JUNCADELLA | | PETRONAS Mercedes-AMG | Mercedes-AMG C63 DTM | 24 | 3.249 | 1:30.060 | 9 |
| 6 | 48 | Edoardo MORTARA | | Audi Sport Team Abt | Audi RS5 DTM | 24 | 4.332 | 1:30.243 | 12 |
| 7 | 2 | Gary PAFFETT | | EURONICS / BWT Mercedes-AMG | Mercedes-AMG C63 DTM | 24 | 8.867 | 1:30.289 | 20 |
| 8 | 31 | Tom BLOMQVIST | | BMW Team RBM | BMW M4 DTM | 24 | 10.039 | 1:30.430 | 5 |
| 9 | 51 | Nico MÜLLER | | Audi Sport Team Rosberg | Audi RS5 DTM | 24 | 10.35 | 1:30.327 | 10 |
| 10 | 99 | Mike ROCKENFELLER | | Audi Sport Team Phoenix | Audi RS5 DTM | 24 | 11.001 | 1:30.580 | 14 |
| 11 | 13 | António Félix da COSTA | | BMW Team Schnitzer | BMW M4 DTM | 24 | 11.409 | 1:30.498 | 17 |
| 12 | 6 | Robert WICKENS | | SILBERPFEIL Energy Mercedes-AMG | Mercedes-AMG C63 DTM | 24 | 11.813 | 1:30.303 | 22 |
| 13 | 22 | Lucas AUER | | EURONICS / BWT Mercedes-AMG | Mercedes-AMG C63 DTM | 24 | 12.234 | 1:30.452 | 18 |
| 14 | 3 | Paul di RESTA | | SILBERPFEIL Energy Mercedes-AMG | Mercedes-AMG C63 DTM | 24 | 12.6 | 1:30.215 | 13 |
| 15 | 18 | Augusto FARFUS | | BMW Team RBM | BMW M4 DTM | 24 | 15.248 | 1:30.471 | 21 |
| 16 | 84 | Maximilian GÖTZ | | PETRONAS Mercedes-AMG | Mercedes-AMG C63 DTM | 24 | 15.534 | 1:30.540 | 15 |
| 17 | 77 | Martin TOMCZYK | | BMW Team Schnitzer | BMW M4 DTM | 24 | 15.649 | 1:30.659 | 23 |
| 18 | 36 | Maxime MARTIN | | BMW Team RMG | BMW M4 DTM | 24 | 16.35 | 1:30.782 | 16 |
| 19 | 93 | Antonio GIOVINAZZI | | Audi Sport Team Phoenix | Audi RS5 DTM | 24 | 17.132 | 1:30.804 | 19 |
| R | 27 | Adrien TAMBAY | | Audi Sport Team Abt | Audi RS5 DTM | 16 | 8 LAPS | 1:31.775 | 11 |
| R | 16 | Timo GLOCK | | BMW Team MTEK | BMW M4 DTM | 10 | 14 LAPS | 1:30.403 | 4 |
| R | 5 | Mattias EKSTRÖM | | Audi Sport Team Abt Sportsline | Audi RS5 DTM | 10 | 14 LAPS | 1:30.125 | 6 |
| R | 17 | Miguel MOLINA | | Audi Sport Team Abt Sportsline | Audi RS5 DTM | 0 | 24 LAPS | N/A | 8 |
| R | 8 | Christian VIETORIS | | gooix / Original-Teile Mercedes-AMG | Mercedes-AMG C63 DTM | 0 | 24 LAPS | N/A | 24 |