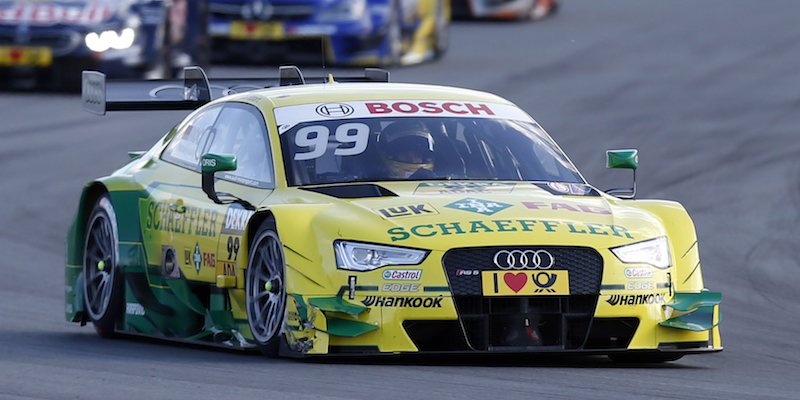 Audi Sport's Mike Rockenfeller took his second Deutsche Tourenwagen Masters (DTM) pole position of the season in the closest fought qualifying so far this year, ahead of the second race at Moscow Raceway.
In a session that saw the top seven separated by just 0.092 secconds, the 2013 champion, who took the first pole position at Moscow Raceway during his title-winning year, posted the fastest lap of 1:28.540 around the 3.931-km track with just minutes left.
"I like this track and have always done well here," explained Rockenfeller. "Today, I had a car I really felt comfortable and was able to attack in. Thank you to my team for this. The competition is incredibly close here: just two tenths slower and you're not in the top ten!"
Mattias Ekström was just 0.038 seconds behind his stablemate in second, but will start from fifth due to the grid penalty he was issued after yesterday's race for contact with Timo Glock.
Bruno Spengler was the fastest of the BMWs and will line up alongside Rockenfeller on the front row, ahead of last year's race winner Maxime Martin and Audi's Jamie Green.
"Qualifying was very good. I had an excellent car. I actually thought it would be tricky today, as our opponents were very strong in yesterday's race," said the 2012 champion, who is looking to make the most of his front row starting position.
"I am just 40 thousandths of a second behind Mike Rockenfeller. That shows how close it is here. It is a good result for us."
Nico Müller posted the fifth fastest time, which was exactly the same as Green's, but the Swiss driver posted his time later in the session, putting him next to Ekström on the grid.
Gary Paffett was the fastest Mercedes, taking seventh place ahead of fellow Brit, BMW's Tom Blomqvist, who recorded his second successive top ten qualifying result.
Augusto Farfus and defending champion Marco Wittmann completed the top ten, in what was a good showing from the Munich manufacturer, with five M4 DTMs in the top half of the grid.
Points leader Pascal Wehrlein lines up 11th on the grid, alongside Daniel Juncadella, who took fifth place in Saturday's race one.
Edoardo Mortara will another fight to make his way up the grid, as the Italian's qualifying did not go to plan, placing 13th ahead of Timo Glock.
Lucas Auer took 15th for race 2, ahead of impressive débutant Antonio Giovinazzi, who again was faster than two former champions, as Paul Di Resta and Martin Tomczyk placed 22nd and last respectively. Giovinazzi will now start from last place, as his RS5 DTM required an engine change.
Miguel Molina and Christian Vietoris were both able to take part in the session, as both heavily-damaged cars were repaired in time, following on from the collision the pair were involved in race one yesterday. Both drivers qualified 19th and 23rd.
Race two, which will last for 60 minutes + 1 lap, starts at 15:10 CEST (14:10 BST)
Session results
| | | | | | | | | |
| --- | --- | --- | --- | --- | --- | --- | --- | --- |
| POS | NO | DRIVER | NAT | ENTRANT | CAR | LAPS | TIME | GAP |
| 1 | 99 | Mike ROCKENFELLER | | Audi Sport Team Phoenix | Audi RS5 DTM | 11 | 1:28.540 | 0.000 |
| 2 | 5 | Mattias EKSTRÖM | | Audi Sport Team Abt Sportsline | Audi RS5 DTM | 7 | 1:28.578 | 0.038 |
| 3 | 7 | Bruno SPENGLER | | BMW Team MTEK | BMW M4 DTM | 11 | 1:28.580 | 0.040 |
| 4 | 36 | Maxime MARTIN | | BMW Team RMG | BMW M4 DTM | 8 | 1:28.587 | 0.047 |
| 5 | 53 | Jamie GREEN | | Audi Sport Team Rosberg | Audi RS5 DTM | 9 | 1:28.592 | 0.052 |
| 6 | 51 | Nico MÜLLER | | Audi Sport Team Rosberg | Audi RS5 DTM | 9 | 1:28.592 | 0.052 |
| 7 | 2 | Gary PAFFETT | | EURONICS / BWT Mercedes-AMG | Mercedes-AMG C63 DTM | 10 | 1:28.632 | 0.092 |
| 8 | 31 | Tom BLOMQVIST | | BMW Team RBM | BMW M4 DTM | 6 | 1:28.650 | 0.110 |
| 9 | 18 | Augusto FARFUS | | BMW Team RBM | BMW M4 DTM | 8 | 1:28.658 | 0.118 |
| 10 | 1 | Marco WITTMANN | | BMW Team RMG | BMW M4 DTM | 7 | 1:28.686 | 0.146 |
| 11 | 94 | Pascal WEHRLEIN | | gooix / Original-Teile Mercedes-AMG | Mercedes-AMG C63 DTM | 10 | 1:28.739 | 0.199 |
| 12 | 12 | Daniel JUNCADELLA | | PETRONAS Mercedes-AMG | Mercedes-AMG C63 DTM | 8 | 1:28.772 | 0.232 |
| 13 | 48 | Edoardo MORTARA | | Audi Sport Team Abt | Audi RS5 DTM | 8 | 1:28.777 | 0.237 |
| 14 | 16 | Timo GLOCK | | BMW Team MTEK | BMW M4 DTM | 11 | 1:28.881 | 0.341 |
| 15 | 22 | Lucas AUER | | EURONICS / BWT Mercedes-AMG | Mercedes-AMG C63 DTM | 10 | 1:28.896 | 0.356 |
| 16 | 93 | Antonio GIOVINAZZI | | Audi Sport Team Phoenix | Audi RS5 DTM | 8 | 1:28.913 | 0.373 |
| 17 | 6 | Robert WICKENS | | SILBERPFEIL Energy Mercedes-AMG | Mercedes-AMG C63 DTM | 8 | 1:28.970 | 0.430 |
| 18 | 84 | Maximilian GÖTZ | | PETRONAS Mercedes-AMG | Mercedes-AMG C63 DTM | 9 | 1:28.978 | 0.438 |
| 19 | 17 | Miguel MOLINA | | Audi Sport Team Abt Sportsline | Audi RS5 DTM | 8 | 1:29.050 | 0.510 |
| 20 | 27 | Adrien TAMBAY | | Audi Sport Team Abt | Audi RS5 DTM | 10 | 1:29.059 | 0.519 |
| 21 | 13 | António Félix da COSTA | | BMW Team Schnitzer | BMW M4 DTM | 9 | 1:29.109 | 0.569 |
| 22 | 3 | Paul di RESTA | | SILBERPFEIL Energy Mercedes-AMG | Mercedes-AMG C63 DTM | 10 | 1:29.156 | 0.616 |
| 23 | 8 | Christian VIETORIS | | gooix / Original-Teile Mercedes-AMG | Mercedes-AMG C63 DTM | 10 | 1:29.261 | 0.721 |
| 24 | 77 | Martin TOMCZYK | | BMW Team Schnitzer | BMW M4 DTM | 9 | 1:29.408 | 0.868 |