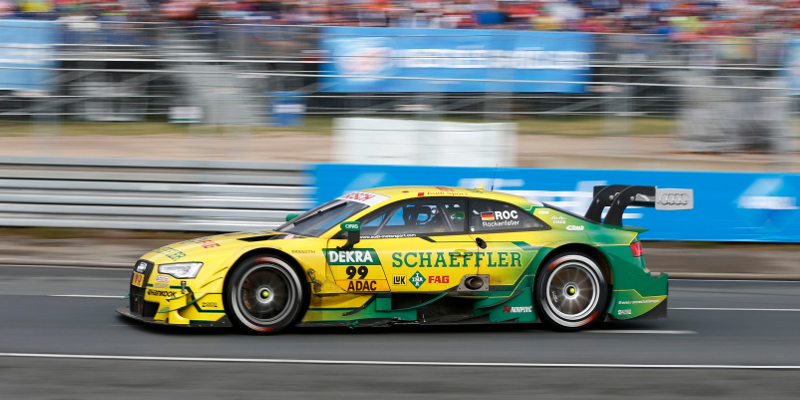 Audi's Mike Rockenfeller set the pace in first practice for the Deutsche Tourenwagen Masters (DTM) at Zandvoort, leading five BMW drivers headed by António Félix da Costa.
Most of the fast laps were posted inside the first half of the 45-minute session, with Audi's Rockenfeller going just 0.008 seconds faster than Da Costa in a session which saw the top 18 drivers covered by less than a second.
Behind Team Schnitzer's Da Costa, Team RBM's Augusto Farfus was third, with reigning champion Marco Wittmann in fourth, rookie Tom Blomqvist in fifth and Maxime Martin in sixth.
Timo Scheider and Mattias Ekström made it two ore Audi's inside the top eight.
Brit Gary Paffett was the top Mercedes-Benz driver in ninth, with the drivers of the Stuttgart manufacturer seemingly struggling around the abrasive Dutch circuit – a circuit which was not favoured Mercedes in recent years.
Audi's Edoardo Mortara completed the top ten, whilst current championship leader Jamie Green could only manage 16th fastest.
Mercedes occupied seven of the bottom eight positions, with only BMW Team Schnitzer's Martin Tomczyk giving them company at the lower end of the timesheet.
Session results
| | | | | | | | | |
| --- | --- | --- | --- | --- | --- | --- | --- | --- |
| POS | NO | DRIVER | NAT | ENTRANT | CAR | LAPS | TIME | GAP |
| 1 | 99 | Mike ROCKENFELLER | | Audi Sport Team Phoenix | Audi RS5 DTM | 28 | 1:32.009 | 0.000 |
| 2 | 13 | António Félix da COSTA | | BMW Team Schnitzer | BMW M4 DTM | 21 | 1:32.017 | 0.008 |
| 3 | 18 | Augusto FARFUS | | BMW Team RBM | BMW M4 DTM | 21 | 1:32.112 | 0.103 |
| 4 | 1 | Marco WITTMANN | | BMW Team RMG | BMW M4 DTM | 18 | 1:32.230 | 0.221 |
| 5 | 31 | Tom BLOMQVIST | | BMW Team RBM | BMW M4 DTM | 21 | 1:32.265 | 0.256 |
| 6 | 36 | Maxime MARTIN | | BMW Team RMG | BMW M4 DTM | 20 | 1:32.347 | 0.338 |
| 7 | 10 | Timo SCHEIDER | | Audi Sport Team Phoenix | Audi RS5 DTM | 21 | 1:32.381 | 0.372 |
| 8 | 5 | Mattias EKSTRÖM | | Audi Sport Team Abt Sportsline | Audi RS5 DTM | 17 | 1:32.392 | 0.383 |
| 9 | 2 | Gary PAFFETT | | EURONICS / BWT Mercedes-AMG | Mercedes-AMG C63 DTM | 26 | 1:32.408 | 0.399 |
| 10 | 48 | Edoardo MORTARA | | Audi Sport Team Abt | Audi RS5 DTM | 25 | 1:32.452 | 0.443 |
| 11 | 27 | Adrien TAMBAY | | Audi Sport Team Abt | Audi RS5 DTM | 20 | 1:32.455 | 0.446 |
| 12 | 16 | Timo GLOCK | | BMW Team MTEK | BMW M4 DTM | 19 | 1:32.468 | 0.459 |
| 13 | 51 | Nico MÜLLER | | Audi Sport Team Rosberg | Audi RS5 DTM | 23 | 1:32.635 | 0.626 |
| 14 | 17 | Miguel MOLINA | | Audi Sport Team Abt Sportsline | Audi RS5 DTM | 21 | 1:32.780 | 0.771 |
| 15 | 7 | Bruno SPENGLER | | BMW Team MTEK | BMW M4 DTM | 19 | 1:32.828 | 0.819 |
| 16 | 53 | Jamie GREEN | | Audi Sport Team Rosberg | Audi RS5 DTM | 28 | 1:32.924 | 0.915 |
| 17 | 3 | Paul di RESTA | | SILBERPFEIL Energy Mercedes-AMG | Mercedes-AMG C63 DTM | 22 | 1:32.951 | 0.942 |
| 18 | 84 | Maximilian GÖTZ | | PETRONAS Mercedes-AMG | Mercedes-AMG C63 DTM | 24 | 1:32.956 | 0.947 |
| 19 | 94 | Pascal WEHRLEIN | | gooix / Original-Teile Mercedes-AMG | Mercedes-AMG C63 DTM | 17 | 1:33.187 | 1.178 |
| 20 | 22 | Lucas AUER | | EURONICS / BWT Mercedes-AMG | Mercedes-AMG C63 DTM | 21 | 1:33.264 | 1.255 |
| 21 | 12 | Daniel JUNCADELLA | | PETRONAS Mercedes-AMG | Mercedes-AMG C63 DTM | 18 | 1:33.293 | 1.284 |
| 22 | 77 | Martin TOMCZYK | | BMW Team Schnitzer | BMW M4 DTM | 20 | 1:33.522 | 1.513 |
| 23 | 6 | Robert WICKENS | | SILBERPFEIL Energy Mercedes-AMG | Mercedes-AMG C63 DTM | 18 | 1:33.977 | 1.968 |
| 24 | 8 | Christian VIETORIS | | gooix / Original-Teile Mercedes-AMG | Mercedes-AMG C63 DTM | 16 | 1:34.056 | 2.047 |