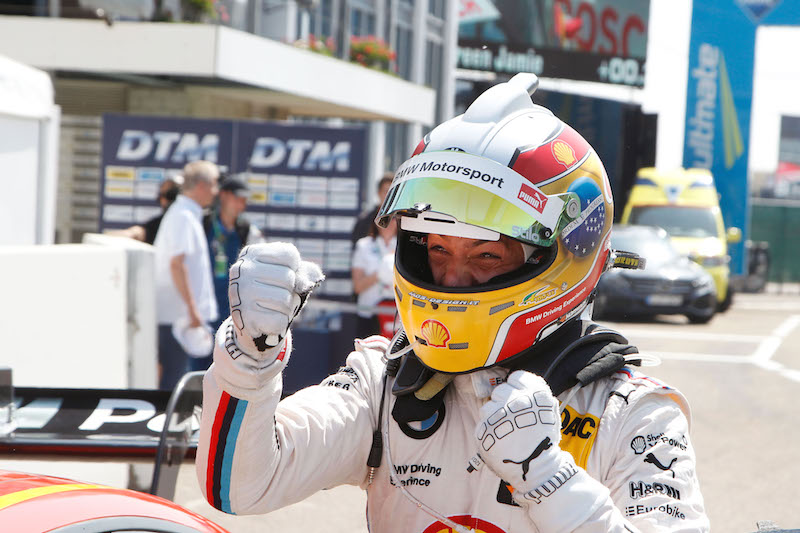 This afternoon's qualifying session for today's race one for the Deutsche Tourenwagen Masters at Circuit Park Zandvoort saw BMW's Augusto Farfus secure pole position in the last 90 seconds.
The Brazilian posted the fastest time after 20 minutes of action, with a 1:31.266, leading a BMW top four whitewash on a track that the Munich manufacturer has been successful at over the past three years.
Farfus, who won at the Dutch track back in 2013, was just 0.008 seconds faster than defending champion Marco Wittmann and Team Schnitzer's António Félix da Costa, with the Team RMG driver having set the time earlier in the session.
Belgium's Maxime Martin rounded out the top four, ahead of lead Mercedes driver Gary Paffett, who had led for the majority of the session before being knocked down in the dying seconds. The Brit would be the only Stuttgart driver that made it into the top ten.
Current points leader Jamie Green was fastest again for Audi Sport, as the Brit was sixth fastest, 0,361 seconds off the pole setter. It was a difficult time for Audi again, as Team Abt Sportsline's Miguel Molina was the only other Ingolstadt driver to make into the top ten.
Behind the Spaniard, who aborted his last lap by going wide, Adrien Tambay, Edoardo Mortara and 2013 champion Mike Rockenfeller took the next three places, ahead of BMW's Martin Tomczyk and Norisring race one winner, Pascal Wehrlein.
Green's team mate at Team Rosberg, Nico Müller, will line up 16th, with two-time champions Mattias Ekström and Timo Scheider starting from 19th and 21st.
Team MTEK were hunting for some good results at Zandvoort, as both Timo Glock and Bruno Spengler waited patiently until the latter part of the session to set their times. The pair ended up seventh and ninth respectively, split by Farfus' stable mate at Team RBM, Tom Blomqvist, who was the fastest of the rookies.
Due to the performance weights that Mercedes carried into this weekend after the dominant success at Norisring a fortnight ago, it hit them hard this afternoon, in terms of sheer one-lap pace. Both Daniel Juncadella and Maximillian Götz will line up on the back row of the grid for the sprint race this afternoon.
Christian Vietoris and Robert Wickens will start from 17th and 18th on the grid, with Lucas Auer 20th, whilst Paul Di Resta will start alongside Scheider in 22nd, with Scot suffering an off-track excursion with just under thirty seconds left on the clock.
The ex-Force India F1 driver was still able to make it back to pit lane under the car's own power, following assistance from race marshals.
Race one will start at 1803 CEST (1703 BST) this afternoon.
Session results
| | | | | | | | | |
| --- | --- | --- | --- | --- | --- | --- | --- | --- |
| POS | NO | DRIVER | NAT | ENTRANT | CAR | LAPS | TIME | GAP |
| 1 | 18 | Augusto FARFUS | | BMW Team RBM | BMW M4 DTM | 6 | 1:31.266 | 0.000 |
| 2 | 1 | Marco WITTMANN | | BMW Team RMG | BMW M4 DTM | 8 | 1:31.274 | 0.008 |
| 3 | 13 | António Félix da COSTA | | BMW Team Schnitzer | BMW M4 DTM | 8 | 1:31.274 | 0.008 |
| 4 | 36 | Maxime MARTIN | | BMW Team RMG | BMW M4 DTM | 7 | 1:31.363 | 0.097 |
| 5 | 2 | Gary PAFFETT | | EURONICS / BWT Mercedes-AMG | Mercedes-AMG C63 DTM | 8 | 1:31.570 | 0.304 |
| 6 | 53 | Jamie GREEN | | Audi Sport Team Rosberg | Audi RS5 DTM | 8 | 1:31.627 | 0.361 |
| 7 | 16 | Timo GLOCK | | BMW Team MTEK | BMW M4 DTM | 8 | 1:31.647 | 0.381 |
| 8 | 31 | Tom BLOMQVIST | | BMW Team RBM | BMW M4 DTM | 7 | 1:31.650 | 0.384 |
| 9 | 7 | Bruno SPENGLER | | BMW Team MTEK | BMW M4 DTM | 8 | 1:31.656 | 0.390 |
| 10 | 17 | Miguel MOLINA | | Audi Sport Team Abt Sportsline | Audi RS5 DTM | 6 | 1:31.668 | 0.402 |
| 11 | 27 | Adrien TAMBAY | | Audi Sport Team Abt | Audi RS5 DTM | 7 | 1:31.686 | 0.420 |
| 12 | 48 | Edoardo MORTARA | | Audi Sport Team Abt | Audi RS5 DTM | 8 | 1:31.701 | 0.435 |
| 13 | 99 | Mike ROCKENFELLER | | Audi Sport Team Phoenix | Audi RS5 DTM | 6 | 1:31.735 | 0.469 |
| 14 | 77 | Martin TOMCZYK | | BMW Team Schnitzer | BMW M4 DTM | 7 | 1:31.758 | 0.492 |
| 15 | 94 | Pascal WEHRLEIN | | gooix / Original-Teile Mercedes-AMG | Mercedes-AMG C63 DTM | 7 | 1:31.775 | 0.509 |
| 16 | 51 | Nico MÜLLER | | Audi Sport Team Rosberg | Audi RS5 DTM | 7 | 1:31.783 | 0.517 |
| 17 | 8 | Christian VIETORIS | | gooix / Original-Teile Mercedes-AMG | Mercedes-AMG C63 DTM | 7 | 1:31.855 | 0.589 |
| 18 | 6 | Robert WICKENS | | SILBERPFEIL Energy Mercedes-AMG | Mercedes-AMG C63 DTM | 9 | 1:31.855 | 0.589 |
| 19 | 5 | Mattias EKSTRÖM | | Audi Sport Team Abt Sportsline | Audi RS5 DTM | 8 | 1:32.005 | 0.739 |
| 20 | 22 | Lucas AUER | | EURONICS / BWT Mercedes-AMG | Mercedes-AMG C63 DTM | 7 | 1:32.141 | 0.875 |
| 21 | 10 | Timo SCHEIDER | | Audi Sport Team Phoenix | Audi RS5 DTM | 8 | 1:32.215 | 0.949 |
| 22 | 3 | Paul di RESTA | | SILBERPFEIL Energy Mercedes-AMG | Mercedes-AMG C63 DTM | 4 | 1:32.251 | 0.985 |
| 23 | 12 | Daniel JUNCADELLA | | PETRONAS Mercedes-AMG | Mercedes-AMG C63 DTM | 7 | 1:32.264 | 0.998 |
| 24 | 84 | Maximilian GÖTZ | | PETRONAS Mercedes-AMG | Mercedes-AMG C63 DTM | 3 | 1:32.564 | 1.298 |