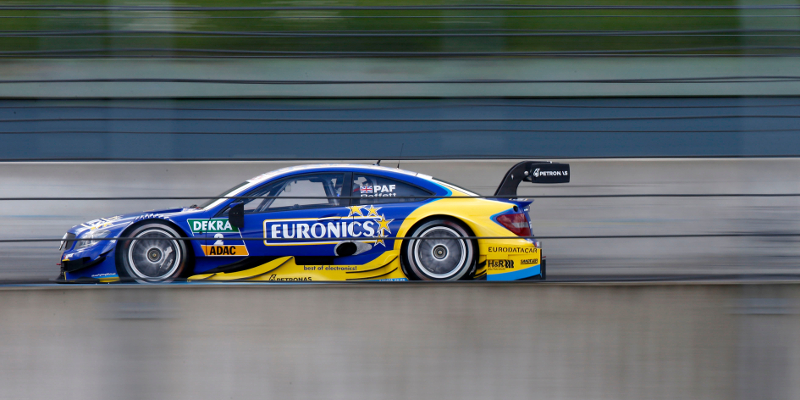 Mercedes-Benz's Gary Paffett posted the fastest time in first practice for the Deutsche Tourenwagen Masters (DTM) at the Norisring, as the entire field were separated by less than half a second.
Paffett got Mercedes off to the perfect start at its dominant circuit, beating stable-mate Paul di Resta by a mere 0.026 seconds. Indeed so close were the times that the top six drivers were covered by less than a tenth of a second.
Bruno Spengler was BMW's top driver in third, ahead of Mercedes' Daniel Juncadella in fourth. Audi duo Jamie Green and Adrien Tambay were the only other drivers to be within a tenth of the fastest time.
Seventh fastest Robert Wickens made it four Mercedes' inside the top ten, whilst a trio of BMW's completed the top ten, with eighth fastest Maxime Martin ahead of Augusto Farfus and reigning champion Marco Wittmann.
All 24 drivers were covered by less than half a second around the short street circuit with just four corners, which takes less than 50 seconds for a DTM car to circulate.
Session results
| | | | | | | | | |
| --- | --- | --- | --- | --- | --- | --- | --- | --- |
| POS | NO | DRIVER | NAT | ENTRANT | CAR | LAPS | TIME | GAP |
| 1 | 2 | Gary PAFFETT | | EURONICS / BWT Mercedes-AMG | Mercedes-AMG C63 DTM | 39 | 16:19.200 | 0.000 |
| 2 | 3 | Paul di RESTA | | SILBERPFEIL Energy Mercedes-AMG | Mercedes-AMG C63 DTM | 42 | 53:45.600 | 26.400 |
| 3 | 7 | Bruno SPENGLER | | BMW Team MTEK | BMW M4 DTM | 29 | 2:24.000 | 4.800 |
| 4 | 12 | Daniel JUNCADELLA | | PETRONAS Mercedes-AMG | Mercedes-AMG C63 DTM | 38 | 5:16.800 | 57.600 |
| 5 | 53 | Jamie GREEN | | Audi Sport Team Rosberg | Audi RS5 DTM | 40 | 21:07.200 | 48.000 |
| 6 | 27 | Adrien TAMBAY | | Audi Sport Team Abt | Audi RS5 DTM | 33 | 36:57.600 | 38.400 |
| 7 | 6 | Robert WICKENS | | SILBERPFEIL Energy Mercedes-AMG | Mercedes-AMG C63 DTM | 33 | 20:38.400 | 19.200 |
| 8 | 36 | Maxime MARTIN | | BMW Team RMG | BMW M4 DTM | 29 | 36:28.800 | 9.600 |
| 9 | 18 | Augusto FARFUS | | BMW Team RBM | BMW M4 DTM | 30 | 44:09.600 | 50.400 |
| 10 | 1 | Marco WITTMANN | | BMW Team RMG | BMW M4 DTM | 28 | 47:02.400 | 43.200 |
| 11 | 10 | Timo SCHEIDER | | Audi Sport Team Phoenix | Audi RS5 DTM | 40 | 23:02.400 | 43.200 |
| 12 | 5 | Mattias EKSTRÖM | | Audi Sport Team Abt Sportsline | Audi RS5 DTM | 25 | 44:38.400 | 19.200 |
| 13 | 94 | Pascal WEHRLEIN | | gooix / Original-Teile Mercedes-AMG | Mercedes-AMG C63 DTM | 31 | 54:43.200 | 24.000 |
| 14 | 8 | Christian VIETORIS | | gooix / Original-Teile Mercedes-AMG | Mercedes-AMG C63 DTM | 33 | 59:02.400 | 43.200 |
| 15 | 84 | Maximilian GÖTZ | | PETRONAS Mercedes-AMG | Mercedes-AMG C63 DTM | 38 | 46:33.600 | 14.400 |
| 16 | 16 | Timo GLOCK | | BMW Team MTEK | BMW M4 DTM | 37 | 2:24.000 | 4.800 |
| 17 | 22 | Lucas AUER | | EURONICS / BWT Mercedes-AMG | Mercedes-AMG C63 DTM | 37 | 8:38.400 | 19.200 |
| 18 | 51 | Nico MÜLLER | | Audi Sport Team Rosberg | Audi RS5 DTM | 38 | 14:24.000 | 4.800 |
| 19 | 48 | Edoardo MORTARA | | Audi Sport Team Abt | Audi RS5 DTM | 42 | 46:04.800 | 45.600 |
| 20 | 17 | Miguel MOLINA | | Audi Sport Team Abt Sportsline | Audi RS5 DTM | 45 | 14:52.800 | 33.600 |
| 21 | 99 | Mike ROCKENFELLER | | Audi Sport Team Phoenix | Audi RS5 DTM | 40 | 23:31.200 | 12.000 |
| 22 | 77 | Martin TOMCZYK | | BMW Team Schnitzer | BMW M4 DTM | 34 | 12:28.800 | 9.600 |
| 23 | 31 | Tom BLOMQVIST | | BMW Team RBM | BMW M4 DTM | 31 | 18:14.400 | 55.200 |
| 24 | 13 | António Félix da COSTA | | BMW Team Schnitzer | BMW M4 DTM | 32 | 54:14.400 | 55.200 |