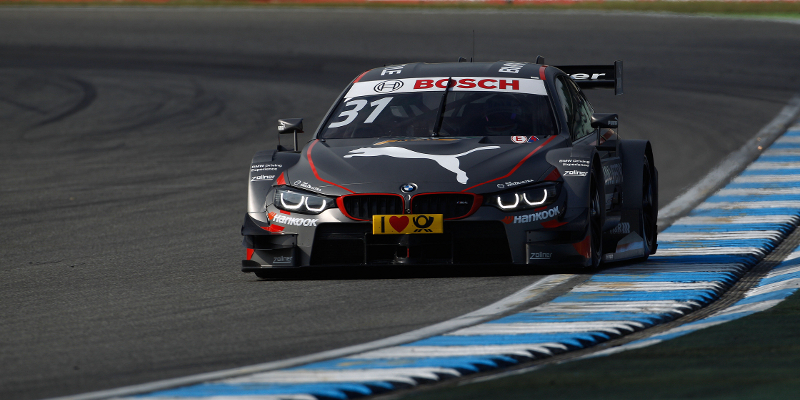 BMW's Tom Blomqvist posted the fastest time in first practice for the Deutsche Tourenwagen Masters (DTM) at the EuroSpeedway Lausitz, 0.197 seconds ahead of Audi's Mattias Ekström.
Rookie Blomqvist, in only his second meeting in the series, improved his time in the final five minutes of the session to deny Ekström, who had been on top of the times since the opening ten minutes of the 45-minute session.
Reigning champion Marco Wittmann was third fastest, having also leapt up the timesheets late on in the session. The next four positions were occupied by Audi drivers, with Jamie Green fourth fastest ahead of Mike Rockenfeller, Edoardo Mortara and Timo Scheider.
BMW's Maxime Martin was eighth, ahead of the top Mercedes-Benz of Robert Wickens in ninth, with the Canadian 0.584 seconds off the pace. Audi's Miguel Molina completed the top ten, meaning the Ingolstadt marque had six of its eight cars inside the top ten.
Mercedes' drivers seemed to struggle for pace at one of their historical form circuits, with six of their eight drivers in the bottom ten positions. Brit Gary Paffett was unable to complete any laps during the session due to a fuel pick-up problem.
Second practice takes place at 12:25 CEST on Saturday (11:25 BST).
Session results
| | | | | | | | | |
| --- | --- | --- | --- | --- | --- | --- | --- | --- |
| POS | NO | DRIVER | NAT | ENTRANT | CAR | LAPS | TIME | GAP |
| 1 | 31 | Tom BLOMQVIST | | BMW Team RBM | BMW M4 DTM | 23 | 1:18.145 | 0.000 |
| 2 | 5 | Mattias EKSTRÖM | | Audi Sport Team Abt Sportsline | Audi RS5 DTM | 26 | 1:18.342 | 0.197 |
| 3 | 1 | Marco WITTMANN | | BMW Team RMG | BMW M4 DTM | 21 | 1:18.355 | 0.210 |
| 4 | 53 | Jamie GREEN | | Audi Sport Team Rosberg | Audi RS5 DTM | 28 | 1:18.394 | 0.249 |
| 5 | 99 | Mike ROCKENFELLER | | Audi Sport Team Phoenix | Audi RS5 DTM | 25 | 1:18.430 | 0.285 |
| 6 | 48 | Edoardo MORTARA | | Audi Sport Team Abt | Audi RS5 DTM | 22 | 1:18.499 | 0.354 |
| 7 | 10 | Timo SCHEIDER | | Audi Sport Team Phoenix | Audi RS5 DTM | 27 | 1:18.600 | 0.455 |
| 8 | 36 | Maxime MARTIN | | BMW Team RMG | BMW M4 DTM | 25 | 1:18.601 | 0.456 |
| 9 | 6 | Robert WICKENS | | SILBERPFEIL Energy Mercedes-AMG | Mercedes-AMG C63 DTM | 21 | 1:18.729 | 0.584 |
| 10 | 17 | Miguel MOLINA | | Audi Sport Team Abt Sportsline | Audi RS5 DTM | 25 | 1:18.749 | 0.604 |
| 11 | 12 | Daniel JUNCADELLA | | PETRONAS Mercedes-AMG | Mercedes-AMG C63 DTM | 23 | 1:18.815 | 0.670 |
| 12 | 18 | Augusto FARFUS | | BMW Team RBM | BMW M4 DTM | 17 | 1:18.924 | 0.779 |
| 13 | 51 | Nico MÜLLER | | Audi Sport Team Rosberg | Audi RS5 DTM | 22 | 1:18.976 | 0.831 |
| 14 | 16 | Timo GLOCK | | BMW Team MTEK | BMW M4 DTM | 26 | 1:18.986 | 0.841 |
| 15 | 7 | Bruno SPENGLER | | BMW Team MTEK | BMW M4 DTM | 24 | 1:18.998 | 0.853 |
| 16 | 84 | Maximilian GÖTZ | | PETRONAS Mercedes-AMG | Mercedes-AMG C63 DTM | 32 | 1:19.026 | 0.881 |
| 17 | 94 | Pascal WEHRLEIN | | gooix / Original-Teile Mercedes-AMG | Mercedes-AMG C63 DTM | 23 | 1:19.038 | 0.893 |
| 18 | 27 | Adrien TAMBAY | | Audi Sport Team Abt | Audi RS5 DTM | 24 | 1:19.059 | 0.914 |
| 19 | 22 | Lucas AUER | | EURONICS / BWT Mercedes-AMG | Mercedes-AMG C63 DTM | 26 | 1:19.117 | 0.972 |
| 20 | 77 | Martin TOMCZYK | | BMW Team Schnitzer | BMW M4 DTM | 26 | 1:19.212 | 1.067 |
| 21 | 8 | Christian VIETORIS | | gooix / Original-Teile Mercedes-AMG | Mercedes-AMG C63 DTM | 18 | 1:19.244 | 1.099 |
| 22 | 13 | António Félix da COSTA | | BMW Team Schnitzer | BMW M4 DTM | 26 | 1:19.258 | 1.113 |
| 23 | 3 | Paul di RESTA | | SILBERPFEIL Energy Mercedes-AMG | Mercedes-AMG C63 DTM | 19 | 1:19.427 | 1.282 |
| 24 | 2 | Gary PAFFETT | | EURONICS / BWT Mercedes-AMG | Mercedes-AMG C63 DTM | 0 | No time | N/A |