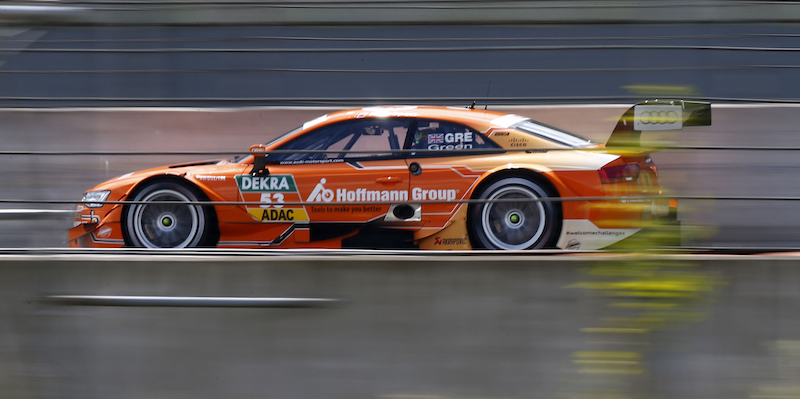 The first Deutsche Tourenwagen Masters (DTM) race at the Eurospeedway Lausitz saw Audi Sport's Jamie Green take his second win of the season, along with regaining the lead in the drivers' standings, winning the race by 4.261 seconds.
The Brit battled on, despite his Team Rosberg RS5 DTM suffering a DRS failure, and overtook pole sitter Miguel Molina for the lead with just minutes to spare.
Molina also had an issue relating to the DRS failing on his car, which allowed both Edoardo Mortara and Mattias Ekström to pass him and complete the podium.
Molina eventually finished fourth, bringing a big haul of points for Audi Sport, but he was able to fend off last year's race winner Pascal Wherlein, who finished fifth as top Mercedes driver.
Robert Wickens also took points, finishing sixth, ahead of the fiercely battling pair of Maxime Martin and Timo Scheider. Martin stopped Scheider from taking seventh on the last lap, ahead of Mike Rockenfeller and Daniel Juncadella, who completed the top ten.
Bruno Spengler finished just outside the points in 11th, ahead of former Schnitzer teammate Martin Tomczyk and defending champion Marco Wittmann. It was a difficult race for the 25-year-old, who continued to fall back down the field in the latter part of proceedings.
Paul Di Resta finished 14th, despite having contact with Augusto Farfus in the opening moments of the race. It, however, forced Farfus to be the only driver to retire on lap 2, as a result of significant front splitter damage.
Both Wittmann and Farfus were already disadvantaged, having been handed a five-place grid penalty each, for having blocked other drivers during qualifying.
Maximillian Götz was the best of the rookies in 15th, ahead of Adrien Tambay, who did his very best after starting from the back following an engine penalty. Christian Vietoris took 17th, finishing in front of Timo Glock, António Félix da Costa and Nico Müller.
Da Costa and Müller clashed on lap 13, with the Swiss driver being dropped to the back of the field after spinning out. Lucas Auer, who spun out in the first five minutes of the race, finished ahead of Team RBM's Tom Blomqvist, who suffered a late race excursion into the gravel. Gary Paffett ended up as the last classified finisher, showing that it has not been easy for ART Grand Prix so far.
Tomorrow's warm up starts at 0950 CEST (0850 BST).
Race result
| | | | | | | | | | |
| --- | --- | --- | --- | --- | --- | --- | --- | --- | --- |
| POS | NO | DRIVER | NAT | ENTRANT | CAR | LAPS | TIME/GAP | BEST | GD |
| 1 | 53 | Jamie GREEN | | Audi Sport Team Rosberg | Audi RS5 DTM | 32 | 32 LAPS | 1:18.599 | 2 |
| 2 | 48 | Edoardo MORTARA | | Audi Sport Team Abt | Audi RS5 DTM | 32 | 4.261 | 1:18.847 | 3 |
| 3 | 5 | Mattias EKSTRÖM | | Audi Sport Team Abt Sportsline | Audi RS5 DTM | 32 | 5.220 | 1:18.809 | 4 |
| 4 | 17 | Miguel MOLINA | | Audi Sport Team Abt Sportsline | Audi RS5 DTM | 32 | 6.969 | 1:18.832 | 1 |
| 5 | 94 | Pascal WEHRLEIN | | gooix / Original-Teile Mercedes-AMG | Mercedes-AMG C63 DTM | 32 | 8.122 | 1:18.635 | 5 |
| 6 | 6 | Robert WICKENS | | SILBERPFEIL Energy Mercedes-AMG | Mercedes-AMG C63 DTM | 32 | 10.657 | 1:18.839 | 7 |
| 7 | 36 | Maxime MARTIN | | BMW Team RMG | BMW M4 DTM | 32 | 13.014 | 1:18.813 | 8 |
| 8 | 10 | Timo SCHEIDER | | Audi Sport Team Phoenix | Audi RS5 DTM | 32 | 13.361 | 1:18.643 | 11 |
| 9 | 99 | Mike ROCKENFELLER | | Audi Sport Team Phoenix | Audi RS5 DTM | 32 | 16.719 | 1:18.706 | 14 |
| 10 | 12 | Daniel JUNCADELLA | | PETRONAS Mercedes-AMG | Mercedes-AMG C63 DTM | 32 | 19.619 | 1:18.706 | 13 |
| 11 | 7 | Bruno SPENGLER | | BMW Team MTEK | BMW M4 DTM | 32 | 22.391 | 1:19.097 | 15 |
| 12 | 77 | Martin TOMCZYK | | BMW Team Schnitzer | BMW M4 DTM | 32 | 27.031 | 1:19.112 | 17 |
| 13 | 1 | Marco WITTMANN | | BMW Team RMG | BMW M4 DTM | 32 | 28.364 | 1:18.782 | 6 |
| 14 | 3 | Paul di RESTA | | SILBERPFEIL Energy Mercedes-AMG | Mercedes-AMG C63 DTM | 32 | 28.522 | 1:19.031 | 10 |
| 15 | 84 | Maximilian GÖTZ | | PETRONAS Mercedes-AMG | Mercedes-AMG C63 DTM | 32 | 29.026 | 1:18.922 | 22 |
| 16 | 27 | Adrien TAMBAY | | Audi Sport Team Abt | Audi RS5 DTM | 32 | 29.439 | 1:19.135 | 24 |
| 17 | 8 | Christian VIETORIS | | gooix / Original-Teile Mercedes-AMG | Mercedes-AMG C63 DTM | 32 | 35.480 | 1:19.222 | 20 |
| 18 | 16 | Timo GLOCK | | BMW Team MTEK | BMW M4 DTM | 32 | 36.370 | 1:19.132 | 18 |
| 19 | 13 | António Félix da COSTA | | BMW Team Schnitzer | BMW M4 DTM | 32 | 37.537 | 1:19.123 | 12 |
| 20 | 51 | Nico MÜLLER | | Audi Sport Team Rosberg | Audi RS5 DTM | 32 | 42.297 | 1:19.002 | 16 |
| 21 | 22 | Lucas AUER | | EURONICS / BWT Mercedes-AMG | Mercedes-AMG C63 DTM | 32 | 42.480 | 1:19.034 | 21 |
| 22 | 31 | Tom BLOMQVIST | | BMW Team RBM | BMW M4 DTM | 32 | 45.087 | 1:18.772 | 9 |
| 23 | 2 | Gary PAFFETT | | EURONICS / BWT Mercedes-AMG | Mercedes-AMG C63 DTM | 32 | 49.803 | 1:18.981 | 23 |
| R | 18 | Augusto FARFUS | | BMW Team RBM | BMW M4 DTM | 2 | DNF | N/A | 19 |