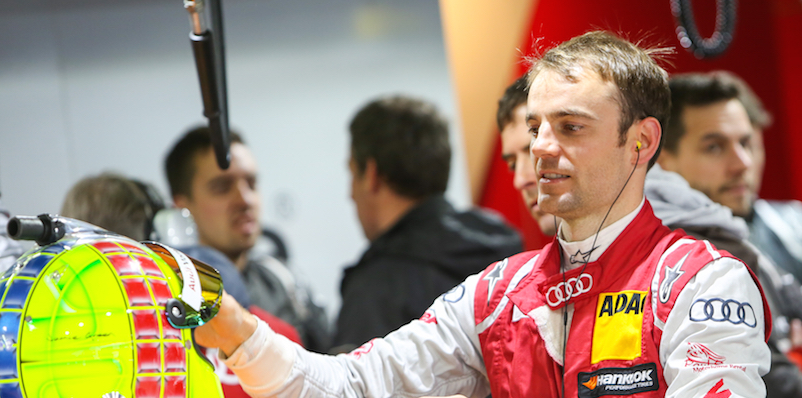 Audi Sport's Jamie Green took pole position for the first race of the 2015 Deutsche Tourenwagen Masters (DTM) season this morning, ahead of Mercedes' Pascal Wehrlein and BMW's Augusto Farfus.
With overcast but dry conditions, the Brit posted a time of a 1:33.044 around the 4.574km track to secure his first true pole position since 2006. He was just 0.116 seconds ahead of the Mercedes AMG F1 reserve driver. Farfus suffered a technical issue on his final attempt, as the Brazilian tried his level best to usurp Green in the latest stages.
The first session under the new qualifying format was intense, as some drivers made use of two or even three sets of tyres over the 20-minute session.
Apart from Farfus' BMW, Mercedes' Christian Vietoris went off track exiting SachsKurve, which resulted on his C63 AMG bouncing over the grass and damaging part of the bodywork in the process. The ex-GP2 driver ended up 18th for today's race this afternoon, behind Antonió Félix da Costa.
Edoardo Mortara, who set the initial pace in both free practice sessions, took fourth, ahead of Team Rosberg's Nico Müller and Mercedes' Paul Di Resta. 2013 Champion Mike Rockenfeller, Adrien Tambay and Miguel Molina placed seventh, eighth and tenth for this afternoon's race, with Tom Blomqvist being the highest placed rookie driver in ninth.
Despite Audi Sport having held the top six spots early on in qualifying, double champions Mattias Ekström and Timo Scheider will have a potentially difficult fight on their hands from 11th and 13th, being separated by Team RMG's Maxime Martin.
Martin's team mate, defending champion Marco Wittmann, had a bad start to his title defence, as the German will start 16th, behind the Mercedes pair of Daniel Juncadella and Gary Paffett.
Former Schnitzer team mates, Bruno Spengler and Martin Tomczyk, rounded out the top twenty drivers, ahead of Maximilian Götz, Timo Glock, Robert Wickens and Lucas Auer.
Round 1 of the 2015 DTM season gets underway at 14.48 CEST (1348 GMT) this afternoon.
Session results
| | | | | | | | | |
| --- | --- | --- | --- | --- | --- | --- | --- | --- |
| POS | NO | DRIVER | NAT | ENTRANT | CAR | LAPS | TIME | GAP |
| 1 | 53 | Jamie GREEN | | Audi Sport Team Rosberg | Audi RS5 DTM | 9 | 1:33.044 | 0.000 |
| 2 | 94 | Pascal WEHRLEIN | | gooix / Original-Teile Mercedes-AMG | DTM Mercedes AMG C-Coupé | 9 | 1:33.160 | 0.116 |
| 3 | 18 | Augusto FARFUS | | BMW Team RBM | BMW M4 DTM | 11 | 1:33.310 | 0.266 |
| 4 | 48 | Edoardo MORTARA | | Audi Sport Team Abt | Audi RS5 DTM | 8 | 1:33.331 | 0.287 |
| 5 | 51 | Nico MÜLLER | | Audi Sport Team Rosberg | Audi RS5 DTM | 9 | 1:33.338 | 0.294 |
| 6 | 3 | Paul di RESTA | | SILBERPFEIL Energy Mercedes-AMG | DTM Mercedes AMG C-Coupé | 7 | 1:33.340 | 0.296 |
| 7 | 99 | Mike ROCKENFELLER | | Audi Sport Team Phoenix | Audi RS5 DTM | 10 | 1:33.342 | 0.298 |
| 8 | 27 | Adrien TAMBAY | | Audi Sport Team Abt | Audi RS5 DTM | 7 | 1:33.342 | 0.298 |
| 9 | 31 | Tom BLOMQVIST | | BMW Team RBM | BMW M4 DTM | 11 | 1:33.358 | 0.314 |
| 10 | 17 | Miguel MOLINA | | Audi Sport Team Abt Sportsline | Audi RS5 DTM | 7 | 1:33.489 | 0.445 |
| 11 | 5 | Mattias EKSTRÖM | | Audi Sport Team Abt Sportsline | Audi RS5 DTM | 8 | 1:33.502 | 0.458 |
| 12 | 36 | Maxime MARTIN | | BMW Team RMG | BMW M4 DTM | 8 | 1:33.526 | 0.482 |
| 13 | 10 | Timo SCHEIDER | | Audi Sport Team Phoenix | Audi RS5 DTM | 9 | 1:33.567 | 0.523 |
| 14 | 12 | Daniel JUNCADELLA | | PETRONAS Mercedes-AMG | DTM Mercedes AMG C-Coupé | 10 | 1:33.580 | 0.536 |
| 15 | 2 | Gary PAFFETT | | EURONICS / BWT Mercedes-AMG | DTM Mercedes AMG C-Coupé | 9 | 1:33.582 | 0.538 |
| 16 | 1 | Marco WITTMANN | | BMW Team RMG | BMW M4 DTM | 8 | 1:33.591 | 0.547 |
| 17 | 13 | António Félix da COSTA | | BMW Team Schnitzer | BMW M4 DTM | 13 | 1:33.604 | 0.560 |
| 18 | 8 | Christian VIETORIS | | gooix / Original-Teile Mercedes-AMG | DTM Mercedes AMG C-Coupé | 10 | 1:33.621 | 0.577 |
| 19 | 7 | Bruno SPENGLER | | BMW Team MTEK | BMW M4 DTM | 9 | 1:33.652 | 0.608 |
| 20 | 77 | Martin TOMCZYK | | BMW Team Schnitzer | BMW M4 DTM | 13 | 1:33.842 | 0.798 |
| 21 | 84 | Maximilian GÖTZ | | PETRONAS Mercedes-AMG | DTM Mercedes AMG C-Coupé | 11 | 1:34.056 | 1.012 |
| 22 | 16 | Timo GLOCK | | BMW Team MTEK | BMW M4 DTM | 9 | 1:34.109 | 1.065 |
| 23 | 6 | Robert WICKENS | | SILBERPFEIL Energy Mercedes-AMG | DTM Mercedes AMG C-Coupé | 8 | 1:34.121 | 1.077 |
| 24 | 22 | Lucas AUER | | EURONICS / BWT Mercedes-AMG | DTM Mercedes AMG C-Coupé | 8 | 1:34.168 | 1.124 |