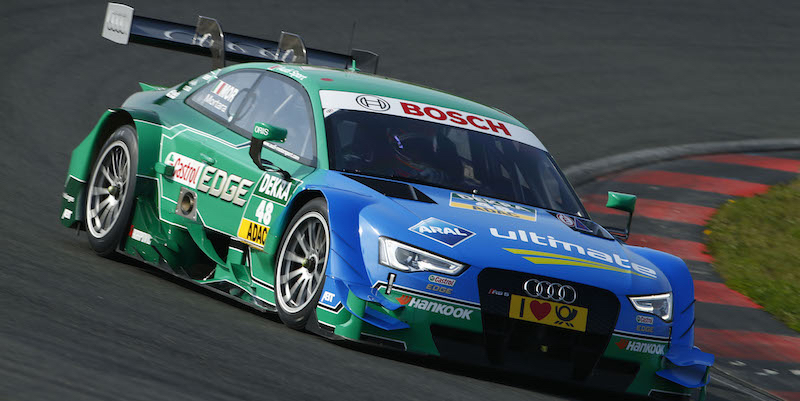 Audi's Edoardo Mortara went quickest in the dying seconds of the second free practice session for the Deutsche Tourenwagen Masters (DTM) at the Hockenheimring this morning, ahead of stablemate Jamie Green and BMW's Tom Blomqvist.
A drying track saw a lot of the drivers switch to slick tyres, where the current qualifying record from last year was bettered in the process. Mortara was faster than Green by 0.102 seconds, with  Blomqvist just a further 0.022 seconds down.
Audi's Timo Scheider, who is now in Team Phoenix for a second season, was fourth, ahead of Abt Audi's Mattias Ekström.
Despite Paul Di Resta being in the top three for most of the session, the Brit ended up 11th, as Pascal Wehrlein was the fastest for Mercedes in eighth.
Miguel Molina showed his speed for most of the session, as last year's Audi pole sitter at the Hockenheim finale was seventh, just behind Team RMG's Marco Wittmann. 2013 champion Mike Rockenfeller and Augusto Farfus completed the top ten, just 0.360 seconds off the pace.
Robert Wickens had a difficult session, as the Canadian only completed just seven laps over the course of the 45 minute session, placing last, nearly six seconds off the pace in his Mercedes. Lucas Auer placed just ahead of him, but was 1.740 seconds off the pace set by Mortara.
The top 22 drivers were split by less than a second this morning, ahead of the first Saturday qualifying session of the year, which takes place at 12:00 CEST today (11.00 BST).
Session results
| | | | | | | | | |
| --- | --- | --- | --- | --- | --- | --- | --- | --- |
| POS | NO | DRIVER | NAT | ENTRANT | CAR | LAPS | TIME | GAP |
| 1 | 48 | Edoardo MORTARA | | Audi Sport Team Abt | Audi RS5 DTM | 18 | 1:32.672 | 0.000 |
| 2 | 53 | Jamie GREEN | | Audi Sport Team Rosberg | Audi RS5 DTM | 17 | 1:32.774 | 0.102 |
| 3 | 31 | Tom BLOMQVIST | | BMW Team RBM | BMW M4 DTM | 21 | 1:32.796 | 0.124 |
| 4 | 10 | Timo SCHEIDER | | Audi Sport Team Phoenix | Audi RS5 DTM | 19 | 1:32.806 | 0.134 |
| 5 | 5 | Mattias EKSTRÖM | | Audi Sport Team Abt Sportsline | Audi RS5 DTM | 17 | 1:32.826 | 0.154 |
| 6 | 1 | Marco WITTMANN | | BMW Team RMG | BMW M4 DTM | 18 | 1:32.843 | 0.171 |
| 7 | 17 | Miguel MOLINA | | Audi Sport Team Abt Sportsline | Audi RS5 DTM | 18 | 1:32.904 | 0.232 |
| 8 | 94 | Pascal WEHRLEIN | | gooix / Original-Teile Mercedes-AMG | DTM Mercedes AMG C-Coupé | 19 | 1:32.962 | 0.290 |
| 9 | 99 | Mike ROCKENFELLER | | Audi Sport Team Phoenix | Audi RS5 DTM | 19 | 1:32.984 | 0.312 |
| 10 | 18 | Augusto FARFUS | | BMW Team RBM | BMW M4 DTM | 23 | 1:33.032 | 0.360 |
| 11 | 3 | Paul di RESTA | | SILBERPFEIL Energy Mercedes-AMG | DTM Mercedes AMG C-Coupé | 18 | 1:33.034 | 0.362 |
| 12 | 51 | Nico MÜLLER | | Audi Sport Team Rosberg | Audi RS5 DTM | 23 | 1:33.042 | 0.370 |
| 13 | 12 | Daniel JUNCADELLA | | PETRONAS Mercedes-AMG | DTM Mercedes AMG C-Coupé | 20 | 1:33.161 | 0.489 |
| 14 | 7 | Bruno SPENGLER | | BMW Team MTEK | BMW M4 DTM | 20 | 1:33.162 | 0.490 |
| 15 | 77 | Martin TOMCZYK | | BMW Team Schnitzer | BMW M4 DTM | 20 | 1:33.171 | 0.499 |
| 16 | 27 | Adrien TAMBAY | | Audi Sport Team Abt | Audi RS5 DTM | 19 | 1:33.203 | 0.531 |
| 17 | 2 | Gary PAFFETT | | EURONICS / BWT Mercedes-AMG | DTM Mercedes AMG C-Coupé | 24 | 1:33.204 | 0.532 |
| 18 | 13 | António Félix da COSTA | | BMW Team Schnitzer | BMW M4 DTM | 18 | 1:33.229 | 0.557 |
| 19 | 8 | Christian VIETORIS | | gooix / Original-Teile Mercedes-AMG | DTM Mercedes AMG C-Coupé | 17 | 1:33.262 | 0.590 |
| 20 | 84 | Maximilian GÖTZ | | PETRONAS Mercedes-AMG | DTM Mercedes AMG C-Coupé | 24 | 1:33.543 | 0.871 |
| 21 | 36 | Maxime MARTIN | | BMW Team RMG | BMW M4 DTM | 20 | 1:33.572 | 0.900 |
| 22 | 16 | Timo GLOCK | | BMW Team MTEK | BMW M4 DTM | 18 | 1:33.612 | 0.940 |
| 23 | 22 | Lucas AUER | | EURONICS / BWT Mercedes-AMG | DTM Mercedes AMG C-Coupé | 22 | 1:34.412 | 1.740 |
| 24 | 6 | Robert WICKENS | | SILBERPFEIL Energy Mercedes-AMG | DTM Mercedes AMG C-Coupé | 7 | 1:38.607 | 5.935 |