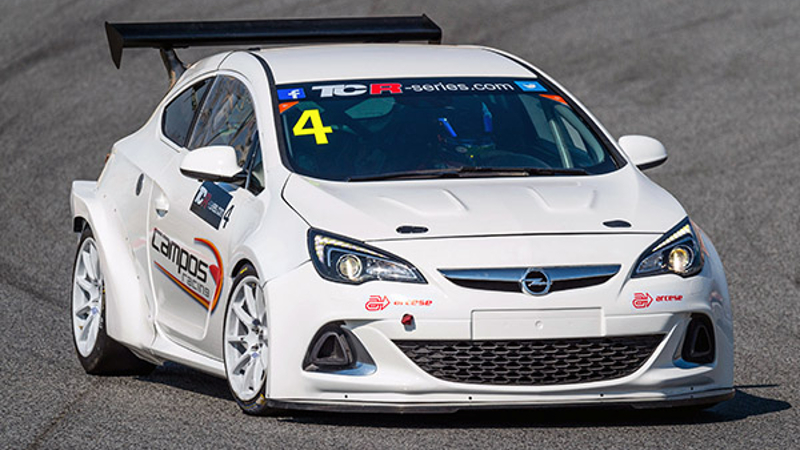 Campos Racing have confirmed they will enter a pair of Opel Astra OPC cars in the 2015 TCR International Series, having recently run the car during Balance of Performance (BOP) testing in Barcelona.
Campos, who are well-known for competing in the World Touring Car Championship, will run a pair of Astras in the first two Formula One supporting events of the season in Malaysia and China. The Spanish team will then expand to add a third car to its line-up from the first European event of the season at Valencia in May.
Ukrainian Igor Skuz has been confirmed as the team's first driver. Skuz has raced in the FIA European Touring Car Cup for the past two seasons with Campos, taking two wins in 2014 on his way to third overall in the Super 2000 TC2 Turbo class.
Campos Racing Team Principal Joan Orús is hoping to be able to build a solid reputation in the new international touring car series.
"This is a new adventure for Campos Racing and we are very much looking forward to it, because we really believe that the TCR International Series represents a great opportunity for our team to further increase its reputation," explained Orus. "We are also very pleased to retain Igor Skuz who has consistently improved since he switched to international competition with us three years ago."
Marcello Lotti, CEO of WSC Ltd, added: "We are very pleased to welcome Campos Racing that is a very experienced team. The Astra OPC has clearly a great potential and we wish them the best success."
Confirmed TCR International Series 2015 entries
| | | | | |
| --- | --- | --- | --- | --- |
| Driver | Nat | Team | Car | Events |
| Pepe Oriola | | Craft-Bamboo Lukoil | SEAT Léon Cup | Full season |
| Jordi Gené | | Craft-Bamboo Lukoil | SEAT Léon Cup | Full season |
| Sergey Afanasyev | | Craft-Bamboo Lukoil | SEAT Léon Cup | Full season |
| Frank Yu | | Craft-Bamboo Lukoil | SEAT Léon Cup | Round 1/2* |
| Mikhail Grachev | | Team Engstler | SEAT Léon Cup / VW Golf | Full season |
| Franz Engstler | | Team Engstler | SEAT Léon Cup / VW Golf | Full season |
| Lorenzo Veglia | | Team Engstler | SEAT Léon Cup / VW Golf | Full season |
| Stefano Comini | | Target Competition | SEAT Léon Cup | Full season |
| TBA | | Target Competition | SEAT Léon Cup | Full season |
| TBA | | Target Competition | SEAT Léon Cup | Full season |
| Jordi Oriola | | Target Competition | SEAT Léon Cup | Rounds 5 / 6, 9 / 10 |
| TBA | | Zengő Motorsport | SEAT Léon Cup | Full season |
| TBA | | Zengő Motorsport | SEAT Léon Cup | Full season |
| TBA | | Zengő Motorsport | SEAT Léon Cup | Full season |
| Kevin Gleason | | WestCoast Racing | Honda Civic Type-R | Full season |
| Gianni Morbidelli | | WestCoast Racing | Honda Civic Type-R | Full season |
| TBA | | WestCoast Racing | Honda Civic Type-R | Full season |
| Igor Skuz | | Campos Racing | Opel Astra OPC | Full season |
| TBA | | Campos Racing | Opel Astra OPC | Full season |
| TBA | | Campos Racing | Opel Astra OPC | Round 5 onwards |
| TBA | | Onyx Race Engineering | Ford Focus ST | Full season |
| TBA | | Onyx Race Engineering | Ford Focus ST | Full season |
| TBA | | Onyx Race Engineering | Ford Focus ST | Full season |
| TBA | | Proteam Racing | Ford Focus ST | Full season |
| TBA | | Proteam Racing | Ford Focus ST | Full season |
| TBA | | Proteam Racing | Ford Focus ST | Full season |