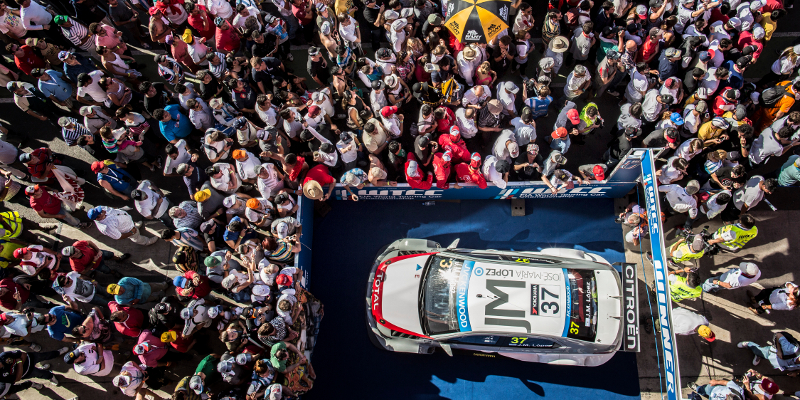 Statistics revealed by Eurosport Events show that global audiences for the World Touring Car Championship (WTCC) continue to rise, with the series reaching 649.70 million viewers on TV in 2014.
The statistics are based on cumulative figures compiled by Germany-based sports research company REPUCOM and reveal an increase of 16 % over the numbers from 2013.
In addition to reaching more people, the WTCC also recorded an increase of 42 % in broadcast hours, reaching 1728 hours.
One of the largest markets for the series, Asia generated 37 % of WTCC broadcasts. In terms of hours, 105 million viewers saw the WTCC in Africa, 425.59 million viewers saw the series in Europe and in the Americas the figure was much lower at 11.64 million.
WTCC General Manager François Ribeiro is pleased with the statistics, which were helped by the addition of Citroën, José María López and Sébastien Loeb to the series.
"We are obviously very pleased with the results of REPUCOM's research which demonstrates exactly what we were hoping: the new-generation WTCC cars improved the show and helped pull in TV viewers," said Ribeiro. "With three new countries on the 2015 WTCC schedule, Germany, Thailand and Qatar, we expect to further enlarge the international TV distribution in South East Asia and the Middle East, whilst we will capitalise on our partnership with the Nürburgring 24 Hours to make the WTCC's first appearance on the Nordschleife a media success."
Ribeiro also stated that the series remains committed to online and social media for 2015, with additional plans for the coming year.
"Beside the steady growth of TV audiences, 2014 was most importantly the real kick-off of an aggressive digital strategy for WTCC: the official Facebook account rose by almost 400 per cent, while more than two million people watched online videos from the final round in Macau last November.
"We will produce more original content in 2015 for WTCC social media and will launch a new interactive show with WTCC drivers on each event exclusively for digital broadcast. We are delighted to bring new creative programme formats to reach a larger audience and recruit a new generation of fans."
REPUCOM Senior Consultant Friedhelm Lange states that the championship's figures for 2014 were positive despite the impact of the FIFA World Cup in Brazil.
"The WTCC has proven stable and in fact very successful in 2014 where other sports have suffered due to the FIFA World Cup," said Lange. "Also the continuous changing media usage behaviour of sports consumers and the increasing number of sport rights globally could not affect another successful year in the WTCC's history.
"With a stable situation in Asia, major improvements in cumulative audiences came from Latin America, Europe, and Africa. In their strategy to attract new fans via news feed and sport magazines and digital channels the WTCC performed strongly."