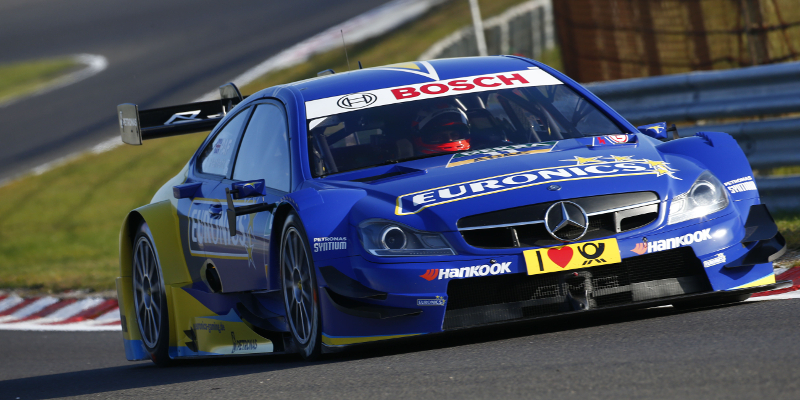 Mercedes-Benz have confirmed continued backing from electronics giant EURONICS for the 2015 Deutsche Tourenwagen Masters (DTM) season, with Brit Gary Paffett also continuing with the team next season.
EURONICS joined Mercedes at the start of the 2013 season, displaying its prominent blue and yellow colours in Paffett's car. The announcement means they brand will continue with Mercedes for a third consecutive season, whilst Paffett himself enters his 12th season in the German championship.
Paffett is currently enduring his worst season in the DTM since joining the series at the start of the 2003 season. The Brit lies second-last in the driver's championship with just four points to his name.
"This joint cooperation with Mercedes AMG in motor racing is a great success for EURONICS," said Benedict Kober, EURONICS Deutschland Board Mmember. "Sponsorship increases awareness of our brand and gives it an emotional dimension.
"Of course, we would like to be higher up the standings this season, but that's ultimately what makes motor racing so interesting, that it is very difficult to predict how the series is going to progress. The main point is that both EURONICS and Mercedes share the desire to always do their best and so, we will start the new 2015 season with that in mind."
Mercedes' Wolfgang Schattling added: "We aim to develop long-term partnerships in the DTM and are delighted to continue our successful cooperation with EURONICS next year. EURONICS is a strong brand whose values ​​perfectly fit our own. Having the best possible technology and being passionate about always doing your best play a key role both in motor racing and in the consumer electronics market. I am certain that we will be able to implement more exciting joint projects in our third year to our mutual benefit."
The final round of the 2014 DTM takes place this weekend at the Hockenheimring.