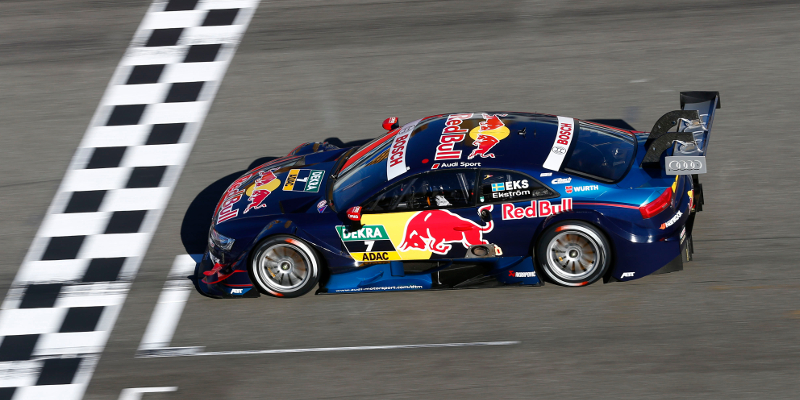 Mattias Ekström took victory in the final race of the Deutsche Tourenwagen Masters (DTM) season at the Hockenheimring, as Audi secured the manufacturers' title with Mike Rockenfeller finishing second and Jamie Green third.
Swede Ekström started the race as the top driver on the standard tyre from second on the grid. As the race unfolded, Ekström found himself in a strong position to challenge leader Green for the win, who was on a different strategy.
In the closing laps of the race the Abt Sportsline driver was closing on Green at a rate of more than a second a lap, before a late race safety car period put paid to Green's hopes of fending off the option-tyre shod Ekström.
When the race resumed as a two-lap sprint, Ekström swiftly dispatched Green at the Spitzkehre, before Rockenfeller followed past a lap later.
Mercedes' Paul di Resta equalled his best result of the season in fourth, despite a last lap challenge on Green for the final podium position.
New champion Marco Wittmann finished the race as the best BMW driver in fifth for Team MTEK, despite a last-lap tussle with Di Resta to try to hold on to fourth position.
Phoenix Audi's Timo Scheider finished in sixth for Audi, having also lost out as a result of the safety car period to Di Resta and Wittmann. Scheider had earlier been running in second position to Green, but was passed by the soft-shod Ekström and Rockenfeller ten laps from the finish.
BMW Team Schnitzer's Martin Tomczyk finished in seventh after a late-race charge on the option tyres that saw him 13th with ten laps to go.
Mercedes' Robert Wickens was eighth, ahead of Saturday's pole sitter Miguel Molina in ninth. The Audi driver lost out at the start after a poor start, dropping to fifth on the opening lap, before slipping back further during the race. BMW's António Félix da Costa completed the top ten with his second points finish of the season.
The late-race safety car period was caused when Mercedes' Daniel Juncadella went into the gravel in the stadium section as a result of contact from BMW's Bruno Spengler. Spaniard Juncadella had been battling with Canadian Spengler for the final points position. Spengler went on to finish in 12th positon.
An accident on the last lap of the race between Audi's Adrien Tambay, who was earlier given a drive-through penalty for a jump start, and Mercedes' Vitaly Petrov meant that neither driver finished the race. Also failing to finish the race was BMW Team RMG's Maxime Martin, with damage to his right-rear wheel, although he nevertheless ended the season as the best rookie driver.
Top ten result
| | | | | | | | | | |
| --- | --- | --- | --- | --- | --- | --- | --- | --- | --- |
| POS | NO | DRIVER | NAT | ENTRANT | CAR | LAPS | TIME | BEST | GD |
| 1 | 7 | Mattias EKSTRÖM | | Audi Sport Team Abt Sportsline | Audi RS5 DTM | 42 | 1:08:37.604 | 1:34.077 | 2 |
| 2 | 1 | Mike ROCKENFELLER | | Audi Sport Team Phoenix | Audi RS5 DTM | 42 | 2.402 | 1:33.933 | 7 |
| 3 | 21 | Jamie GREEN | | Audi Sport Team Rosberg | Audi RS5 DTM | 42 | 3.914 | 1:34.572 | 5 |
| 4 | 6 | Paul di RESTA | | AMG Mercedes | DTM Mercedes AMG C-Coupé | 42 | 4.163 | 1:34.371 | 10 |
| 5 | 23 | Marco WITTMANN | | BMW Team RMG | BMW M4 DTM | 42 | 4.962 | 1:33.643 | 13 |
| 6 | 2 | Timo SCHEIDER | | Audi Sport Team Phoenix | Audi RS5 DTM | 42 | 6.54 | 1:34.807 | 8 |
| 7 | 10 | Martin TOMCZYK | | BMW Team Schnitzer | BMW M4 DTM | 42 | 7.526 | 1:33.672 | 20 |
| 8 | 12 | Robert WICKENS | | FREE MAN'S WORLD AMG Mercedes | DTM Mercedes AMG C-Coupé | 42 | 10.344 | 1:34.617 | 12 |
| 9 | 8 | Miguel MOLINA | | Audi Sport Team Abt Sportsline | Audi RS5 DTM | 42 | 11.104 | 1:34.773 | 1 |
| 10 | 18 | António Félix da COSTA | | BMW Team MTEK | BMW M4 DTM | 42 | 12.198 | 1:34.092 | 9 |