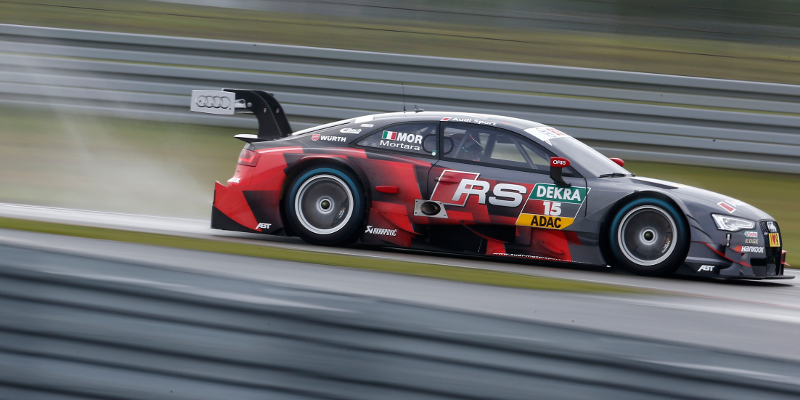 Dieter Gass, Head of Audi Sport, admits that he is pleased with the marque's performance in qualifying for the Deutsche Tourenwagen Masters at the Nürburgring, after its drivers took five of the top six grid positions.
Only one driver managed to beat five of the best Audi drivers in a changeable qualifying session on Saturday, with BMW's Marco Wittmann taking pole. Audi were right in the mix, however, with Edoardo Mortara ending up as the top driver for the manufacturer in second.
Gass admits that it is a disappointment for their strongest championship contender, Mattias Ekström, to be so far down the order for Sunday's race, with the Swede starting from 22nd position after mistiming his Q1 run on a drying circuit.
"When you've got five cars in the top six you can actually be nothing but pleased," said Gass. "It again showed how good the RS5 DTM is.
"That Marco Wittmann is at the very front and Mattias Ekström at the very rear of the grid is obviously less than perfect with a view towards the Championship.
"But our five guys are really going to put pressure on Marco tomorrow and give their all to clinch the first, long-overdue season victory for Audi. And Mattias should never be written off either."
Former double champion Ekström admits that the title race is now in the hands of Wittmann.
"It was a bad qualifying for sure," said Ekström. "From P22 I think it will be a long day tomorrow!"
"I have to catch up ten points per race, so he must be only second four times in a row in order to be champion. That means that it is no longer in my hands. You cannot make it on your own. Dreaming is nice, but it means nothing."
In addition to Ekström, the only other Audi driver who failed to make it through to Q3 was Swiss Nico Müller, who will start from tenth position.
"They were very difficult conditions today, so overall I think to get P10 is not bad," said Müller. "I'm a bit disappointed because in the first part of Q2 I was really happy with how the car was behaving and very confident to push hard. But then somehow the improvement that was expected for the second set [of tyres] didn't come. I just didn't feel the grip any more."
After the changeable events on Saturday – with every session affected by rain – dry conditions are forecast for Sunday's seventh race of the season.