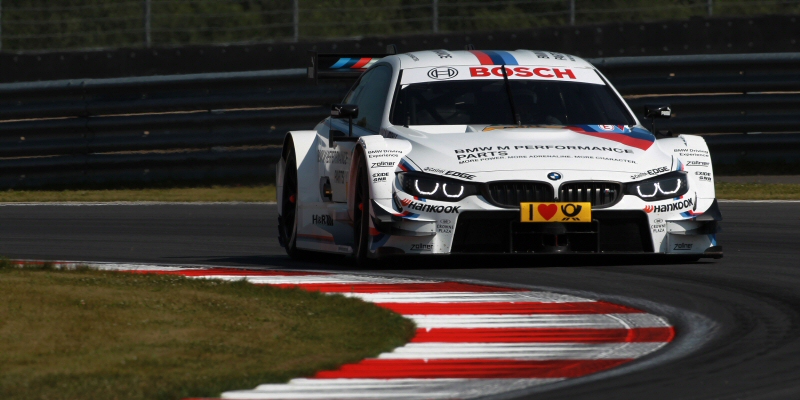 BMW Team Schnitzer drivers Bruno Spengler and Martin Tomczyk head to Austria this weekend confident of strong results at the Red Bull Ring in Spielberg, as the Deutsche Tourenwagen Masters enters the second half of the season.
Heading into this weekend's sixth round of the season, Canadian Spengler is joint third in the championship standings, having scored two podiums. The 30-year-old describes the circuit in Styria as being 'fun' to drive due to its undulations and mix of turns.
"Spielberg is a great track," explains Spengler. "There are uphill and downhill sections and the track has a little bit of everything: long straights, hard braking zones, slow and fast corners. The final two corners are extremely demanding. The final corner, with a bump in the middle, is particularly fun."
The 2012 champion scored victory in the Spielberg race in 2013 and is thus confident of being able to put in another strong performance in 2014.
"Last year went very well for us," added Spengler. "I won the race and there were three BMW drivers on the podium. Of course each year is different, but we will do our best to be successful again."
Spengler's team-mate Tomczyk has, in comparison, had another poor start to the season and is currently languishing in 18th overall in the championship, with only eight points to his name.
However Tomczyk has one of the best records at the Red Bull Ring, having taken victory in his title year in 2011 and followed it up with a second-place finish in 2012 in his first season at the wheel of a BMW.
"I have high expectations," said Tomczyk. "I love Spielberg and the Red Bull Ring. It's a great race track and I'm happy we are returning there with the DTM. It's a sensational track with a great layout, which you don't see all that often.
"I have been successful there in the past and hope that will be the case this year."
For the Schnitzer Motorsport outfit, the Austrian race is as close to home as the team get, with the team being based on the German-Austrian border.
"No other track on the DTM calendar is closer to our team HQ in Freilassing than the Red Bull Ring," explains Schnitzer Team Principal Charly Lamm. "That makes the race a bit like our home race.
"Last season in BMW's one-two-three result we had a perfect race weekend with pole position and Bruno's victory. That's why we're really looking forward to returning to Spielberg."