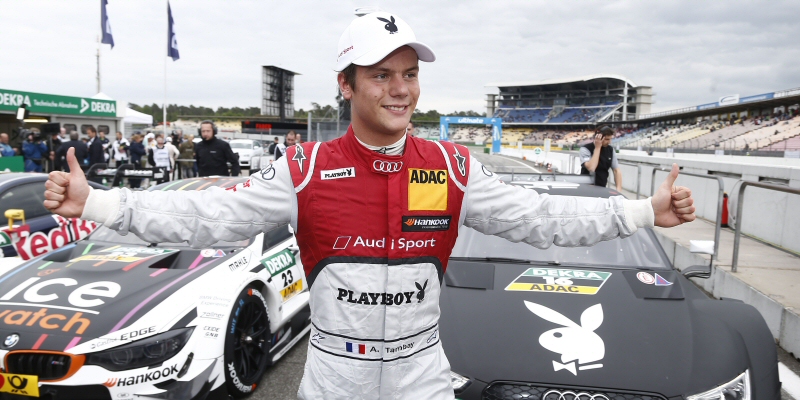 Adrien Tambay has hailed his first pole position in the Deutsche Tourenwagen Masters as 'unbelievable' after the Frenchman ended the session as the fastest driver at the Hockenheimring.
Tambay, who is entering his third season in the DTM, worked his way up from being 14th fastest in Q1, to third fastest in Q2 and, ultimately, pole position in Q3.
"As usual, it was incredibly close," admitted Tambay. "In Q1, I was almost eliminated and in the end I took the pole position – unbelievable! I'm very happy that it finally worked out – especially also for Audi Sport and Team Abt who did a great job during the winter.
"The mechanics worked very hard and didn't have a chance to go to bed before 3 in the morning on the past two days either. I couldn't have thanked them in a better way than by clinching the pole position. I'm overjoyed."
The Frenchman is now looking ahead to the race and trying to go one better than his current career-best finish of second, which he achieved during his maiden season in 2012.
"To be honest, it was difficult for me at first to comment on this," said a delighted Tambay. "I was speechless. Now I'm beginning to calm down. It's really great to be at the very front of the grid here. But I'm already thinking about the race it'll no doubt be tough. But this is my first pole in the DTM, I managed it, and it's a great experience."
Audi Sport's Head of DTM Dieter Gass added that the pole was a great reward for the Audi team for their efforts during the winter months.
"The pole position is a great beginning of the new season," said Gass. "It's a nice reward for what was really an extremely hard workload handled by the whole squad in recent months. Today we saw that the new RS 5 DTM is fast, but BMW is strong as well and we shouldn't count out Mercedes-Benz after a weak qualifying session either. We're very excited about the race tomorrow and the new race format."