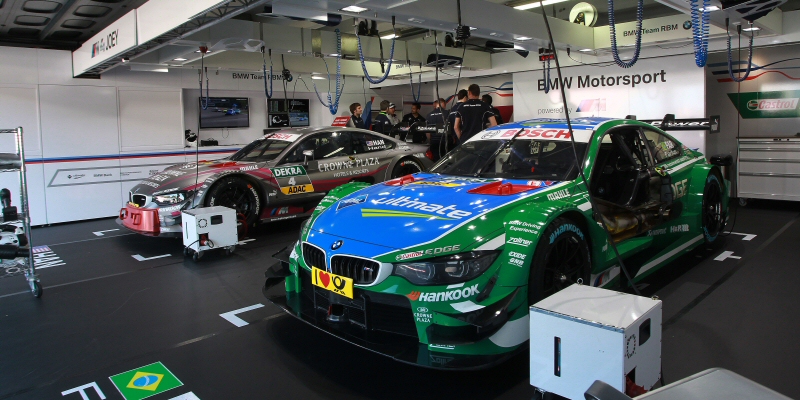 BMW Team RBM admit that they must qualify better in order to maximise potential in the race, as the Deutsche Tourenwagen Masters heads to Oschersleben this weekend.
Augusto Farfus and Joey Hand qualified only 11th and 16th on Saturday at the season-opening Hockenheimring, going on to finish in eighth and tenth respectively. Team Principal Bart Mampaey admits that the Belgian outfit must perform better in qualifying.
"Scoring points with both cars at the opening race of the season was a nice result for our team," said Mampaey. "The goal for Oschersleben must obviously be to do better in qualifying, which will then allow us to compete higher up the field right from the start of the race.
"Overtaking is traditionally difficult at the Motorsport Arena. We have very fond memories of last year's race, where Augusto Farfus won to keep the DTM title race open."
Indeed Farfus has a strong record at Oschersleben, winning last season and finishing in fifth at the circuit in his début season in the DTM. "The new season is up and running – our result in Hockenheim showed we are among the front-runners from the word go with the new BMW M4 DTM," said Farfus. "That is very encouraging. However, we hardly have time to catch our breath before the next race in Oschersleben.
"I really like the track and achieved a lot of good results there in the World Touring Car Championship. Last season BMW Team RBM did a very good job in Oschersleben, which allowed me to cross the finish line first. I am highly motivated to score another top result there."
American driver Hand admits he must qualify better this weekend, with his 16th-placed grid position among the worst for the BMW drivers.
"Although I am yet to get a very good result there, I do really like it," said Hand, 35. "The priority for me will be to qualify better than I did in Hockenheim. The morale in BMW Team RBM is very good after the points we scored in Hockenheim – as is my own."
Hand, who like team-mate Farfus is racing in his third DTM season, explains why he enjoys racing around the 3.696 kilometre circuit.
"Oschersleben is a bit like a go-kart circuit for racing cars," explained Hand. "At first glance the track looks quite easy, but it certainly is not. The circuit is very bumpy. Slow sections alternate with quick corners – and then you have a quick chicane too. It is quite a cool track."