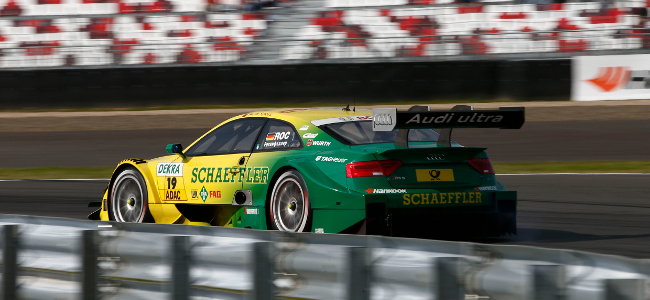 Audi Motorsport has confirmed that the 2013 DTM Champion, Mike Rockenfeller, will drive for the team again in the 2014 campaign while long term sponsor Schaeffler have committed for a further 3 years.
Dr. Wolfgang Ullrich is pleased to have retained the services of Rockenfeller for another campaign: "Mike (Rockenfeller) has been a valuable and indispensable member of the Audi family for many years. Not only because he's an experienced and fast race driver but also because he's a very special person. He's a perfect fit for us. And considering that he's only 30 years old, the future belongs to him – both in the DTM and at Le Mans."
Rockenfeller became the second Audi Champion in three years in the Schaeffler-backed Audi RS5 DTM and his return will see him compete with the #1 on his car for the first time in his DTM career.
"Audi and Schaeffler are simply two fantastic partners," says the 30 Year Old racer. "In both companies, motorsport evokes a lot of emotions. I can really feel the enthusiasm of the employees whenever I visit any of the locations. To represent these brands on the race track and to be so successful – that makes me proud."
Rockenfeller preceded his 2013 Championship with a fourth place finish in the 2012 Championship, meaning that the last three years has seen the green and yellow liveried Audi Motorsport Team Phoenix finish as top Audi in the Championship.
"The Schaeffler Audi has become an absolute crowd-pleaser with the DTM fans in recent years and, what's more, was our best-placed car three times in succession. Therefore, we're delighted in more ways than one that we've been able to conclude a long-term extension of this partnership and that this dream team is retained for the DTM," says Dieter Gass, Head of DTM at Audi.
The Schaeffler Group has benefitted from its deal with Audi and two drivers' titles in three years have made it a success. Their first success was with Martin Tomczyk in 2011 while the previous two seasons they have backed 'Rocky' as he finished fourth then first overall.
"Schaeffler, Audi and Mike Rockenfeller – this combination is simply a perfect fit," says Schaeffler Board Member for Development Prof. Dr. Peter Gutzmer, not only referring to the successes achieved on the race track. "Motorsport emotionalizes and unites – particularly in success: Many of our more than 77,000 employees couldn't relate to this topic a few years ago and, today, are big Audi and DTM fans. We're delighted that this success story will continue in the next years."