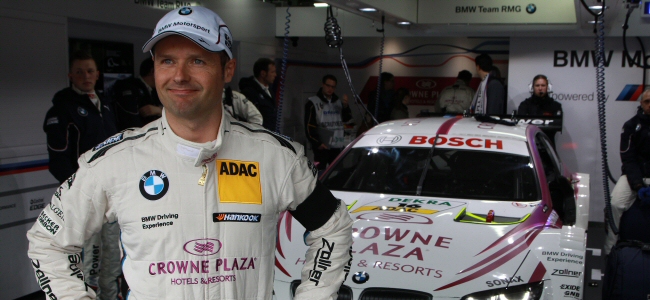 BMW's Andy Priaulx admits he is leaving the Deutsche Tourenwagen Masters 'with a smile on his face' after spending two years racing in the German series, closing a chapter on his touring car career.
During the Brit's two years in the DTM Priaulx achieved best finishes of sixth on two occasions, although for the triple World Touring Car champion his two seasons were considered to be challenging overall.
For 2014 Priaulx moves to the United SportsCar Championship in North America to race for BMW Team RLL in a move which signifies the end of 11 years of full-time touring car racing.
Priaulx admits that he feels the move is a good one, as he moves into yet another new phase of his long racing career.
"It's not totally a departure but I think for me to add longevity to my career it's best to focus on endurance racing," said Priaulx to TouringCars.Net. "It's a very competitive championship. I've always been versatile and for me it's just a really great opportunity to go to America.
"It's going to be good for my profile and it's going to be good for my career to drive out there. BMW offered me a nice works' contract again for the 13th year and it's all good. I can't complain – I'm living the dream!"
Priaulx admits that, considering his age, he is happy to have performed the way he did in the DTM in 2012 and 2013, despite finishing the championship in 13th and 19th each year respectively.
"I scored the first points for BMW back in the DTM and I qualified third on the grid for my final race with a load of 18-year-old testosterone-crazed wonder-boys behind me," added the 40-year-old. "I think at 40 it shows my speed is still there. There's not many drivers who have achieved that in the DTM. [Jean] Alesi and [Mika] Häkkinen are the only two others that I know of that have performed in DTM at that level [at that age], so I'm very happy."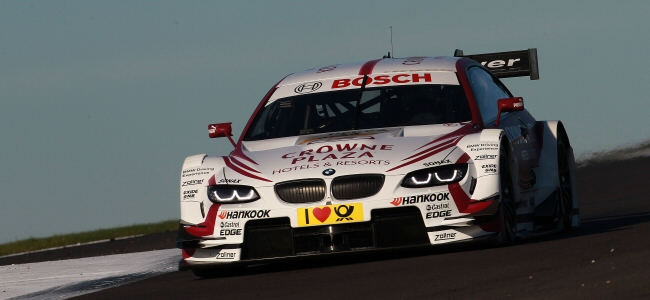 Priaulx was also critical of the technical regulations of the DTM, adding that the sensitivity of the cars made finding the optimum set-up extremely difficult for the drivers.
"I think the cars are too sensitive," added Priaulx. "If you're out by one or two millimetres on the ride height you're at the back of the grid. I think that's a shame. The cars are just too sensitive and too aero-dependant.  They're just too reliant on the engineering qualities.
"Don't get me wrong the guys that are winning are world class – they're all world class. Timo Glock said the same – he said he was shitting himself ahead of the first race because he was racing against 21 world class drivers which you don't even get in Formula One!"
One of the biggest regrets that Priaulx has of his time in the DTM is not using the right-foot braking technique that he had used previously in his entire career. Having been convinced by BMW engineers to try left-foot braking prior to his début in the series, Priaulx switched back to right-foot braking for the season finale and enjoyed his strongest weekend in the series.
"I think when I look back I made a silly mistake there really," admits Priaulx. "I was convinced by the engineers, and the team didn't want to let me change. They didn't give me any testing so I couldn't back-to-back it. I kind of got myself into a bit of a rut with the left-foot braking and probably when I look at it I was 97 or 98% with the left foot and 100% with the right."
Looking ahead to his new future in sportscar racing, Priaulx admits that he is pleased to have been kept on by BMW for a 12th consecutive year with a full programme of racing.
"I must say that, I've got my head around it, and I'm grateful to BMW that they've seen my qualities and they know how good I am and they've given me a great chance to lengthen my career here," added Priaulx. "I'm lying in bed at night thinking 'that's alright – it's come out ok'. They could have got rid of me and they didn't. They could have given me a programme of four VLN races and the Nürburgring 24 hours, and they've given me their next best programme to DTM. I will say there's a lot of drivers in DTM that would like to be doing what I'm doing next year, so it's all good.
Despite leaving touring car racing for sportscars, Priaulx added that he expected to be back behind the wheel of a touring car in the future.
"I'll be driving in touring cars again, don't worry. I'll definitely finish my career doing some touring car racing. I've got a few years behind me – [Gabriele] Tarquini is 52 and still winning races, so as long as you enjoy it you've got to keep doing it."