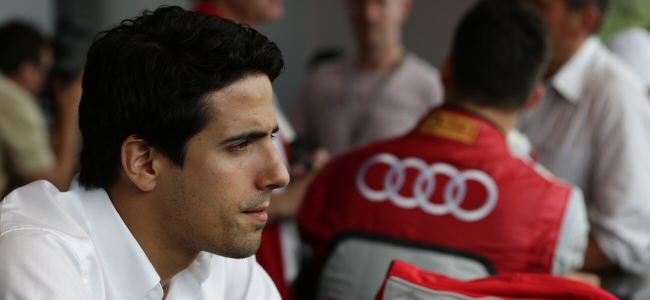 Audi factory driver Lucas Di Grassi has ruled out a move into the Deutsche Tourenwagen Masters, despite recently testing an Audi RS 5 DTM at the Red Bull Ring in Austria.
Brazilian Di Grassi currently competes for Audi in the World Endurance Championship, and flew directly to last weekend's race in São Paulo for the fourth round of the season.
Despite the test, at which Mercedes-Benz and BMW were also present, not being officially timed, Di Grassi believes that he is well-suited to a contemporary DTM car. Not only was it the former Formula One star's first time in a touring car, but it was also his first time at Spielberg's Red Bull Ring.
"I was at the Red Bull Ring for the first time," admitted Di Grassi. "The RS 5 DTM is a fascinating car. I felt like I was at home after just a short time and it didn't take long to ease my way toward the limit. The DTM is a series at the highest level and obviously the RS 5 DTM requires a special driving technique. It's a shame that the constant weather changes thwarted our plans."
Di Grassi was full of praise for the experience of driving a DTM car, comparing it to his experiences in his LMP [Le Mans Prototype] racer.
"I think that there's no other touring car category anywhere in the world that resembles an LMP sports car as much as the DTM race car does," added Di Grassi. "The RS 5 DTM produces a lot of downforce and is relatively light as well. Its braking power is absolutely astonishing. Thanks to the carbon brakes and the downforce you can brake very late and the car remains stable."
However despite his positive experience, Di Grassi was quick to rule out a move to the German-based series.
"One of the reasons for me to take the wheel was that rookies are allowed to test as well – and in the DTM car I'm a rookie of course," explained Di Grassi. "I've got a mid-term contract with Audi and I fully identify with the LMP program for which I'm scheduled again next year.
"I hope that with my combination of Formula 1 and LMP experience and my feedback I was able to assist my DTM colleagues a tiny bit – even though everybody knows that excellent drivers and outstanding personnel, who know exactly what they're doing without me, are under contract in Audi's DTM program."