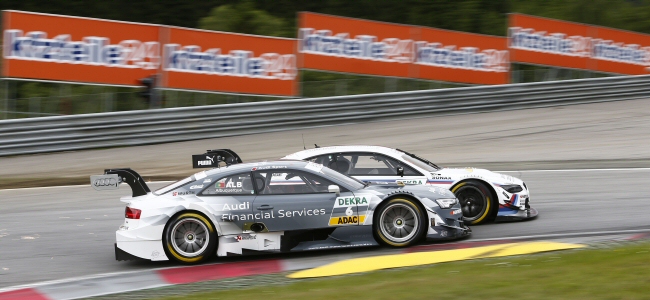 Audi Sport Team Rosberg head to the EuroSpeedway Lausitz in estern Germany this weekend for the fourth round of the 2013 Deutsche Tourenwagen Masters, having failed to score any points so far this season.
The team's two drivers, Italian Edoardo Mortara and Portugese Filipe Albuquerque have managed a best result of just 15th so far this season, having been on the receiving end of plenty of bad luck. Mortara secured the team's best grid position of the season last time out in Austria, qualifying in third, but contact from BMW's Marco Wittmann in the race knocked him out of contention.
"So far, our season has been marked by plenty of mishaps and misfortune," admitted Team Director Arno Zensen. "But we've also had a few positive things. At the last event at Spielberg, we were at least able to show that we can still be fast. At the Lausitzring, we aim to convert that into results and score our first points of the year."
Mortara and Albuquerque took a doulbe points finish at the circuit in 2012 and, despite not being a fan of the track, Mortara is hoping for a repeat performance.
"I really don't know what to expect of the Lausitzring," said Mortara, 26. "I think it's the DTM track I like the least. Still, we were really competitive there last year – and of course that's what I want to be again this year."
Albuquerque, 28, scored his first points in the German series at the venue in 2011. However the Portugese racer has failed to finish higher than 16th so far in 2013, despite finishing all three races. He also referred to the team's strong qualifying performance, which has seen the two drivers reach Q3 in three out of six attempts, as evidence of their true pace.
"At the Lausitzring, I clinched my first DTM points, so I'm particularly motivated," added Albuquerque. "In Team Rosberg, we now know how to set up the car in qualifying as well. Now it's about running the right strategy in the race. My aim is to score the first points this season."