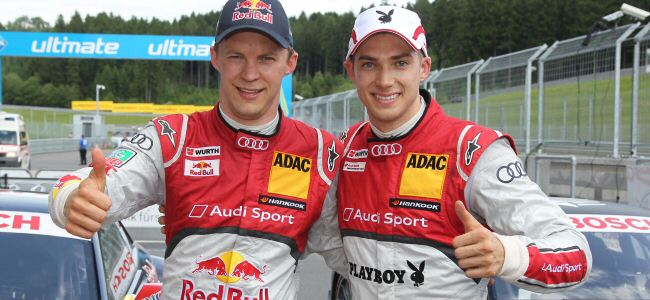 Edoardo Mortara was celebrating his and Team Rosberg's first-ever pole position in the Deutsche Tourenwagen Masters in Austria this afternoon, after placing his Audi A5 DTM on the front row of the grid.
Italian Mortara has never before started a race from higher than fourth, but at the Red Bull Ring in Speilberg he remained on top form throughout qualifying to deliver Audi their second pole position of the season.
"It's simply incredible: my first pole position in the DTM! What can I say?", enthused Mortara after qualifying. "Thank you to my guys from Team Rosberg, thank you to Audi Sport! The car was really great to drive today, truly enjoyable, even though we had some difficulties yesterday. I made a small mistake and slipped off the track. But that was yesterday. Today we're celebrating pole!"
The result also marks the first-ever pole position for Audi Sport Team Rosberg. Arno Zensen, the Team Director of Team Rosberg, admits that he didn't think such a result would happen in qualifying, despite both Mortara and team-mate Filipe Albuquerque having shown rapid pace all weekend.
"This is an incredible day for Audi Sport Team Rosberg," said Zensen. "The whole weekend had already been going well for us. In free practice on Saturday morning we were on positions one and two. Before qualifying I told Dr. Ullrich that we'd be trying to repeat this result … but I didn't really believe we would. So that makes me all the happier about having achieved grid position one for the first time with Audi.
"Sincere congratulations to Edo (Mortara), he was running really well. Filipe (Albuquerque) complemented the result in eighth place. He might have even achieved a slightly better result, but I'm very, very happy and pleased today."
Despite having taken two pole positions in 2012, Audi have yet to convert their pace into a race victory. Head of Audi Motorsport Dr. Wolfgang Ullrich is all too aware of this and hopes that either Mortara or Mattias Ekström (third on the grid) can return a win.
"I think that we're on a good track if we continue in our efforts," said Ullrich. "Our goal, naturally, is to convert the good qualifying results into good race results tomorrow – because that would complete the reward for the work of our squad."