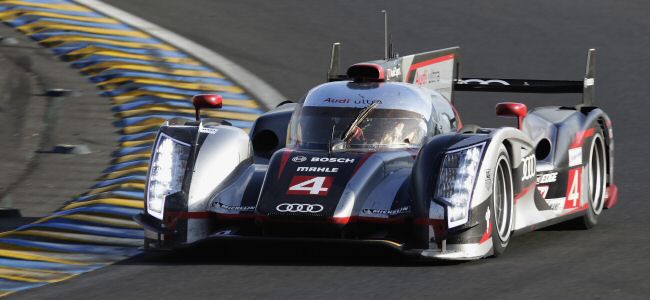 A number of past and present stars of the Deutsche Tourenwagen Masters were competing in this weekend's Le Mans 24 Hour race, with Audi's Mike Rockenfeller the best-placed of them after he finished on the podium in third.
The 80th running of the legendary 24 hour race saw no fewer than eleven former DTM stars present on the grid. Rockenfeller was the only current DTM racer to be competing in the race, but the endurance event also featured recent drivers Oliver Jarvis and Tom Kristensen. A number of older DTM names were also present including Marcel Fässler, Dindo Cappello, Allan McNish, Jeroen Bleekemolen, Peter Dumbreck, Giancarlo Fisichella, Stefan Mücke and Darren Turner.
Rockenfeller shared the number four Audi with Oliver Jarvis and Marco Bonanomi. The trio didn't get off to the strongest start, finishing the first hour down in tenth place after an extended pit stop due to suspension issues. By the third hour they had risen to sixth, which became fifth following the huge aerial accident for the Toyota of Anthony Davidson. By the seventh hour the #4 Audi had risen to third position, where it remained for the remainder of the race.
"To be honest, I'm pretty happy that we made it onto the podium at Le Mans," said Rockenfeller, who suffered a huge crash in last year's event. "That was our minimum goal. We weren't quick enough during major parts of the race to be in contention for the very top spots. Still, I want to thank the team and my two fellow contenders. We made the best of the situation and made no mistakes. Well done to the other three Audi teams who had an incredible speed. I think we've experienced a great day for Audi that we can celebrate today."
Jarvis, who competed in the DTM for four season between 2008 and 2011, was pleased to have secured a first podium finish at his second attempt at Le Mans.
"Incredible. A race with a lot of ups downs," summarised Jarvis. "There were phases when I'd have never believed that we'd be able to make it on podium. We were running very fast for a few hours and then our car suddenly stopped on track. That's when I thought 'it's all over now.' But the team not only worked hard in that case and we were able to continue. I want to thank the guys; they did an outstanding job. We owe the podium to them. This has made a dream come true for me."
Ultimately the race was won by the #1 Audi R18 e-tron quattro driven by André Lotterer, Marcel Fässler and Benoît Tréluyer. The trio held on to take the first-ever victory for a hybrid car at Le Mans, defeating the #2 Audi by 1 lap. Fässler, 36, is a former DTM racer who competed in the series between 2000 and 2005.
"This was an incredible race," said Fässler. "There were so many highs and low – especially for me. I had a great team. The mechanics gave everything after the accident to repair the car as quickly as possible. As always, my driver colleagues did a fantastic job too. For Audi, this is a great day. Clinching not just victory but a one-two result with the new technology of the e-tron quattro is a brilliant feat."
Three former DTM racers in Allan McNish (competed in the 2005 DTM), Dindo Capello (2004-2005) and Tom Kristensen (2004-2011) came home second in the #2 Audi. Peter Dumbreck (2000-2002) finished 6th, Jeroen Bleekemolen (2003-2006) finished in 11th, Giancarlo Fisichella (1995-1996) was 17th and first in the GTEP class, Stefan Mücke (2002-2006) and Darren Turner (2000-2001) were 19th and third in the GTEP class and Pedro Lamy (2000-2001) finished in 20th and first in the GTEA class.