Árón Taylor-Smith says that he feels 'resurrected' since joining Power Maxed Racing at the start of the season, following his first British Touring Car Championship podium in seven years at Donington Park.
Taylor-Smith's first outright podium in the BTCC since he won at Rockingham in 2016, secured in race three at Donington Park, marked a further step in his improvements since the season resumed at Croft.
Having threatened the fringes of the top ten in the first half of 2023 – with six top ten finishes – the Irishman has since only twice been out of the top ten, as his pace has pushed him closer to the front.
At Donington Park, the 33-year-old qualified his Vauxhall Astra in fifth for the opening race of the day, and on race day he took home a sixth, tenth and second after being in the thick of the action.
Having previously scored four BTCC wins and 19 podiums, Taylor-Smith praised Power Maxed Racing Team Principal Adam Weaver and Team Manager Martin Broadhurst for helping to reinvigorate his tin-top career.
"Seven years – I feel like that what Adam and Martin have created in Power Maxed Racing has resurrected the old me," said Taylor-Smith to TouringCars.Net.
"It's been a long time coming and it's been some hard years, to say the least, but it's all paid dividends – finally we've got the just rewards.
"It's what we've been working towards since I've come back. I'm just so unbelievably happy for the team and for everyone involved – they've done a superb job."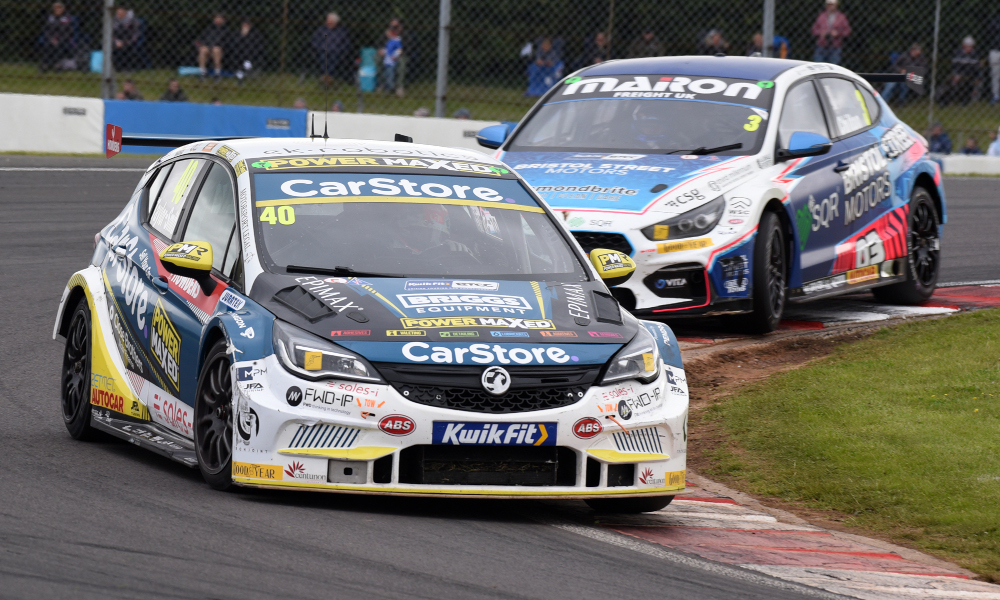 After a lean year with Triple Eight Racing in 2017, racing the ageing MG machinery to a single top ten result, Taylor-Smith spent two years racing in GTs before a year out in 2020.
Returning to the BTCC with Team HARD in 2022, Taylor-Smith still struggled for top tens in the new car, managing just three such results in 60 races. He has already scored 13 top tens in 2023 – more than in his past three BTCC seasons combined.
"Do you know what I've learned? It's a lot easier when you're at the front! I think I should just do this more often, and it's far more enjoyable!
"I thought that even to be able to say the sentence that a win was on the cards [in race three] is something that I haven't been able to say for a long time.
"I'm so proud of what we have achieved and so proud of digging deep when it hasn't been the easiest road the last few years, to never lose faith in what we can do. The team have believed in me beyond belief and given me this opportunity.
"The hunger and passion within the team is second to none, and I think that's what is sometimes overlooked in this championship.
"They have the same drive that I do, in terms of wanting to win, and it's the perfect match – there's such a good synergy. It aligns directly with what I'm trying to achieve both on and off track.
"This is my home, in the touring cars, I don't want to leave. I want to stay with CarStore [Power Maxed Racing] for the next however many years. Do another 20 years!
"This championship is all about momentum – if you have the car in the right window, it's fast at every track.
"I think we turned the wick, so to speak, at the mid-season tyre test here when the team came up with a change for the car that really suited my style, and that's when it all clicked.
"Now we go to Silverstone where the car has [almost] won, and to Brands where the car has won, and I think the car is better than it's ever been.
"I think we have a really good chance now to end this season on a continued high."