George Gamble will join an expanded Speedworks Motorsport squad for the 2023 British Touring Car Championship, partnering Rory Butcher and Ricky Collard, who has reversed his decision to leave the series.
Speedworks, running as Toyota Gazoo Racing UK, will prepare three cars for the first time in its BTCC history, as it targets overall championship glory.
26-year-old Gamble made his BTCC début in 2022 with Ciceley Motorsport, impressing in a campaign which saw him claim a first outright victory at Knockhill and end the year 13th overall in the drivers' standings.
Collard had planned on retiring from motorsport at the end of 2022, but the 26-year-old has reversed that decision and will continue with the team for a second successive season.
Having finished 16th overall last year with seven top ten finishes, the Surrey racer will enter into his third season in BTCC but only his second full campaign.
Butcher is expected to once again spearhead the Cheshire outfit's championship challenge. The 36-year-old Scot is now heading into his sixth full season and his third with the team.
The team is also going to run its own engine for the first time. Having raced with a TOCA engine in the past, this year the outfit will benefit from a Neil Brown Engineering-tuned Toyota-derived engine.
"It's fair to say we're all extremely excited ahead of the new season," said Team Principal Christian Dick. "It's a significant challenge to expand from two cars to three, but at the same time, having three sets of data to cross-reference should allow us to make progress faster than we've ever done before.
"The new engine is also a key factor. The TOCA unit has played an important role in our success down the years in the BTCC, but to take the final step and really fight for the championship, we needed control over all elements of the package – and that is what we now have.
"On the driver front, Rory is a class act who is more than ready to mount a consistent title challenge, while Ricky can focus on turning the promise he displayed in 2022 into some really strong results.
"As to George, he caught our attention early on last year – it takes a pretty special talent to win a race as a rookie in the BTCC – and while his surname might be Gamble, we're confident that his signing will prove to be no risk at all."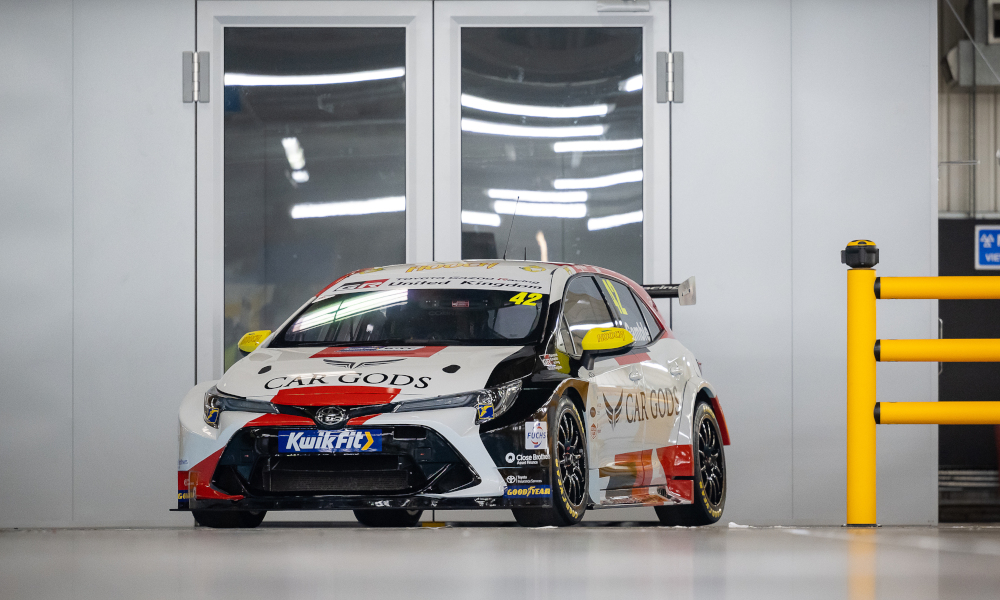 Last season, Butcher was a title contender for much of the year, eventually finishing fifth overall after winning one race and scoring nine podiums – and he heads into the coming campaign with high confidence.
"I feel like I'm going into 2023 in the best shape so far, not just in terms of the updates brought to the Corolla but also in terms of the people I have around me," said Butcher.
"It's great to have that continuity of team and car for the third year in a row, and having ended last season so strongly, I really want to pick up from where we left off and be right in the mix and gunning for glory from the outset.
"Ricky and George are both top drivers and real assets to the team, and I'm looking forward to working closely with the pair of them to push this whole project forward."
Collard revealed that a frank conversation with the team convinced him to change his mind about retiring at the end of last season.
"It's no secret that some tough times last year made me seriously question my future in racing and whether or not I should carry on," explained Collard.
"There were also a lot of positives and after talking very openly and honestly with Christian and John [Gilbert – Speedworks Managing Director] over the winter, I realised I wanted to give this my very best shot in a competitive package, which is what I believe we've got.
"The Corolla clearly has great potential and I really appreciate all the hard work that Toyota (GB) are putting in. The future looks very bright for this team, and I absolutely want to be a part of that."
Gamble switches from racing rear-wheel drive machinery to a front-wheel drive car in 2023.
"Joining Toyota Gazoo Racing UK is a mega opportunity for me in only my second year in the championship," added Gamble.
"To be associated with one of the world's leading manufacturers – which is successful in pretty much everything it turns its hand to – is massive, and I think I'm in a really good position.
"It takes a season to properly acclimatise to the BTCC because it's just so different to any other series and the racing is incredibly hard, but now I know much more what to expect, I can hopefully hit the ground running.
"There's tremendous motivation inside this team; everybody really wants to win, and it's great to be in such a competitive environment. I'm really excited."