Tom Coronel described the FIA World Touring Car Cup action at Anneau du Rhin in the Alsace as 'classic touring car racing', with the Comtoyou Racing driver picking up a season-best sixth in race one.
Coronel had one of his best weekend's of the WTCR season thus far in France, as he qualified in seventh before following up with a sixth place finish in the opening race.
However, contact with Esteban Guerrieri in the second race took the Audi driver out whilst he had been running in eighth, leaving him to limp across the finish line in 11th.
"Some really pleasant racing, nice classic touring car racing with some toing and froing," said Coronel. "I am sure it was nice to watch for the spectators, too. In general, I am quite happy with the weekend.
"I have been racing for 33 years already, but I had never heard about this circuit, never mind that I had ever been there."
Coronel was buoyed by the pace he had shown over a single lap on Saturday.
"The speed was quite nice. That also showed in qualifying, in which I ended up in seventh place as well, but just eight hundredths of a second down on the time by my teammate Magnus, who ended up fifth and therefore moved up into Q3 whereas I didn't. But still, the speed was there."
In race one, Coronel admitted that he had not been overly aggressive when racing with team-mate Gilles Magnus due to the Belgian's title aspirations, having followed him for the first half of the race.
"I briefly was fifth, was in the grass for a while, but I was also kind to my teammate Magnus as he is in a good position in the championship, so I had to leave him room to survive.
"I was able to hold on to my position in a nice way, but then [Norbert] Michelisz came up and he put his car alongside in a quite aggressive way so that I lost momentum and Rob Huff overtook me. That is how I ended up sixth in the first race.
"I simply had a nice race, even though we would have had the speed to end a little bit further up."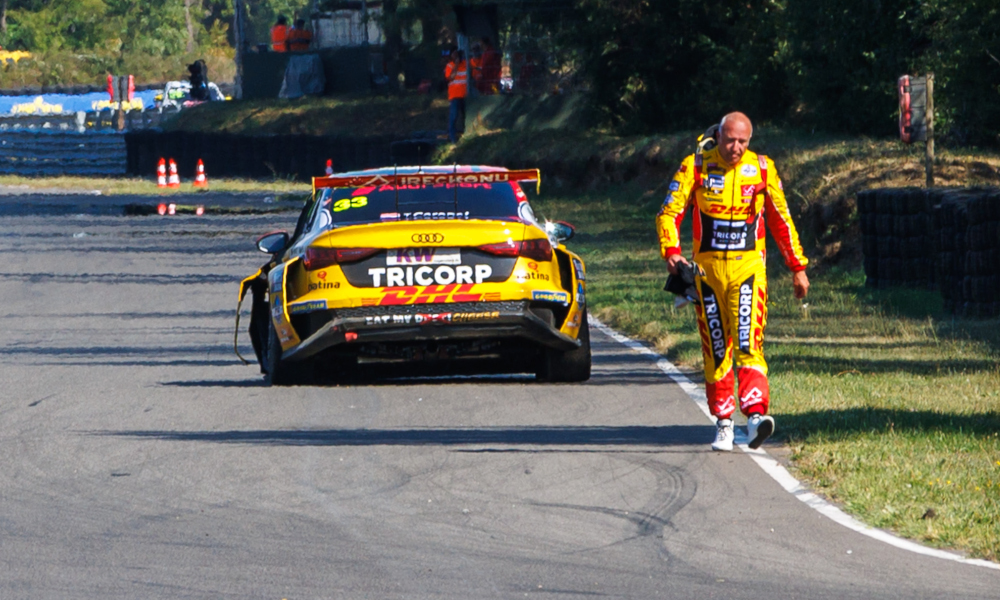 In race two, a misunderstanding with Honda's Guerrieri cost both a better finishing position.
"I had a really good start, but suddenly, the engine didn't deliver the full power while I shifted from first into second. That is something we had a few times before already, but I lost all the speed on the straight because of it.
"As a result, I was eighth in the first corner and that was the position I had throughout the race, until Guerrieri made a really strange move in the closing stages.
"Afterwards, he said that he wanted to let me overtake before the chicane, but that was impossible because the chicane was really narrow with tyre stacks at the left and the right.
"In the next corner, he didn't defend on the inside either, so I went to the inside and all of a sudden, he closed the door after all and we both went off.
"Later on, he apologised, which I accepted, but I lost four places and I have the damage. Too bad!"
Guerrieri explained that he had been trying to drop back in order to allow team-mate Néstor Girolami, two places behind, to get in front.
"I tried to maintain a consistent pace throughout, then there was a bit of confusion because I was hit from behind at the penultimate corner while I was trying to slow down to let Néstor through as well," explained Guerrieri.