Reigning MINI Challenge champion Dan Zelos enjoyed his 'first proper taste' of a British Touring Car during the series' annual tyre test at Snetterton this week, where he got behind the wheel of an Excelr8 Motorsport Hyundai.
Zelos, 24, took part in both days of the two-day test, ending up with the 22nd fastest time out of 31 drivers who took part in the overall test.
The Norfolk driver was just under two seconds off the overall best lap, and just one tenth of a second slower than Excelr8 regular Tom Chilton.
Zelos currently acts as the team's development driver and official reserve driver, and although he has previous had two 'toe-in-the-water' outings in BTCC machinery, this week's test offered him the first chance to get stuck in to sampling BTCC machinery.
"For my first proper taste of what life would be like as a touring car driver, it was a fantastic experience and one that has definitely whetted my appetite for more," said Zelos, who completed more than 100 laps during testing.
"I was extremely excited to climb behind the wheel of the Hyundai at last – it was a huge privilege to drive the championship-leading car, and I loved every minute.
"The i30N felt completely different to my MINI and a big step-up; there was a lot to get my head around in a relatively short space of time and it was almost like starting over from zero in some respects.
"They were two pretty full-on days – especially in that heat – and I just tried to soak up as much information as I could, and then process and digest it all.
"I got to know the BTCC side of Excelr8 Motorsport a little bit better – everybody was really welcoming, and it was amazing to be given such an exclusive insight into how a top-level touring car team operates.
"Excelr8 has taken giant strides during its short time in the BTCC so far, and I learned so much from working so closely with the engineers, mechanics and other drivers and received plenty of positive feedback, which was very encouraging.
"Tom [Ingram], Tom [Chilton] and Dan [Lloyd] offered me a lot of useful tips, constructive criticism and support to help me to get up-to-speed, running through the data with me even though they obviously had their own programmes to focus on as well.
"They're all proven race-winners in the BTCC and have so much knowledge between them that I could tap into, and I genuinely didn't expect them to be so generous with their time.
"Out on the track, I pushed the limits as much as I felt comfortable doing – not being my car, I was always conscious of keeping a little bit in reserve to make sure I brought it safely back in one piece.
"Saying that, I did have my first big sideways save in a touring car at the end of Wednesday morning's session. We had made some set-up changes and I headed out for one final run, but the tyres were pretty much gone by that point and I got a handful of opposite lock going into Turn One which caused the rear end to step out onto the grass, so we decided that was probably the cue to break for lunch!
"Other than that, I kept it on the black stuff and managed to put some decent lap times on the board compared to drivers who have been racing in the BTCC for several years or more, and we were consistent with it.
"To get as close to Tom Chilton as I did in the same machinery was really satisfying, especially considering we were running on old rubber for much of the test due to budget constraints."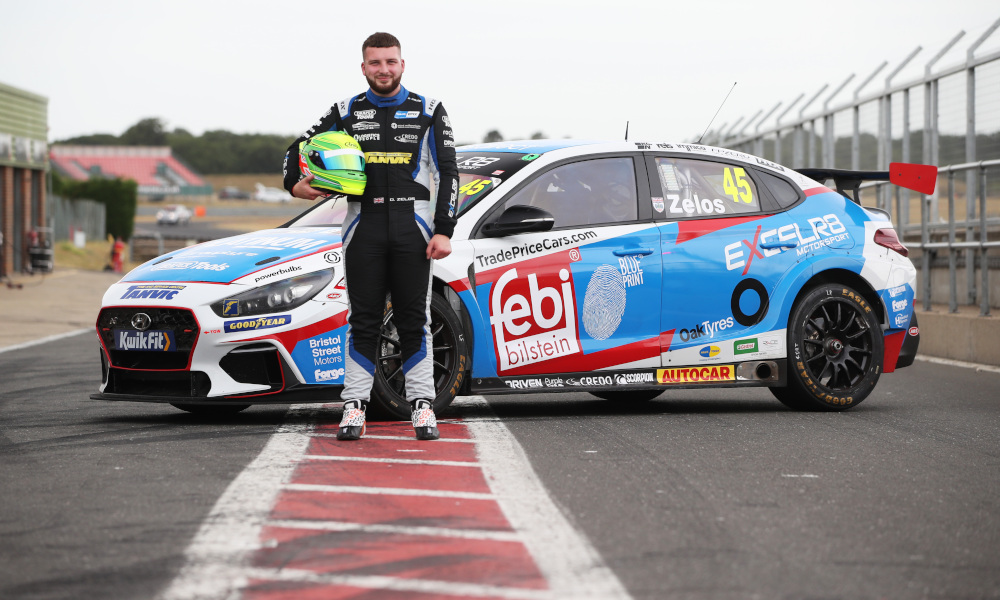 Zelos is now looking for opportunities to join the touring car grid from next season onwards.
"Despite having only really scratched the surface of what is possible, I honestly now believe I could turn up for a race weekend and be somewhere in the mix – I feel ready and prepared should an opportunity present itself.
"Big thanks to Excelr8 for putting their trust in me and giving me this chance to show what I can do. I'm very sure it won't be the last time I sit in a touring car – one way or another, I'm going to make this happen."
Tom Ingram believes that Zelos has the experience and knowledge to settle into the BTCC should he secure a drive next season.
"It isn't easy to jump into an official test like that having never driven the car before and with nearly everybody else having at least half-a-season under their belt; Dan was unquestionably thrown in at the deep end in that respect, but I thought he acquitted himself extremely well," said Ingram.
"He's clearly very fast in the MINI, and while we've seen in the past that being quick in one car doesn't necessarily mean you'll be quick in another, he looked very competitive in what is a really high-calibre field this year in the BTCC.
"A lot of people underestimate just how difficult and physical these cars are to drive, but Dan made no significant errors, knuckled down and worked very hard – and he came out-of-the-box on Wednesday morning immediately looking much stronger than he had done the previous day, which is testament to his preparation and dedication.
"If and when he gets the opportunity to join the BTCC grid, he now knows what to expect and certainly wouldn't be out of his depth."